Had the man, who was Indira Gandhi's Man Friday for over a decade, really opened up about his pivotal role in government and politics of the Seventies and Eighties, it would have been an explosive tell-all.
Indira Gandhi's close confidant R K Dhawan, who passed away in New Delhi Monday at age 81, told me several years ago that he was writing his memoirs. Had the man, who was Indira Gandhi's Man Friday for over a decade, really opened up about his pivotal role in government and politics of the Seventies and Eighties, it would have been an explosive tell-all.
Because Dhawan retained copies of key documents during his long tenure as Mrs Gandhi's trusted minion. For instance — and the secret can now be told — it was Dhawan who handed me a handwritten letter of Siddhartha Shankar Ray, outlining to Indira Gandhi what steps should be taken to impose Emergency. That letter, written in January 1975, six months before Emergency was imposed, found place in my book The Emergency.
But the man who knew too much generally kept silent, and guarded the secrets of the country's first family. For his loyalty and discretion, Dhawan was permitted to wield enormous power by Mrs Gandhi, particularly during the Emergency and later when Mrs Gandhi was voted back as Prime Minister in 1980.
Dhawan worked 24 hours and it was he who conveyed Mrs Gandhi's orders, even to senior officials and her cabinet ministers. By dint of his hard work, trustworthiness and obsequious manner, he became her eyes and ears and made himself indispensable, both to her and her son Sanjay.
He operated from the Prime Minister's residence and his enemies claimed that by acting as her gatekeeper, deciding who got to meet the Prime Minister, he became one of the most powerful men in the country. Dhawan, however, insisted that he never acted on his own initiative. Whatever the truth, in his heyday, Dhawan's word carried the authority of the Prime Minister.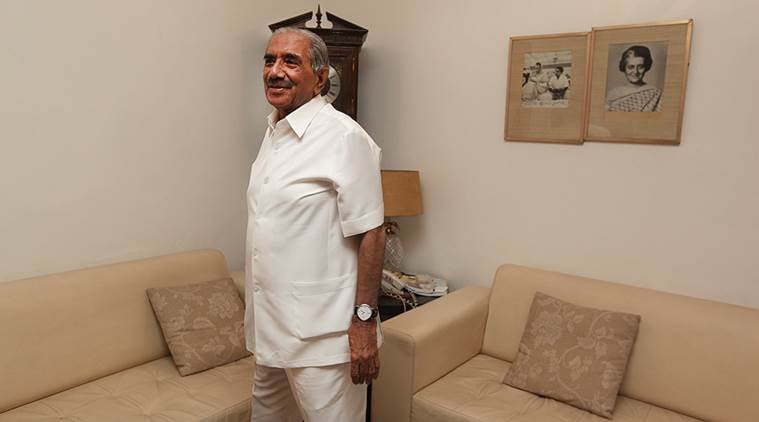 Operating through Dhawan, Sanjay Gandhi managed to interfere to the extent that he did in government affairs. Dhawan even advised Sanjay who to pick for key positions in government. They began calling the shots between 1975 and 1977 and were referred to, derisively by Mrs Gandhi's senior officials, as "the palace guards".
Eventually, the Prime Minister's official secretariat was marginalised and it was the palace guards who ruled the roost. Bishan Tandon, Joint Secretary to Indira Gandhi, once noted in his diary: "Soon nearly every single appointment which went to the PM for approval was decided on the basis of recommendations of the palace guards. When files now reach her, she does not even bother to read them.''
Dhawan gained entry into the Nehru-Gandhi family as Yashpal Kapoor's first cousin. Kapoor was well entrenched in the household. Dhawan started out as a stenographer in Nehru's office, but he soon moved to Teen Murti House to assist Mrs Gandhi, at a time when she held no official position. He became an indispensable odd-job man. As Kapoor shed his secretarial duties for political work, Dhawan stepped in to fill the lacuna.
Eventually Dhawan became Mrs Gandhi's private secretary and special assistant. He was by her side when she was gunned down by her security guards in 1984. During Rajiv Gandhi's takeover as Prime Minister, Dhawan initially fell out of favour. He became a victim of the internal warfare in the then PM's inner circle led by a rival lobby which wanted to get rid of the Punjabi lobby.
A commission of inquiry under Justice M P Thakkar, investigating the assassination of Mrs Gandhi, came to the conclusion that the "needle of suspicion points to Dhawan's involvement". Dhawan was not only removed from his posts but there was a very real threat that he could even be arrested, though the charges were a clear frame-up.
But when Rajiv Gandhi came under persistent attack from the Opposition over the Bofors scandal and other allegations, he realised he needed the services of a seasoned operator like Dhawan. The disgraced Dhawan was exonerated of all charges and appointed Officer on Special Duty to Rajiv Gandhi as PM in 1989. He was used to bring peace between President Zail Singh and Rajiv Gandhi.
He continued to retain enormous clout in the Congress even after Rajiv Gandhi's death and was subsequently elected twice to Rajya Sabha and was a member of the Congress Working Committee. He was Minister for Urban Development when P V Narasimha Rao was Prime Minister.
A long-time bachelor, the workaholic Dhawan, who lived in an upscale Golf Links apartment, married his companion of several years, Achala, in 2012 at the age of 74.
For all the latest India News, download Indian Express App
Source: Read Full Article