Share Market LIVE, Stock Market Today LIVE Updates: Catch all the updates on equity, commodity and money markets here.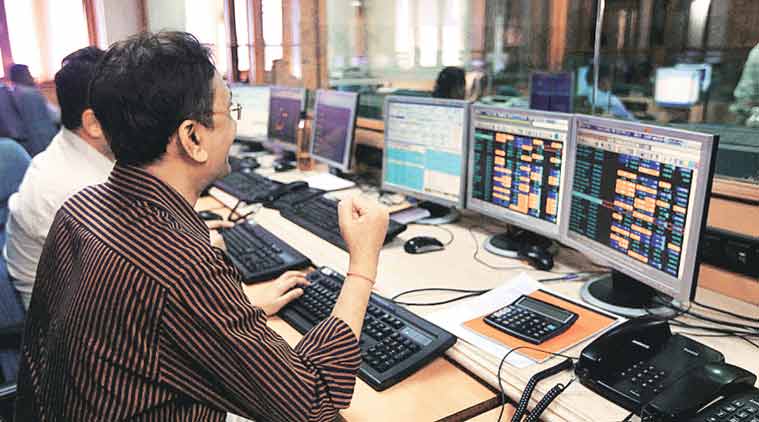 Share/Stock Market Today Live Updates: The benchmark equity market indices on the BSE and National Stock Exchange (NSE) opened over 1 per cent higher on Tuesday tracking gains in Asian shares which bounced back a day after there was no further escalation in US-Iran tensions.
At 9:25 am, the S&P BSE Sensex was trading at 41,150.27, up 473.64 points or 1.16 per cent, while the broader Nifty 50 was at 12,133.95, up 140.90 points or 1.17 per cent.
All the sectoral indices on the NSE were trading in the green in early trade on Tuesday. The Nifty PSU Bank was the top gainer in the morning trade climbing around 2 per cent higher led by gains in the shares of Union Bank of India, Canara Bank and State Bank of India (SBI).
(with inputs from agencies)
Watch this space for all the LIVE market updates including stocks, shares, rupee, crude oil, petrol diesel, gold and silver prices:
Highlights
The Finance Ministry is likely to provide income tax relief to the middle class in the upcoming Union Budget 2020-21, according to two senior government officials.
A series of discussions have been held within the government to promote economic growth and a reduction in the tax burden is seen as having a direct impact on boosting consumption. Click here to read the complete story
Spooked by rising tension between the US and Iran and rising crude prices, the benchmark Nifty at NSE and Sensex at BSE fell 1.9 per cent each on Monday. Vikram Limaye, MD and CEO, National Stock Exchange (NSE), told Sandeep Singh that if the US-Iran tension spins out of control, the implications would be unknown globally. Stating that India can't be immune as an economy and as a market, he said the only hope is that other countries and the UN would weigh in and won't let a knee-jerk response take place. He also spoke about the need for broad basing the Indian market with quality stocks that have liquidity as the concentration of fund flow in few stocks is a risk. Click here to read the complete interview
Oil prices fell more than 1 per cent on Tuesday as investors reconsidered the likelihood of Middle East supply disruptions in the wake of the United States killing a top Iranian military commander.
Brent crude fell as much as 1.5 per cent to $67.86 a barrel and was at $68.09, down 82 cents, at 0324 GMT. US West Texas Intermediate (WTI) crude futures was at $62.53, down 74 cents, after earlier dropping 1.5 per cent to an intra-day low of $62.30.
(Reuters)
Asian shares rebounded on Tuesday as a day passed without any new escalation in the Middle East and Wall Street erased early losses to end in the black as tech stocks climbed.
MSCI's broadest index of Asia-Pacific shares outside Japan added 0.6 per cent, recouping almost all of Monday's losses. Japan's Nikkei rallied 1.3 per cent and Shanghai blue chips advanced 0.5 per cent. E-Mini futures for the S&P 500 firmed 0.1 per cent, while EUROSTOXX 50 futures rose 0.4 per cent.
Shares had fallen sharply on Monday as Iran and the United States traded threats after a US airstrike killed a top Iranian commander. The mood calmed a little as the session passed with no new aggression.
(Reuters)
In percentage terms, the gains in the S&P BSE Sensex were being led by IndusInd Bank, SBI, HDFC Bank, Reliance Industries (RIL), Tata Steel and Axis Bank. The losers comprised only of the information technology (IT) stocks – Tech Mahindra, HCL Technologies and TCS.
At 9:16 am, the S&P BSE Sensex was trading at 41,078.96, up 402.33 points or 0.99 per cent, while the broader Nifty 50 was at 12,110.55, up 117.50 points or 0.98 per cent.
On Monday, the S&P BSE Sensex cracked 787.98 points or 1.90 per cent to settle at 40,676.63. During the day the 30-share benchmark index fell as much as 850.65 points to touch an intraday low of 40,613.96.
HDFC twins, which comprise of HDFC Bank and HDFC and oil-to-telecom heavyweight Reliance Industries (RIL) were the biggest contributors to Sensex's fall on Monday.
On the other hand, the broader Nifty 50 fell 233.60 points or 1.91 per cent to end the day below the 12,000-mark at 11,993.05. The 50-share index fell to an intraday low of 11,974.20 during the trade, down 252.45 points from Friday.
Source: Read Full Article