Elections in Rajasthan will be held on December 7. The polls in Telangana is scheduled to be held on November 22, 2018.
Congress president Rahul Gandhi will address a 'Maha Sankalp' rally in Rajasthan's Bikaner on Wednesday, the second day of his two-day visit to the election-bound state, and BJP chief Amit will attend a public meeting in Telangana's Karimnagar.
Gandhi, on Tuesday, slammed Prime Minister Narendra Modi and Rajasthan Chief Minister Vasundhara Raje at the latter's stronghold in Dholpur over the BJP's economic and agricultural policies. "For four-and-a-half years, Narendra Modi has been the Prime Minister and Vasundhara Raje has been your Chief Minister… Just tell me, what did the BJP do for the poor, the farmers, he asked at the rally in Dholpur's Mania, 10 km from the Uttar Pradesh border.
In Telangana, Shah will be meeting booth presidents and Shakti Kendras in charges in Nampally. Addressing a rally in Shivpuri, Madhya Pradesh on Tuesday, Shah called Rahul Gandhi "Shaikh Chilli"(a simpleton) and said he should "stop daydreaming" about forming a government in Madhya Pradesh, where the BJP has taken root. He also alleged that Congress chief Rahul Gandhi and other opposition parties had opposed the National Register of Citizens (NRC) when 40 lakh such settlers were identified under the exercise.
Live Blog
Amit Shah and Rahul Gandhi will hold a rally in Rajasthan and Telangana, respectively.
Covering a 160-km roadshow across four districts in Rajasthan, Rahul Gandhi on Tuesday claimed that Modi had benefited 15-20 top industrialists of the country instead of the farmers. Rahul said that the BJP hesitated in waiving farmers' debt by saying "in Parliament that the Indian economy will be destroyed" if farmer's debt is waived.
Addressing a rally in Madhya Pradesh on Tuesday, Shah said the BJP government would drive out "illegal infiltrators" as the party stands for security and rights of Indians. "When the NRC identified 40 lakh illegal migrants in Assam, Rahul baba and parties like SP, BSP and TMC raised a hue and cry and opposed the exercise," Shah said. "These migrants took away jobs of our youths. They (opposition parties) lacked concern for our youths and the hunger of the people of this country. We will drive each infiltrator out after winning elections in 2018 and 2019." "Rahul Baba should stop daydreaming. The Congress's condition is that it would (soon) be difficult to find them even with the help of binoculars," Shah said.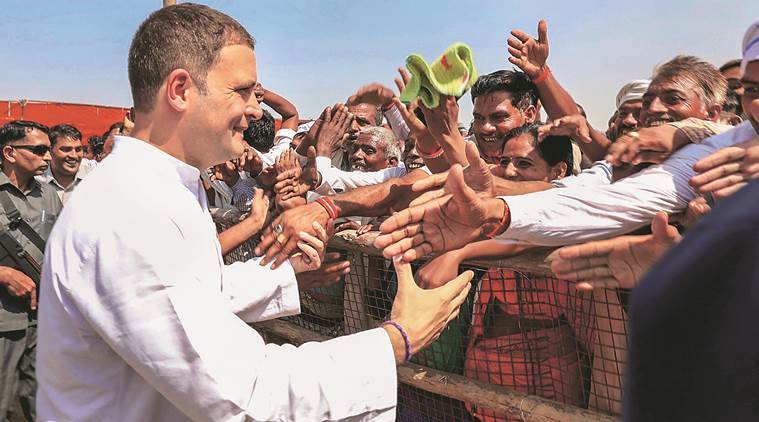 Congress president Rahul Gandhi meets supporters at Dholpur on Tuesday. PTI
Rahul Gandhi's rally comes just three days after Modi launched the BJP's campaign in the poll-bound state from Congress state chief Sachin Pilot's backyard — Ajmer. Elections in Rajasthan will be held on December 7.  Assembly polls in Telangana were originally scheduled to be held simultaneously with the Lok Sabha elections next year. However, the assembly was dissolved earlier last month as per a recommendation of the state cabinet, which necessitated elections ahead of the schedule. The polls will now be held on November 22, 2018.
Source: Read Full Article