Bullseye, IAF!
The Top Videos of the Week, listed by Shailajanand Mishra.

Also see: Garba with a message
The longest bi-lane tunnel in the world.
And the largest Hindu temple outside India.
Videos chosen by you through your likes on iShare.
World's Longest Bi-Lane Tunnel Is Nearly Ready
Location: Arunachal Pradesh
And the credit for doing so goes to the Border Roads Organisation.
The bi-lane Sela Tunnel, located along the Indo-China border, is strategically important and a big push towards better connectivity in the eastern sector.
Lahaul-Spiti Turns A Cool White
Location: Lahaul & Spiti
While much of India swelters in the October heat, this is what happened in the higher reaches of Lahaul-Spiti.
Don't you wish you were there?
Look Who Got A Puja Makeover!
Location: Kolkata
Well, it is Durga Puja time.
The festival has been awarded the UNESCO Heritage tag.
And the Kotakata tramways is celebrating 150 years of serving the city.
What's not to celebrate!
That's The Largest Hindu Temple Outside India
Location: Robbinsville, New Jersey, USA
Some interesting statistics about the Bochasanwasi Akshar Purushottam Swaminarayan Sanstha Shri Swaminarayan Akshardham temple.
It spans an impressive 255 feet in length, 345 feet in width and 191 feet in height.
It covers an expansive 183 acres.
It has been built over 12 years by over 12,500 volunteers from across the United States.
Ahmedabad nu Garbo
Location: Ahmedabad
When you know everyone is watching, you also know it's time to send a message.
Here's what these garba revellers in Ahmedabad did.
Kerala's First 3D-Printed Building
Location: Thiruvananthapuram
After Karnataka's 3D-printed post office, Kerala decided to go the 3D way too.
The state's first 3D-printed building, Amaze 28, was unveiled in PTP Nagar.
It was built in just 28 days; the 3D wall printing took only two days.
IAF Test-Fires Surface To Surface BrahMos Missile
Location: New Delhi
And that's what the precision-strike launch looked like.
Bullseye, IAF!
Feature Presentation: Ashish Narsale/Rediff.com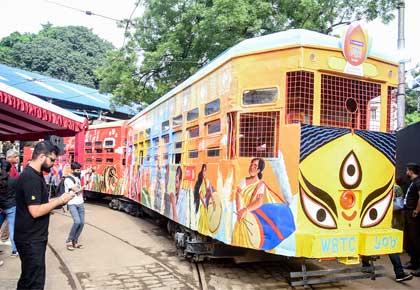 Source: Read Full Article