Karnal Kisan Mahapanchayat Live, Karnal Farmers Protest Today Live Updates: BKU leader Rakesh Tikait said farmers will carry on their protest and more will join them from UP and Punjab.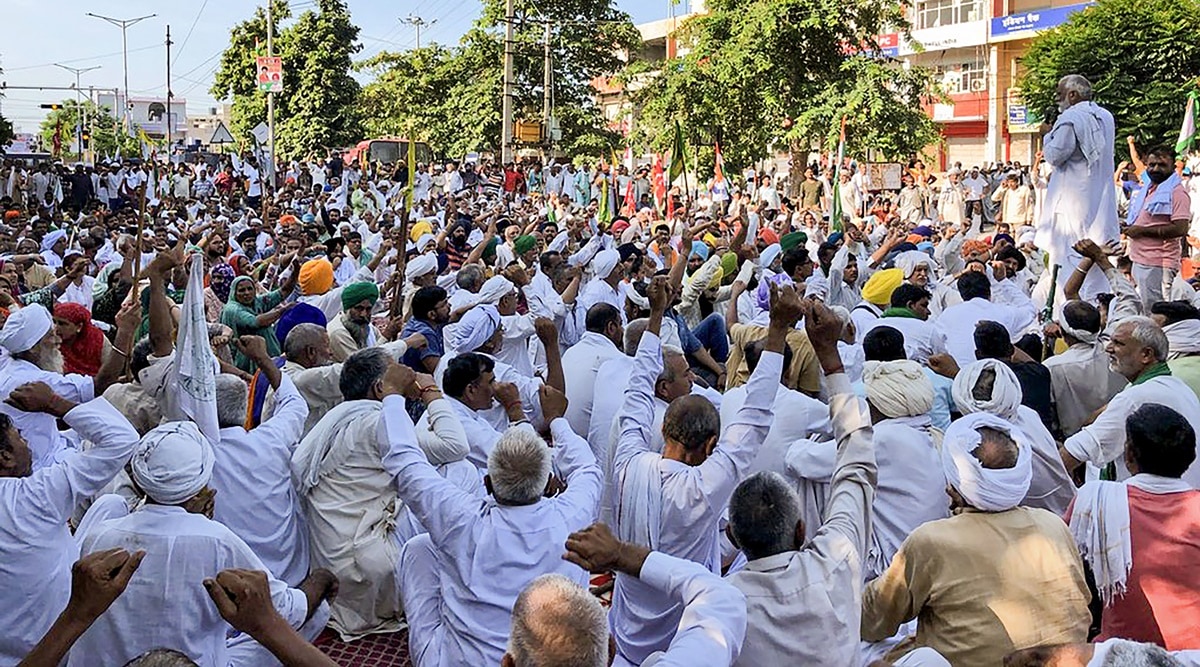 Kisan Mahapanchayat in Karnal Today Live Coverage: With no breakthrough in the talks held in Karnal between the Haryana government and farm leaders protesting against the police crackdown 11 days ago, leaders of Samyukt Kisan Morcha said they would continue their siege of the mini-Secretariat in the town. "The administration appears to be working on directions from (state capital) Chandigarh. We are ready for the long haul," said Rakesh Tikait, leader of Bhartiya Kisan Union (BKU). BKU Haryana chief Gurnam Singh Chaduni, too, said they would continue the siege.
The key issue that led to the breakdown of talks, which lasted three hours, was the demand for action against former SDM Ayush Sinha, according to SKM, which is the umbrella body of farmers' unions that has been leading the movement against the Centre's new farm laws over the last nine months.
https://youtube.com/watch?v=HzcLZbUO6Mg%3Fversion%3D3%26%23038%3Brel%3D1%26%23038%3Bshowsearch%3D0%26%23038%3Bshowinfo%3D1%26%23038%3Biv_load_policy%3D1%26%23038%3Bfs%3D1%26%23038%3Bhl%3Den-US%26%23038%3Bautohide%3D2%26%23038%3Bwmode%3Dtransparent
Addressing a gathering after Wednesday's talks, Swaraj India founder Yogendra Yadav said that while they sought action against the officer, the administration asked them to focus on compensation. "We told them that it's a question of our honour and we can collect enough compensation on our own," Yadav said.
Meanwhile, Haryana Home Minister Anil Vij told reporters that everyone has the right to protest and raise their voice in a democracy. "Whatever their (farmers) demands are, our officers are talking to them. The talks are ongoing," he said.
Deadlock on, farmers say Karnal admin not acting against those behind lathicharge; CM Khattar wants to shift agitation from Delhi border to Karnal, says Rakesh Tikait. Follow this space for the latest updates:
The Shiromani Gurdwara Parbandhak Committee on Wednesday said it will provide 'langar' (free food) and other required services to protesting farmers in Haryana's Karnal district. SGPC president Bibi Jagir Kaur said the organisation is fully supportive of the farmers' agitation at Karnal and will provide them every kind of service according to their requirement.
The farmers in Karnal have been protesting against a police lathi-charge last month. As another round of talks between Karnal district officials and the protesting farmers failed Wednesday, the protesters said they will continue their sit-in "indefinitely" at the district headquarters. Into the second day of the dharna, farm leaders said they will stay put at the gate of Karnal secretariat but will not stop officials and the public from entering it. "The SGPC's sub-office in Kurukshetra and managers of gurdwaras in Haryana have been instructed to start working in this regard with immediate effect," Kaur told reporters here. (PTI)
The farmers continued their demonstration outside the mini secretariat in Karnal on Thursday, demanding action against the officials who ordered lathicharge against the protesters in the district last month. Meanwhile, the state government has suspended mobile internet and SMS services in the district today.
A large group of farmers are camping outside the mini-secretariat in Karnal — the constituency represented by Chief Minister Manohar Lal Khattar in the Haryana Vidhan Sabha. They are firm on their demand for action against IAS officer Ayush Sinha, who had ordered a police lathi-charge on a group of protesting farmers last month.
The Indian Express explains what the scenario means for the BJP-JJP alliance government in Haryana, especially CM Khattar.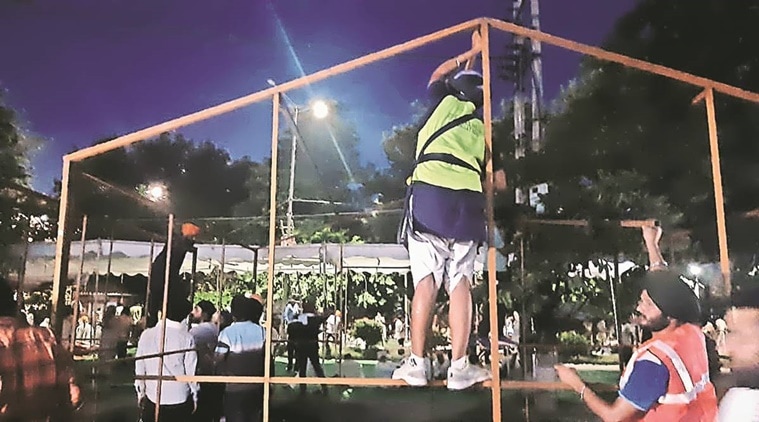 Protesters set up tents to prepare for an indefinite sit-in. (Express Photo: Sukhbir Siwach)
India a democracy, everyone has right to raise voice: Anil Vij
Haryana Home and Health Minister Anil Vij Wednesday said that India is a democratic country and everyone has the right to protest and raise their voice.
"You cannot stop anyone for that. Whatever their (farmers') demands are, our officers are talking to them. The talks are ongoing. Any conclusions drawn from the conversation will be communicated," Vij said, on the ongoing farmers' agitation. Vij was addressing the media after chairing a meeting with senior police officers in Gurgaon, where he reviewed the law-and-order situation in the district.
Source: Read Full Article