'An officer had to command the regiment for the Republic Day parade — and that officer happened to me.'
'It should not be viewed on the basis of gender,' says Captain Preeti Choudhary, the only woman officer from the Indian Army to be part of a contingent at the Republic Day Parade 2021.
"In our village a daughter is known by her father's name, but we are known as Captain Preeti Choudhary's mother and father."
"It is a very big thing for us," says Sunita Devi, whose daughter was the only woman officer from the Indian Army to be part of a contingent at this year's Republic Day Parade.
There is a stone tablet bearing names of those who have brought honour to their ancestral village of Binjhol in Panipat.
Captain Preeti is the only woman on that list.
Her name was etched on the tablet three years ago when she graduated from the Officers Training Academy, Chennai at the top of her course.
She was awarded the coveted Sword of Honour — only the third woman officer to have earned it.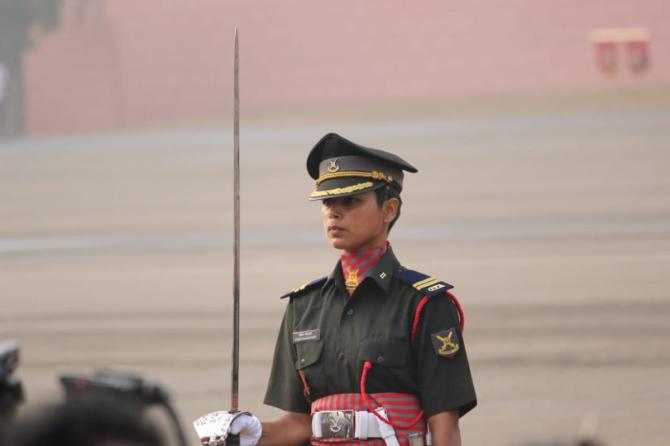 But Captain Preeti is not one to be defined or confined by her gender.
"An officer had to command the regiment for the Republic Day parade — and that officer happened to me. My equipment brought me here and I was ordered by my commanding officer to lead the weapon system," she tells Archana Masih/Rediff.com.
"It should not be viewed on the basis of gender. I was just the projection of our entire team," says the officer from the 140 Air Defence Regiment who led the Schilka Weapon System that is equipped with a modern radar and digital fire control computers.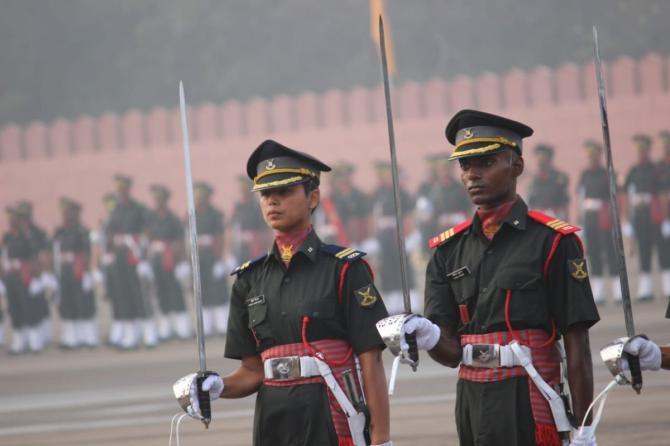 The Air Defence Corps is entrusted with protecting the Indian skies from enemy aircraft and missiles.
"The weapon systems are part of the mechanised columns that contain equipment which need a lot of daily maintenance, a dedicated crew and supporting staff. Our team and regiment was very happy that all went smoothly and our hard work paid off," says Captain Choudhary whose equipment featured in the parade for the first time this year.
The Schilka was brought to New Delhi three months prior and was prepared, checked and re-checked for the Repubic Day Parade.
The practice for the parade used to begin at dawn and go on till noon — first at the Indian Army's Cariappa stadium and then for a few hours on Rajpath in the run-up to Republic Day.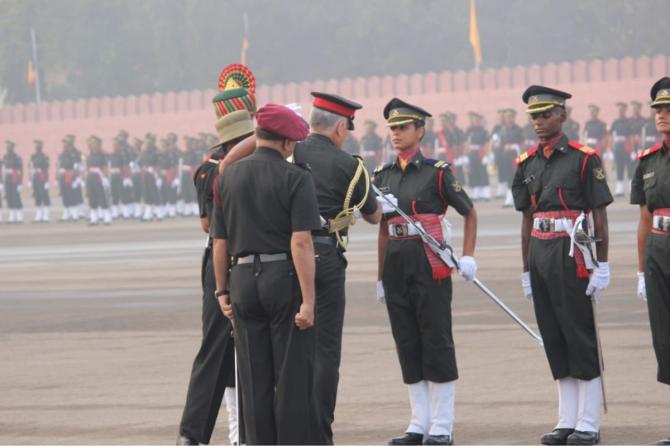 On Tuesday morning when Captain Choudhary reported for the Republic Day Parade, she walked up to the contingent of lady cadets of the National Cadet Corps and wished them luck.
Five years ago, she had participated in the NCC marching contingent on Republic Day.
"It was all so nostalgic to be back on Rajpath. Then I was one of the cadets and this time I was privileged to be leading my regiment as a member of the armed forces."
"It was an amazing feeling to look the President in the eye and salute him. It was overwhelming."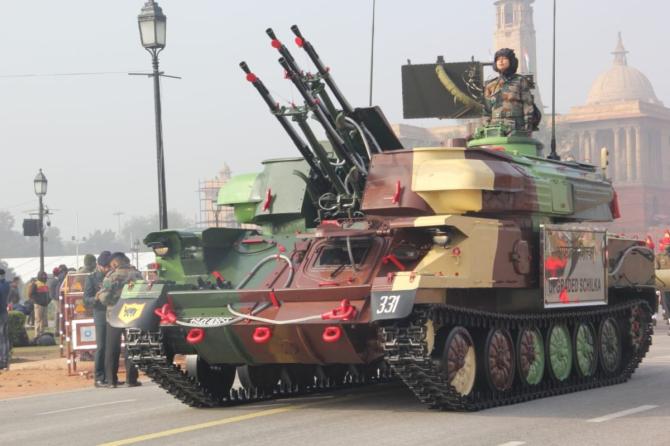 Captain Choudhary spent her childhood in various cantonments and changed eight schools as her father was a junior commissioned officer in the Army Medical Corps.
Honorary Captain Inder Singh retired in 2014 and currently works as a senior security officer in Zirakpur near Chandigarh.
Her mother says Captain Choudhary always wanted to serve the army and loved wearing her father's uniform cap as a child.
"When we saw her on Rajpath today, she was not only our daughter, but the nation's daughter," says Sunita Devi over the phone.
"My parents have been my motivation," continues Captain Choudhary. At the training academy whenever she was daunted by the hard physical endurance tests, she always kept her focus on the finish line.
"I used to tell myself that I will finish this run with the load on my back because I had to tell my parents that I had finished it in excellent time."
"You can't be lackadaisical even for a day at the OTA. It is one shot one kill — you have to be at your best every day."
"I also had an amazing overstudy at the academy and excellent directing staff because of whom I was able to excel in all-round performance."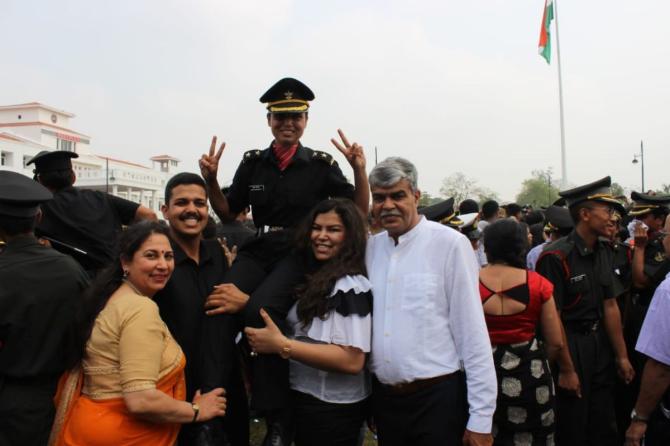 Captain Choudhury's parents could not travel to Delhi to watch the Republic Day Parade, but saw it on television with their other children.
Her older sister is a software engineer; her younger brother has a BTech degree and also wants to join the Indian Army.
"I am glad I gave my parents another chance to feel proud of me," says the officer.
"The day I joined as an officer, my father told me, 'Beta, respect all your seniors, but never disrespect your juniors'."
"It's advice I will always remember."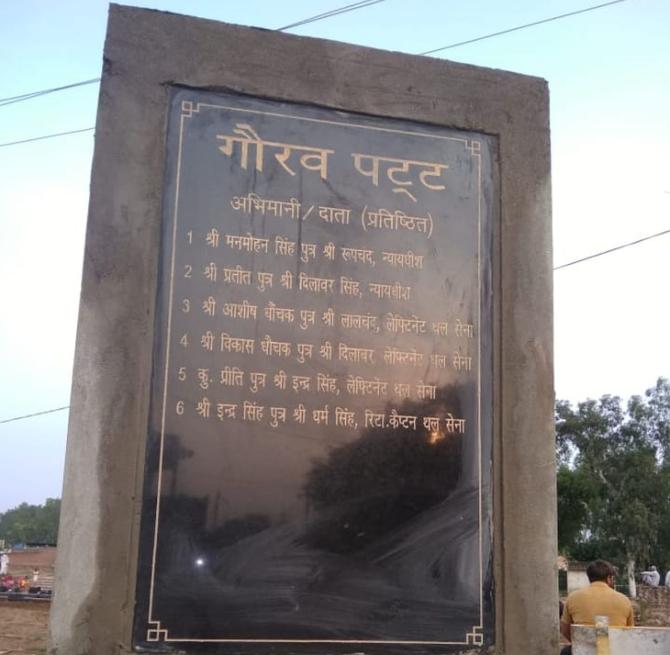 As she completes three years in the Indian Army in March, the officer says she admires the Indian Army because it gives exposure to different cultures, people, places — and every day is a new challenge.
"Whenever there is a criticality and things are out of everybody's hand, the army is called in."
"Every day is a new day with a fresh challenge and I feel privileged to be part of it."
Feature Presentation: Aslam Hunani/Rediff.com
Source: Read Full Article