'IT companies do not have a large presence in Israel either in terms of market and team. So, the impact of the war will be minimal. But West Asia is an emerging economy.'
Indian information technology companies are turning cautious as tensions are escalating in West Asia amid the Israel-Palestine war.
Although Israel and Palestine are not significant hubs for IT companies, West Asia is an emerging area and adversities could affect existing and potential business prospects.
In Israel, Bengaluru-based firm Wipro has about 80 employees, all of whom are nationals of that country.
"We are advising employees in (that) country to work from home until further notice and follow the safety measures put in place by the local government.
"We are monitoring the situation closely and are ready to activate business continuity plans should there be a further escalation of events," Wipro told Business Standard in a statement.
While Wipro does not give its 'Middle East' (West Asia) revenues separately, the APMEA (Asia-Pacific, Middle East and Africa) business contributed 11.8 per cent of the total during FY23.
Wipro chief executive officer (CEO) Thierry Delaporte said during the Q1 earnings bookings in contract value terms for the APMEA business were "looking healthy", with 23 per cent quarter-on-quarter growth.
Within the APMEA, the India business grew 7 per cent and the Middle East business 6.4 per cent Y-o-Y during the first quarter (Q1).
In 2016, Wipro Infrastructure Engineering acquired Israel-based HR Givon, supplier of metallic parts and assemblies to the aerospace industry, in an all-cash deal.
For Tata Consultancy Services (TCS), the Middle East and Africa constituted 1.5 per cent of its revenues in FY23.
Among emerging markets, Latin America grew 24.8 per cent, India 14.9 per cent, the Middle East and Africa 12.5 per cent, and the Asia-Pacific 7.1 per cent, according to the firms FY23 Annual Report.
Revenues for the financial year from the Middle East and Africa stood at Rs 4,283 crore.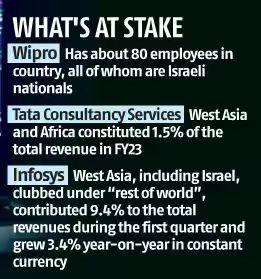 In 2013, TCS had launched an all-women business process management (BPM) centre in Riyadh, and that has the target to expand to 3,000 in three years.
According to the TCS website, the company has over 9,000 employees in the United Arab Emirates (UAE), Saudi Arabia, and South Africa, and works with over 150 clients.
For Infosys, the Middle East, including Israel, comes under the "rest of world" category, which contributed 9.4 per cent to its revenues during the first quarter and grew 3.4 per cent Y-o-Y in constant currency.
In 2012, Infosys signed a memorandum of understanding (MoU) with Israel to establish and enhance cooperation in industrial research and development.
Analysts say the impact will be limited because IT companies do not have a significant presence in West Asia.
"IT companies do not have a large presence there either in terms of market and team.
"So, the impact of the war will be minimal.
"But West Asia is an emerging economy.
"If the war situation continues long, it can have some adverse impact," an IT analyst with a leading brokerage firm said.
The implications for the Indian IT sector would largely hinge on the scale, duration, and international reactions to the conflict, said Sid Pai, IT consultant and founder of Siana Capital.
"Hamas operates primarily in the Gaza Strip and has had numerous confrontations with Israel in the past, so the effects might be more localised than a broader Arab-Israel conflict.
"Some spillover effects such as oil prices increases and a slight hesitancy from buyers may (be there), but I expect (those) will be contained. If the conflict were to escalate, we will have a more dire situation," Pai said.
Noida-based HCLTech too has a huge presence in the Middle East.
Since 2017, the region has been classified as a "high-focus" one for HCLTech.
The company works with over 50 clients in the region and more than 700 professionals are employed there, said the company's website.
SaaS unicorn Zoho's CEO Sridhar Vembu has raised concern about the ongoing Israel-Palestine war and indicated that the conflict could have an adverse impact on the global economy, potentially affecting the company's growth.
Tea Exporters Too Are A Worried Lot
Tea export volumes to Israel are insignificant. But any repercussions on Iran, one of the top buyers of Indian tea, will impact the industry, exporters apprehend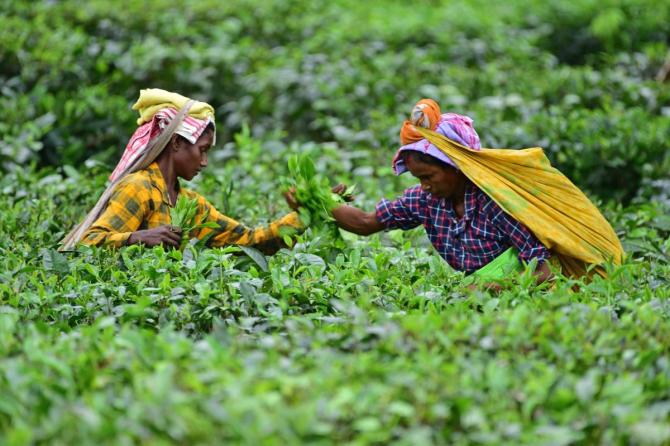 A possible spillover of the Israel-Hamas conflict into other regions of West Asia, especially Iran, is worrying tea exporters.
Tea export volumes to Israel are insignificant. But any repercussions on Iran, one of the top buyers of Indian tea, will impact the industry, exporters apprehend.
The top export destinations for Indian tea during January-December 2022 were the UAE at 42.38 million kg (mkg), Russia 41.12 mkg, and Iran 21.61 mkg.
Some teas to Iran are also routed through the UAE, a major re-export hub.
Anshuman Kanoria, chairman of the Indian Tea Exporters Association, said exporters were watching this unfolding situation with concern.
"From our point of view, any impact on Iran will be a matter of concern. There are pending orders in the pipeline; there is cargo on the water. It's early days, we just have to wait and watch," he added.
Iran's alleged involvement in the Hamas attack has been reported in the international media.
However, the Israeli military has said that there was no concrete evidence of Iranian involvement.
But any escalation of the conflict is likely to spell trouble for the Indian tea industry.
Iran is predominantly an orthodox tea market. While Assam has the largest exposure, South India also has a stake in exports to the region.
Dipak Shah, chairman of the South India Tea Exporters Association, said there was fear in the industry.
"Exporters want to ship as early as possible. But there is uncertainty over payment and apprehension about disturbance in the movement of cargo going forward."
"A large chunk of South Indian orthodox and Crush, Tear, Curl (CTC) teas are going to Dubai, for ultimate re-export to countries like Iran and Iraq," he pointed out.
Mohit Agarwal, director of Asian Tea Company, said: "There is nervousness among the export community because of our dependence on Iran. We are keeping our fingers crossed that it doesn't get drawn into the conflict."
Asian Tea is one of the top exporters of Indian tea.
Agarwal also said Iraq had been a revelation this year with a significant increase in offtake of Indian tea.
According to industry sources, exports to Iraq and Turkey were showing an increase this year, while demand from Iran has been tepid.
Himanshu Shah, chairman of M K Shah Exports, said Iran had not been buying at last year's levels.
"It is buying at 2021 price levels." M K Shah is one of the largest producers and exporters of orthodox tea in the country.
On the possible impact of the conflict, he said orders had been placed, so they would be executed. "As of now, there is no cause for concern. But it's early days."
The average price for orthodox leaf at Kolkata auction for January to September stood at Rs 240.34 per kg in 2021, Rs 305.32 per kg in 2022, and Rs 216.96 per kg in 2023.
Israel-Gaza: Battles For The Promised Land
Feature Presentation: Aslam Hunani/Rediff.com
Source: Read Full Article