SVAMITVA is a new government project that primarily aims to demarcate abadi areas that includes inhabitant land, inhabited areas contiguous to abadi and wadis/basties in rural areas, using drone surveying technology.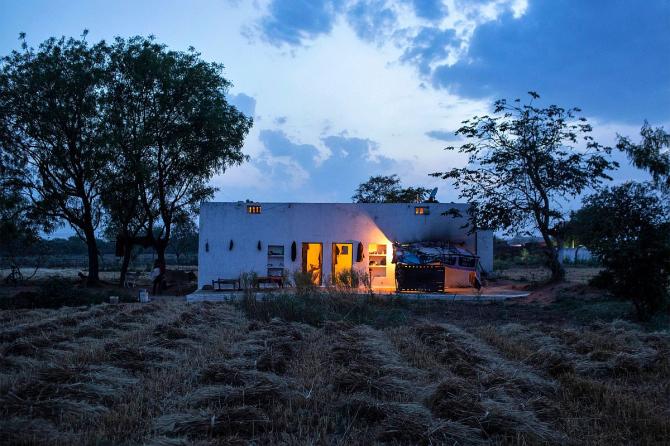 On October 11, Prime Minister Narendra Modi addressed the nation through a videoconference.
His charismatic image, with the recently grown long beard, beamed live on TV and mobile screens like it does for most of his public speeches.
But this time, what attracted many viewers' attention was the saffron cotton towel (gamcha) casually wrapped around his neck.
The Indian PM is known for dressing according to the occasion, and as expected, the gamcha had a close relation with the topic that he was discussing.
PM Modi formally inaugurated the Survey of Villages and Mapping with Improved Technology in Village Areas or SVAMITVA scheme, which the government expects to transform the rural property holding landscape, mired in disputes and court battles for decades.
The scheme aims to provide an integrated property validation solution for rural India.
What is SVAMITVA?
SVAMITVA is a new government project that primarily aims to demarcate abadi areas (that includes inhabitant land, inhabited areas contiguous to abadi and wadis/basties in rural areas) using drone surveying technology.
The project would provide 'record of rights' to house owners in villages who have houses in inhabited rural areas, and every eligible and authentic property owner in villages across India, will receive a 'property card' as a government-approved valid proof of their ownership.
This, in turn, would enable them to use their property as a financial asset and secure loans and other financial benefits from banks against those properties.
How the project is being implemented?
While property mapping and digitisation of records have been going on for nearly two decades in India, the new SVAMITVA project has introduced cutting edge drone technology into the process to further strengthen mapping and reduce chances of any discrepancies in records.
Apart from demarcation of individual rural property, other Gram Panchayat and community assets like village roads, ponds, canals, open spaces, school, anganwadi, health centres, among others, would also be surveyed to create Geographic Information System (GIS) maps.
These GIS maps and spatial databases would also be used in preparation of accuracy of work estimates for various projects undertaken by Gram Panchayats and other departments of the respective state governments.
These can also be used to prepare top-quality Gram Panchayat Development Plan (GPDP).
Under the project, all the 662,000 villages in the country will be surveyed and data will be mapped and recorded over the next four years – by 2024.
Currently, the pilot phase is being approved for the year 2020-21.
It has been extended to six pilot states – Haryana, Karnataka, Madhya Pradesh, Maharashtra, Uttar Pradesh and Uttarakhand – covering nearly 100,000 villages.
Further, the Continuous Operation Reference System (CORS) network establishment is planned for two states – Punjab and Rajasthan.
The scheme has six phases – establishment of CORS network, large scale mapping using drones, information, education and communication (IEC) activities, enhancement of spatial planning application (Gram Manchitra), online monitoring system and implementation through program management units (at national and state levels).
Who will implement it?
Spread over four years (between 2020 and 2024), the SVAMITVA project is overseen by the Ministry of Panchayati Raj as the nodal body.
Moreover, Survey of India (technology implementation agency), concerned state revenue departments, state Panchayati Raj departments, local district authorities, respective gram panchayats and property owners will be actively involved in the scheme, apart from the National Informatics Centre.
For monitoring purpose, a three-layer monitoring and evaluation framework shall be put in place for timely monitoring, reporting and course corrections.
The government has already allocated Rs 79.65 crore for the pilot phase, to be finished during 2020-21.
Implications?
According to the framework on SVAMITVA, prepared by the Panchayati Raj ministry, apart from validating property owners, the project will also enable updating of property and asset register to strengthen tax collection and demand assessment process of Gram Panchayats.
The legal record of property holders and issuance of 'property cards' to house owners based thereon would facilitate monetisation of rural residential assets for the purchase of credit and other financial services.
This could also pave the way for clear determination of property tax, which would accrue to the respective gram panchayats' directly.
According to Anuj Puri, chairman of Anarock Property Consultants, lack of clarity in land titles was one of the biggest bottlenecks in the overall development in India.
Well-defined and secure property rights are fundamental to economic progress of the country.
"Therefore, digitalising of land records via effective use of technology is a major step taken by the government towards this goal.
"It will immensely help streamline and organise India's outdated land record system and bring in greater transparency.
"Apart from this, it will also help attract more foreign investors for whom lack of proper land titles is a major deterrent for investing in India.
"It will also aid in the overall approval procedure for projects, which is another lacuna in the Indian real estate segment," he said, adding it will help in reducing the burden on the Indian judiciary by helping faster resolution of land disputes, he said.
Progress so far?
With the initial work done since April and data already available with the authorities from the previous mapping efforts, the government has already started issuing 'property cards' to owners in six states.
On Sunday, during his inaugural speech, the PM said that nearly 100,000 beneficiaries from Haryana, Karnataka, Madhya Pradesh, Maharashtra, Uttarakhand and Uttar Pradesh have been handed over the legal papers against their properties.
While distribution of physical cards will take some time, they are now eligible for downloading virtual property cards via SMS.
Spread across 763 villages, these beneficiaries belong to 346 villages from Uttar Pradesh, 221 from Haryana, 100 from Maharashtra, 44 from Madhya Pradesh, 50 from Uttarakhand and two from Karnataka.
"The scheme is going to bring historical changes to the villages in the country," PM Modi said, adding that the country had taken another major step towards an AtmaNirbhar Bharat, as the scheme would help in making rural India self-reliant.
He further said, once implemented, the move would not only help people deal in rural properties, but would also open up new avenues of investment and create employment opportunities.
Photograph: Danish Siddiqui/Reuters
Source: Read Full Article