'If we don't control the additional pollutants that come from various human activities, then the pollution level will not come down.'
Delhi is not the only major metropolis to be covered by smog.
The Air Quality Index levels in Mumbai have registered a sharp rise.
Professor Dr Gugran Beig is the founder, project director, System of Air Quality and Weather Forecasting And Research, and Chair Professor National Institute of Advanced System.
Apart from the usual suspects like dust from construction activity and burning of garbage and biofuels, Dr Beig tells Prasanna D Zore/Rediff.com that "Urgent measures need to be taken up to decongest traffic and reduce pollution and emissions resulting out of it. The bumper-to-bumper traffic makes a huge impact on the air quality."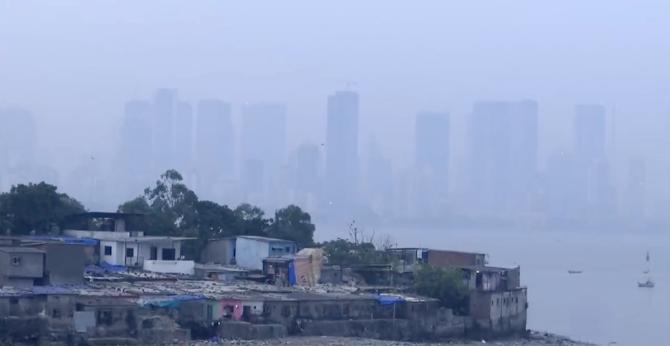 What are the reasons for Mumbai's AQI level worsening from moderate to poor? How bad is it likely to go as winter sets in?
At present it (the AQI in Mumbai — the Air Quality Index level which reflect the concentration of pollutants in air) is relatively better. But then in the previous two weeks of October, the air quality was bad because of two main reasons.
Given its proximity to the sea, Mumbai enjoys a natural advantage because winds from the sea blow over the land every three-four days and cleans particulate emissions from the air over Mumbai. Then again, the cyclone comes, reversal comes and this phenomenon doesn't allow emissions in the air to accumulate for a prolonged period.
Mumbai, being a coastal area, experiences high surface winds which doesn't allow pollutants to accumulate. Quick dispersal takes place.
That explains Mumbai's natural advantage in taking care of air pollution.
But apart from these atmospheric phenomena, emissions take place from a number of other sources, which hampers the air quality. This cripples Mumbai's natural advantage leading to bad air quality.
In any case, the emissions from various sources, which include transport sector, dust from many activities — whether it is unpaved dusty areas, the roads, construction activities, digging, pollutants coming from industries, burning of biofuels in the slums and so on, add to higher AQI level.
Now these emissions are anyway quite high in any metro city but since Mumbai has this natural advantage, it did not face any pollution problems until October.
Now, in the second week of October, monsoon withdrawal happened. That was a delayed monsoon withdrawal. The withdrawal of the monsoon is followed by a phenomenon called anti-cyclonic circulation.
This anti-cyclonic circulation forces the (land) surface wind to become calm which in turn accumulates pollutants.
But when you are pumping (pollutants/emissions in air) from everywhere, even if there are high velocity winds, it results in accumulation of pollutants on the (land) surface.
In winter, when colder winds — which normally blow from top to bottom — coming from the Lonavala-Khandala hills — that are part of the Sahyadri ranges — and the warmer wind prevailing in Mumbai meet somewhere around the Navi Mumbai and Mumbai area, huge amounts of dust is being lifted because of the various reasons, whether it's work on coastal corridor or metro work or any other construction work, they (the pollutants and emissions) get trapped over the land surface forming a vortex. This results in reduced visibility and increase in pollutant concentration.
This is what happened in Mumbai over these two weeks (when the AQI level turned to poor from moderate).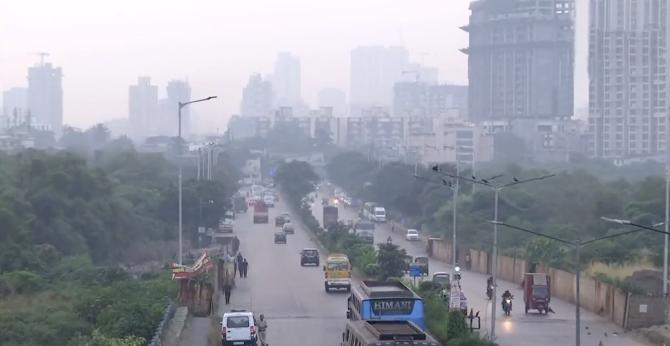 What will happen when winter sets in?
For the last few days the air is relatively cleaner because of wind movement. When the winter sets in, the temperature will go down, and air will become cooler.
Cooler temperature does two things; it tends to reduce the wind speed and brings down the boundary layer or the inversion layer.
Inversion layer results in reversal of the normal decrease of air temperature with altitude and thus throws the polluted air further up. If the temperature of air doesn't increase then pollutants remain suspended near the (earth's) surface.
With the winter chill setting in, the inversion layer will come into play and throw the polluted air further up.
But again, if we don't control the additional amount of pollutants that come from various human activities then the pollution level will not come down.
Activities like digging, burning of garbage and bio-fuels, dust release due to construction activity, will further contribute to rise in pollution and thus poor air quality.
The BrihanMumbai Municipal Corporation has announced some measures including a ban on burning of garbage in open air and issued guidelines to the construction sector. Will that help in better air for the people of Mumbai and adjoining metropolitan areas?
If these guidelines are implemented in true spirit and strictly adhered to by all those who are responsible for the release of emissions and pollutants in air then definitely the air quality would be in check.
What other measures could the local administration take apart from a ban on burning of garbage and the guidelines for the construction sector?
(Traffic) congestion needs to be reduced. Urgent measures need to be taken up to decongest traffic and reduce pollution and emissions resulting out of it. The bumper-to-bumper traffic makes a huge impact on the air quality.
Congestion of vehicular traffic results in burning of fuels like petrol and diesel; if vehicles run at optimum speed of 40-45 kmph and if there is continuous flow of traffic, it really doesn't emit very significant amount of emissions.
But the major problem is when you are forced to reduce the speed and your vehicles (engines) are not tuned properly and there is snarling traffic where you are forced to drive the vehicle at 10-20 kmph resulting in more emissions.
When there is a traffic jam normally people do not try to switch off (their vehicle engines). Free flow of traffic needs to be ensured to reduce pollution significantly.
During traffic congestions, two-wheelers use shortcuts and ride their vehicles on dusty roads, on unpaved roads resulting in lifting of dust in the air.
Such pavements can be covered using paver blocks which also allow water to seep in and avoid flooding during the monsoon.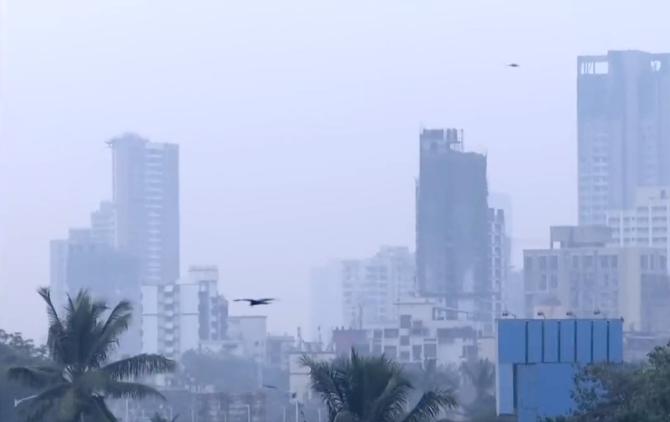 What precautions should construction sites take? Mumbai right now is a city of redevelopment where old buildings are demolished across the northern parts of the city and new buildings are constructed in their place resulting in large scale release of dust and debris.
The BMC has come up with the guidelines and they are perfect so far as its strict implementation is enforced.
Source: Read Full Article