Alex Rodriguez recently got down on one knee and gave Jennifer Lopez the biggest engagement ring of all time. Like, no one else should even bother trying to give their loved ones a shiny rock at this point. And now the world, by which I mean me and you, are obsessing over the couple's upcoming wedding. Considering how much these two love an over-the-top grand gesture (remember that $146,420 Porsche?), their wedding will likely be a big deal. And considering how many celebrity friends they have, the guest list will likely be royal-wedding-levels of stacked. Here's what we know so far, and please note we'll be updating this as more info drops.
Their Exes Are Invited
Alex confirmed as much during an appearance on GMA 3: Strahan, Sara and Keke, saying, "I would say exes invited to wedding. All-inclusive. The more the merrier."
Dang, mature! As a reminder, J.Lo has been married several times. Most recently, she was married to Marc Anthony from 2004-2014 (they had two kids), and from 2001 to 2003, she was married to Cris Judd, and then before that, she was married to Ojani Noa from 1997-1998. Meanwhile, A-Rod was married to Cynthia Scurtis from 2002 to 2008, and they had two kids. So, yeah, there could be a lot of Ghosts from Relationships Past in attendance!
They're Having a Destination Wedding
Alex confirmed this nugget of info also on GMA 3: Strahan, Sara and Keke, saying, "I got one clue for y'all. One wedding clue. It's gonna be a long flight."
It'll Be Relatively Intimate
A source told People that the couple "are not doing a huge wedding" and will probably opt for "a small family celebration that will, of course, include all four kids." Kay cool, but remember that all their closest friends are famous, so even a small wedding is gonna be a major Hollywood moment.
They're Getting Married in a Church
In a YouTube Video, J.Lo revealed that she wants to get married in 2020 and wants the ceremony to go down in a church, saying, "I'd like to get married in a church this time. Never been married in a church."
Her Son Will Walk Her Down the Aisle
J.Lo confirmed this highly adorable fact to Entertainment Tonight, simply saying "of course" when asked if her son Max planned to give her away.
No, They Aren't Spending $3 Million
Gossip Cop shot this rumor down after a tabloid "source" said, "This is going to be an event like no one's ever seen before. There will be music, dancing, extravagant floral arrangements and plenty of celebrity guests." The source also claimed there'd be a celeb guest list of 500 people including George and Amal Clooney. I mean…I can see it!
J.Lo's Not Wearing a Princess Dress
In case ya missed it, J.Lo was spotted out in NYC wearing a giant wedding ballgown for an upcoming movie, but assured fans that her IRL dress would look nothing like it. "I know I don't want one as big as I'm wearing in the movie," she told Extra TV . "That one is a lot to carry around. Too big. But amazing and I'm so lucky I got to wear it."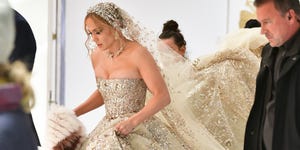 That's all for now, but check back in for more deets next time you're bored at work.
Source: Read Full Article