Debt fund managers are reassessing their strategies after the setback delivered by the Reserve Bank of India recently.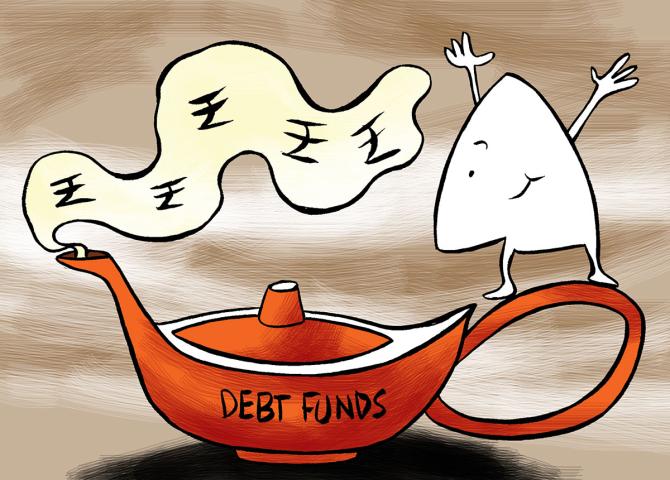 While most are refraining from any knee-jerk reaction to the central bank's surprise open market operation (OMO) announcements, they are taking a re-look at the duration of their schemes.
Sandeep Yadav, head of fixed income at DSP Mutual Fund, said it has trimmed the duration of some schemes, considering the hawkish stance by the RBI.
"When things are not in control, it's prudent to reduce the risk.
"Recent, the RBI policy has brought an element of surprise and chance in markets.
"We have reduced the duration in some of our schemes.
"However, we still have a bullish bias and will look to maintain a medium duration in our dynamic bond fund portfolio," he said.
Most debt fund categories in the medium-to-longer horizon saw a decline in their net asset value (NAV), after the RBI's announcement led to a spike in yields.
Few schemes in the gilt and dynamic bond fund categories declined as much as 0.9 per cent on October 6.
Most fund managers are looking at the development as a temporary blip and want to continue with a largely-unchanged strategy.
"The developments post a near-term challenge to our overweight position in 9–14 year bonds in our active duration funds.
"Our fundamental premise here was a more favourable demand-supply situation.
"However, now the RBI has emerged as a new supplier of government bonds.
"While there is no explicit calendar for this, a long sword hangs now that such OMOs can be announced any day," said Suyash Choudhary, head – fixed income, Bandhan AMC.
Choudhary, however, is looking to continue with the same strategy on the premise that the OMOs are unlikely to skew the demand-supply situation of government bonds.
Debt fund managers' duration stance is evident from their dynamic bond fund portfolios.
In most other schemes, they have limited room to play around durations.
At the end of August, six out of 29 schemes had an average portfolio maturity of seven years.
Of the rest, 11 had an average maturity between five and seven years.
Some fund managers have been bullish on the longer-duration government bonds owing to better demand and end of the rate hike cycle.
Yadav said the longer-duration papers (30-40 years) look attractive from the demand-supply point of view.
"The chances of a rate hike remain remote.
"On top of that, there's strong demand for longer-duration papers from provident funds and insurance firms.
"For the past few quarters, RBI has been increasing the amount of issuances in the 30-40 year bracket.
"Yet, the demand has been able to absorb the increased supply.
"On top of that, there will be a new stream of demand from next year — the JP Morgan bond index. Given the genuine demand, we believe that these long-maturity papers are a good investment," Yadav said.
Source: Read Full Article