'He was a sentimental man, but his commitment to the Olive Green always came before anything else, including his family.'
A fascinating excerpt from Rachna Bisht Rawat's Bipin: The Man Behind The Uniform on what would have been the general's 65th birthday today, March 16.
On a balmy winter evening, the doorbell rings in Brigadier Shivender's Vikram Vihar flat in Delhi. He and his wife have retired for the day and are watching television in their bedroom. They hear the Garhwali bhulla (sahayak) with them go to open the door, some conversation, and the sound of people coming in and sitting down. The boy comes in to inform the couple, 'Koi sahab aaye hain (Some sahab is here),' and then leaves for the day.
Shivender puts on his slippers and walks out wondering who has come to call on him at that late hour without prior intimation.
He is stunned to find a widely grinning General Bipin Rawat sprawling comfortably on his sitting-room sofa, casually dressed in trousers and a buttoned shirt. Madhulika is wearing a salwar kameez in her favourite yellow colour and looking at some pictures on the mantlepiece. She turns when she hears him coming and starts laughing at the surprised look on his face.
'I was shocked to find Bunny sitting there. He was the Chief of Army Staff at that time. There was a lot of protocol and security involved in his movement, and yet he had come to my house unescorted,' Brigadier Shivender remembers.
'When I asked him, "Aap kaise aa gaye (How did you get here)?" he replied, "Tujhse milne ka mann ho raha tha, isliye gaadi nikaali aur aa gaya (I felt like meeting you, so I took out the car and came here)."
He had driven down to Shankar Vihar from Army House, his official residence in the Taurus campus, in his Swift Dzire, without bringing any of his bodyguards or escort vehicles, and he was looking very pleased about it.'
The cousins sit and have a few drinks together, chat about family and friends, and, after having whatever was cooked in the house for dinner, Bipin and Madhulika leave. Bidding Shivender and Renu goodnight, they get in their car and drive back home.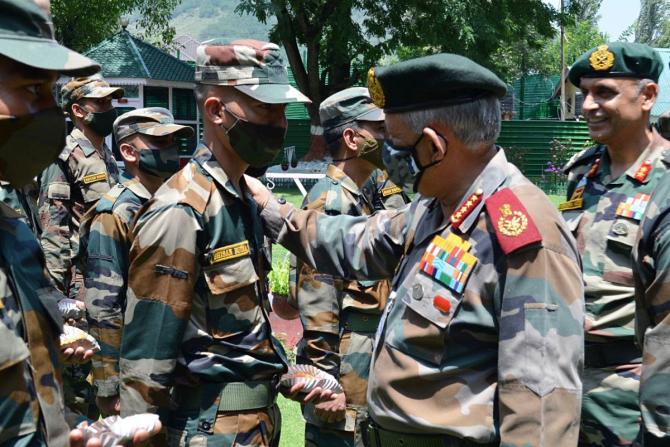 During the course of the evening, Bipin narrates to Shivender how, on his way there, he was stopped at the Shankar Vihar entrance barricade near the United Services Institute by an alert sentry on duty who politely but firmly asked him who he was.
'I told him I was the Army Chief, at which the soldier wasn't impressed at all, and asked me to prove my identity,' Bipin says, laughing loudly.
The Army Chief was carrying his ID card, and immediately took it out and showed it to the young soldier, who inspected it closely and, once satisfied that the man wanting to drive into the cantonment was indeed an army officer, wished him, 'Jai Hind, sahab,' and allowed him in.
'He even saw my name but did not register that I was the Chief of Army Staff,' Bipin tells his hosts, a smile playing upon his face. He was quite pleased with the fact that a soldier was doing his duty so sincerely and totally unconcerned that he had not recognised his Chief.
'That was the kind of man he was,' says Brigadier Shivender. 'Simple and sincere, with absolutely no ego about the appointment he held.'
A Man of Principles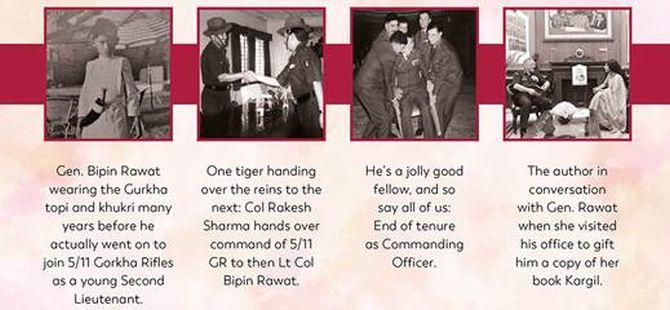 General Bipin Rawat was a sentimental man, but his commitment to the Olive Green always came before anything else, including his own family.
Brigadier Shivender calls his brother 'a tough husband but a man of principles'. He remembers an episode from Bipin's tenure as 3 Corps Commander, when Madhulika Rawat had to attend a family wedding in Dehradun, and he couldn't go with her.
'She was travelling alone, and called me up to ask if I would be able to book a guestroom for her and organise a vehicle that would pick her up from the railway station since she was taking the Shatabdi from Delhi to Dehradun,' Brigadier Shivender remembers.
He authorised a guestroom and told her that it would be no problem at all. He then contacted the Deputy General Officer Commanding, 14 Division, Brigadier Paritosh Pant. The room was booked and a vehicle detailed for Madhulika.
A few days later, Shivender received a frantic call from Madhulika asking him to cancel the arrangements. 'She told me Bipin had somehow come to know about a room and vehicle being organized for her Dehradun trip.
Bipin was furious and had told her to get it cancelled right away. He did not want any favours to be taken from the army.'
The arrangements had to be cancelled, and Madhulika eventually stayed with some relatives and took an autorickshaw from the railway station, even though she was the Corps Commander's wife.
Brigadier Shivender says Bipin was exactly the same with other people too. He had no patience with anyone looking for freebies. 'No one could ask him for any favours because he would curtly refuse.
'"Tum businessman ho. Tum fauj mein kyun rehna chahte ho? Tum bahar jaake ruko (You are a businessman. Why do you want to stay at an army facility? Stay somewhere else), these facilities are not for you)," he once scolded a relative who wanted a room in an army mess,' Brigadier Shivender says with a laugh, disclosing how people in the family often came to him for favours, saying they wouldn't go to Bipin, because 'woh toh sunega nahi (he wouldn't listen)'.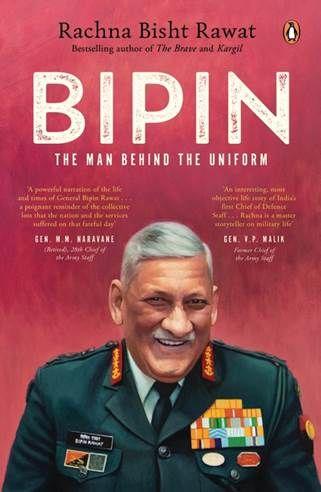 Another unpopular move General Rawat had made was to decrease the amount of liquor authorised to army officers from the canteen on subsidized rates. An army officer was authorised to buy ten bottles of liquor from the canteen at subsidised rates.
In May 2018, a directive from Army Headquarters specified that out of this monthly quota an officer would now be allowed to buy only five bottles of liquor costing more than Rs 1,000.
When Shivender brought this up in a casual conversation, Bipin asked him which officer could drink ten bottles of single malt in a month. 'He would sit there in front of me calculating on his fingertips,' says Brigadier Shivender.
'"One bottle has twelve pegs. Taking ten bottles home in a month ka matlab hai tum chaar peg roz pee rahe ho, iska matlab hai tum ek sharabi ho (would mean you are having four pegs a day, which further means you're an alcoholic)," he would say, adding in disgust, "em>Aisa aadmi kaam kya karega (How can such a man do any work)?"' And Shivender would quietly stifle a smile.
'Bunny was always outspoken, and very clear about what he liked and what he did not like,' he says, remembering yet another episode from Bipin's tenure at the Indian Military Academy.
'He was a young Major then and would not go to play golf, because he never liked it and called it a public relations exercise. One day, the IMA Commandant asked him, "Why don't you play golf, Bipin?" to which the young Major responded, "Sir, I find it a waste of time."'
Excerpted from Bipin: The Man Behind The Uniform by Rachna Bisht Rawat, with the kind permission of the publishers Penguin Random House India.
Feature Presentation: Aslam Hunani/Rediff.com
Source: Read Full Article