Undeterred by the pandemic, Deep Narayan Nayak, a school teacher in a village in Bengal, changes countless lives for the better.
Payal Singh Mohanka reports on this Extraordinary Indian.
The animated chant of alphabets and nursery rhymes reverberate through the narrow lanes between rows of tiled-roof houses in a remote village called Joba Attpara in West Bengal's Paschim Bardhaman district.
Thirty-four-year-old Deep Narayan Nayak, a primary school teacher, has shown the way during the pandemic.
Coronavirus delivered a cruel blow to countless primary school children.
Like all other schools across the country, the Tilka Majhi Adivasi Primary School where Nayak teaches has been shut for a year-and-a-half.
Digital India is a distant dream for underprivileged children who have been flung by the wayside as education all over the country turned online.
With a largely tribal population and first-generation learners who have no access to the Internet or devices, school for the students in this village came to a grinding halt.
Nayak, who has been a school teacher for 11 years was disturbed by the havoc wreaked by the pandemic and the disruption in the lives of little children.
With parents out of work, sheer sustenance was a huge challenge.
Education was a luxury they could ill-afford.
Nayak decided not to lament their plight but find a solution instead.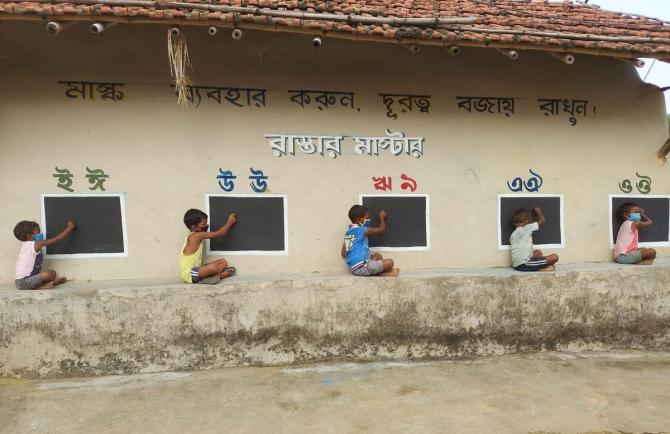 Nayak first began by holding classes beneath the shade of leafy trees in the verdant fields.
But with the rains the ground turned slushy, insects would disturb the children.
He was then struck with an innovative idea.
He decided to take the lessons to their doorstep.
Makeshift classrooms would be set up in different localities in the district.
This would allow children to continue with their lessons and there would be no interaction with children from other areas.
While the fear of the virus and uncertainty loomed large, he braved the odds being mindful of every precaution to keep the virus at bay: Social distancing, masks and hand hygiene.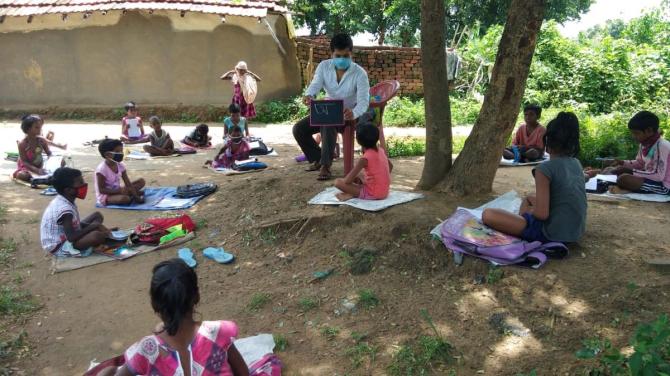 He painted blackboards on walls with colouful graffiti and transformed rural lanes into vibrant classrooms.
Gradually his classes expanded. From two students he now has a hundred, spread over 11 centres in the district.
He has earned the sobriquet, rastar master, 'The Teacher Of The Street'.
The first time he heard that his face broke into a smile, he confesses.
Not just five year olds but children up to the age of 16 came forward to join the lessons, seeking clarifications to their many doubts.
The pandemic had adversely impacted the family's earnings and private tuitions were unaffordable.
Nayak was driven by the need to ensure that no child dropped out of school because of the paucity of funds.
The villagers were surprised when they learnt he wasn't going to charge a rupee.
He was receiving his salary from the government school where he worked.
He would provide essentials like writing slates, chalk, books and pens.
He would take his laptop to his classes so that children could slowly get interested in technology.
Overwhelmed with gratitude, the adults watched their children falling into a productive pattern and enjoying their lessons too.
Much to his embarrassment, they looked at Nayak as a messiah.
He realised that with the closure of schools, children were being denied the mid-day meal, a huge source of protein to protect them from malnutrition.
Nayak began serving bread, bananas and a choice of milk or egg.
His wife Jhuma, also a teacher with a government school, supports him in this endeavour.
Nayak's efforts have helped a maginalised section in his district to continue with their education.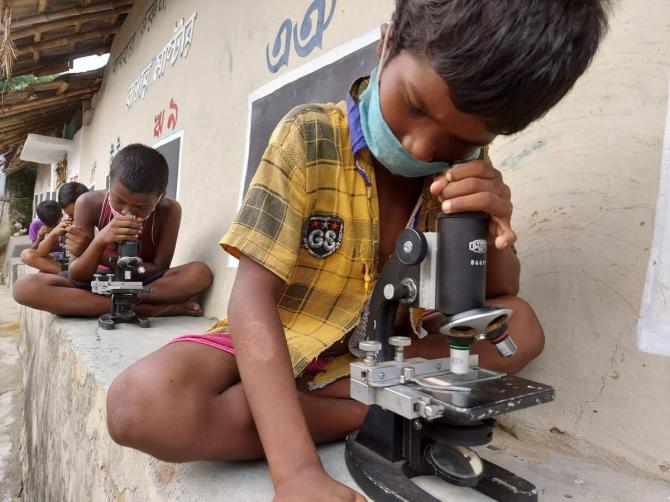 He is also busting myths in this tribal area.
Steeped in superstitions, villagers are now being exposed to science.
When one of his students was absent for a few days, Nayak was told she was possessed by evil spirits.
He went to visit the nine year old at her home.
The aroma of incense sticks filled the air, clouds of smoke swirled in the room as anxious family members stood around the child and talked of ghosts and curses.
Wrapped in a blanket she lay on a bed shivering.
She was having seizures. Her forehead was burning with fever.
Nayak told the family she had symptoms of malaria and needed to see a doctor urgently.
At first they refused to listen. When he gently explained, they finally gave in to his persuasion.
The child was treated and recovered swiftly.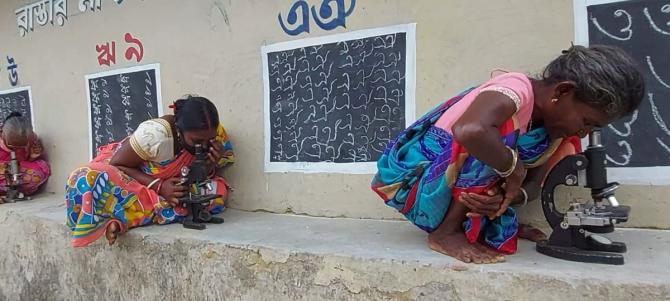 Nayak realised he had been successful in convincing one family.
There were hundreds more who were blinded by superstition.
Fever and seizures were not to be ignored.
The condition had to be treated medically.
He brought microscopes and dummy slides for educational purposes to familiarise students with the Plasmodium parasite which causes malaria, a disease spread by infected mosquitoes.
Patients were not gripped by an evil power! Even their parents came to the class to have a look through the microscope.
Similarly they were educated about snake bites.
Education in every sphere is vital, Nayak realised, especially for tribals with limited exposure, if superstition had to make way for science and reason.
Once he had their confidence and trust, he also began explaining the importance of the Covid vaccine to a community that had refused to be vaccinated.
Today, with a group of friends he has facilitated vaccines for close to 1,200 villagers, even organising their transport from home to the medical centre.
Nayak is not just giving, but receiving too.
The sense of fulfillment for him is priceless.
His love for teaching is palpable as he enthusiastically discusses his plans.
Once normalcy resumes and schools re-open, Nayak will continue with his job in the school and has resolved to carry on coaching children who need help, without a fee.
No child should have to drop out for want of money.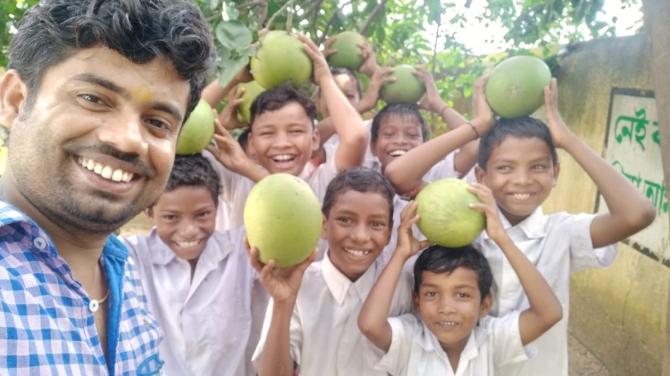 While his family had initially thought he was pursuing a quixotic plan, today they are hugely appreciative of his mission to nurture young minds for a better future.
On Teachers' Day he was moved to tears when the children contributed a rupee or two each and collected money to buy their Sir a shirt.
When he affectionately said they shouldn't have, he was taken aback by their reply.
They received everyday but they were just giving him once.
Surely he would not deny them the joy, they asked.
This 'Teacher Of The Street' has walked right into the hearts of his students.
Feature Presentation: Aslam Hunani/Rediff.com
Source: Read Full Article