While most analysts have made EPS estimate downgrades for FY24, quite a few continue to recommend "Buy/ Accumulate" in expectations of strong overall growth through FY26.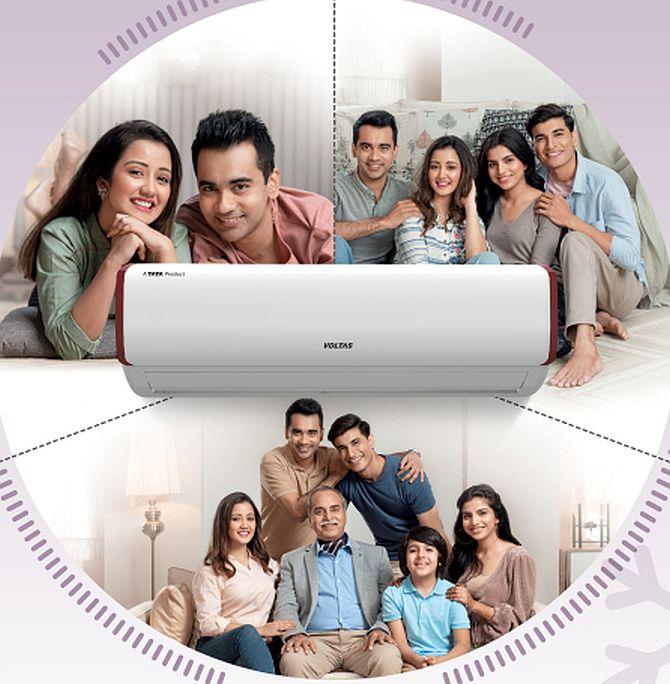 In the July to September quarter of 2023-24 (Q2FY24), Voltas' revenues grew by 29.7 per cent year-on-year (Y-o-Y), but the adjusted net profit was down by 63 per cent Y-o-Y.
The revenues hit Rs 2,290 crore, led by growth in the Unitary Cooling Products segment (up 15.4 per cent Y-o-Y, and in the EMP (Electromechanical project) business (up 66.8 per cent Y-o-Y).
The UCP revenue rose to Rs 1,200 crore in Q2FY24, driven by volume growth despite weak consumer spending – the three-year annual growth is 18 per cent.
A focus on inverters contributed to a rise in overall margin.
The commercial air conditioning (CAC) revenue growth was led by expansion of commercial real estate.
However, quality control order (QCO) norms in CAC may impact future sales.
Commercial refrigeration saw muted demand, with water coolers being the only segment with high demand.
The EMP sales rose to Rs 920 crore in Q2FY24.
Operating profit declined by 30 per cent Y-o-Y to Rs 70.3 crore and the operating profit margin contracted by 260 basis points (bps) Y-o-Y to 3.1 per cent.
This is due to an increase in the overhead expenses as revenues rose to 13 per cent from 8.8 per cent in the second quarter of the previous financial year (Q2FY23).
In terms of segmental profit margins, the UCP segment margin came at 7.6 per cent (down 40 basis points Y-o-Y), whereas EMP reported a loss of Rs 49 crore.
While the gross margins expanded by 10 basis points (bps) Y-o-Y to 24.5 per cent, the adjusted net profit declined 63 per cent Y-o-Y to touch Rs 36.7 crore.
Voltas' share of loss from its JV and associates stood at Rs 33 crore.
Profits had to be adjusted for a provision of Rs 86 crore on account of the delay in realisation from overseas projects.
The Q2 is seasonally lean for UCP but Voltas achieved volume growth of 20 per cent Y-o-Y due to the focus on the retail channel and retail product mix within the UCP category.
The refrigeration and room AC (RAC) segment contributed 80 per cent of UCP business in Q2FY24.
The management is confident that a focus on customer retention and retrofit jobs will continue to support growth.
Management believes there will be an increased demand in the festival season.
The capex is pegged at Rs 500-600 crore, covering capacity expansions for RAC and commercial refrigerator along with PLI investments.
Though the market share in RAC is below June '23 levels of 20.6 per cent, Voltas maintained leadership with a market share of 19.5 per cent in Aug'23.
An increased competition has led to a drop in the RAC market share.
Management guidance is that it will continue to focus on mass premium products.
The commercial refrigeration vertical witnessed muted growth, on account of cautious investments by B2B due to lower demand for cold drinks, chocolates and ice-creams.
The air cooler vertical witnessed over 50 per cent Y-o-Y volume growth with market share of 7.7 per cent (July'23).
The EMPs order book for domestic projects stood at Rs 530 crore including orders across water, HVAC, rural electrification and urban infrastructure activities.
The international order book stood at Rs 330 crore largely across UAE, Qatar and Saudi Arabia.
Voltas Beko secured market share of 5.4 per cent and 3.3 per cent (vs 5 per cent and 3.5 per cent in Q1FY24) in washing machines and refrigerators respectively.
VoltBeko has crossed 4 million units with overall volume growth of 40 per cent Y-o-Y.
While most analysts have made EPS estimate downgrades for FY24, quite a few continue to recommend "Buy/ Accumulate" in expectations of strong overall growth through FY26.
Disclaimer: This article is meant for information purposes only. This article and information do not constitute a distribution, an endorsement, an investment advice, an offer to buy or sell or the solicitation of an offer to buy or sell any securities/schemes or any other financial products/investment products mentioned in this article to influence the opinion or behaviour of the investors/recipients.
Any use of the information/any investment and investment related decisions of the investors/recipients are at their sole discretion and risk. Any advice herein is made on a general basis and does not take into account the specific investment objectives of the specific person or group of persons. Opinions expressed herein are subject to change without notice.
Source: Read Full Article