The Bihar government has advised heads of departments, district magistrates and other senior officials not to call too many meetings as it was affecting the work culture in the state.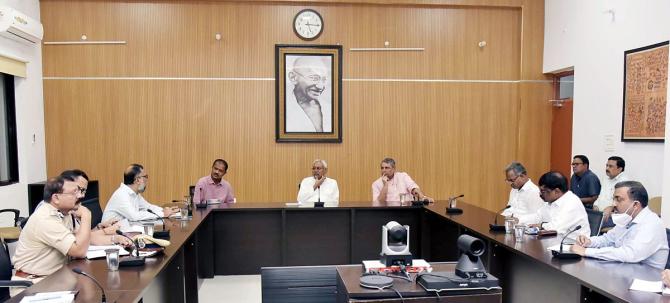 A recent circular issued by the general administration department said that meetings should not be called on verbal orders and subordinates should be respected.
"The subordinate legislation committee of the Bihar assembly, in its report tabled on the floor of the house, has made several recommendations, including too many meetings (called by senior officials) are adversely affecting bureaucratic work culture in the state and officials should avoid calling meetings verbally (barring emergencies) and seniors must not use disrespectful/abusive/filthy languages against subordinate officials", the circular which was accessed by PTI said.
All department heads, district magistrates, and senior officials in the state should ensure that all recommendations of the Committee are strictly followed, said the circular.
"In case meetings are called verbally, it must be ensured by the senior most official that minutes of the meeting are prepared once they are over. Mostly it has been noticed that if a junior official, who attends a meeting, called verbally after office hours, meets an accident while going back to his/her home, they are not considered as 'on duty'. Therefore, the practice of calling meetings verbally should be avoided", it said.
Using abusive/filthy language against junior officials during meetings is just not allowed, said the committee, adding senior officials should respect, motivate and encourage their subordinate officials for better productivity.
Talking to PTI on Friday, Ajeet Sharma, senior Congress leader and chief of the subordinate legislation committee, said, "Attending too many meetings can be highly stressful and tiring and both productivity and quality take a hit and employees become demotivated, and lose valuable work time. Too many meetings (some of them are unproductive) by senior officials have spoiled the bureaucratic work culture in the state.
"The committee's report was prepared after a lot of deliberations. Bihar chief secretary and the GAD have already issued instructions to the concerned departments/officials asking them to ensure strict compliance with the committee's recommendations."
"If committee's recommendations are not implemented strictly, we (Committee) will be forced to decide our further step. Ineffective or unproductive meetings that waste time can negatively impact the psychological, physical, and mental well-being of officials," said Sharma.
Commenting on the committee's report, Nitin Naveen, a senior BJP leader who is also a member of the committee, told PTI It is true that the practice of holding too many meetings by senior bureaucrats, should stop.
"If officials are busy in attending meetings only, then who will ensure the implementation of government schemes? If they are busy in meetings, then when will they get time to physically inspect the execution of state government's developmental projects? Only by sitting in air-conditioned rooms, we can't think of a responsive government. All recommendations of the committee must be implemented properly," the BJP leader added.
Source: Read Full Article