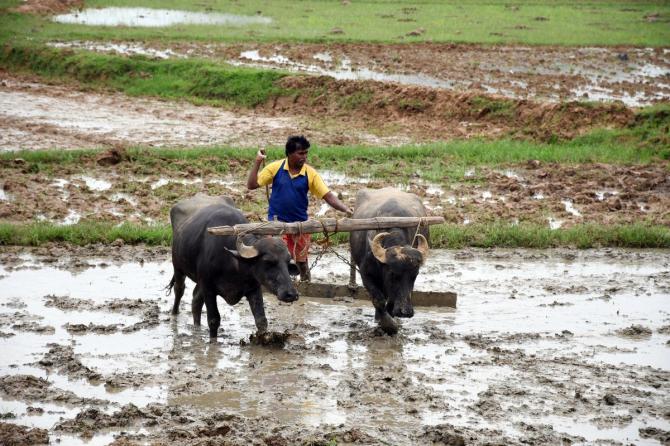 Sowing of kharif crops neared their end with acreage almost at last year's level.
This comes amid concerns on the continued weakness in the southwest monsoon over large parts of western, central and peninsular India.
In Karnataka, the state government has begun assessment of crops and moisture levels in them to declare drought, said reports.
In Maharashtra, state Agriculture Minister Dhananjay Munde said a drought-like situation, similar to the one witnessed in 2014, is prevailing in six out of eight districts of the Marathwada region.
So far, Karnataka has received 19 per cent lower-than-normal rainfall from June 1 to August 25. Marathwada saw 17 per cent less-than-normal rains during the same period.
Marathwada region comprises Aurangabad, Jalna, Parbhani, Beed, Osmanabad, Nanded, Hingoli and Latur districts.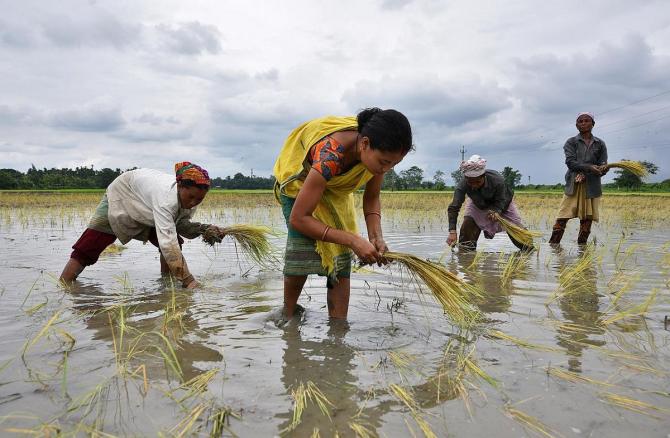 In Karnataka, out of the 31 districts, rainfall is deficient in around 14 (45 per cent) of them.
In Maharashtra, out of the 36 districts, rainfall is deficient in 15 (around 42 per cent), according to the latest data from the India Meteorological Department (IMD).
Low rainfall means that there is little chance of any big improvement in arhar and urad acreage in both the states.
Some reports said that farmers have also started factoring in a 5-10 per cent fall in paddy production this kharif season. This is owing to low rains in east India and excess showers in Punjab and Haryana.
Overall, across the country till date (between June 1 and August 25), out of the total 717 districts, monsoon is deficient in around 37 per cent of them cumulatively.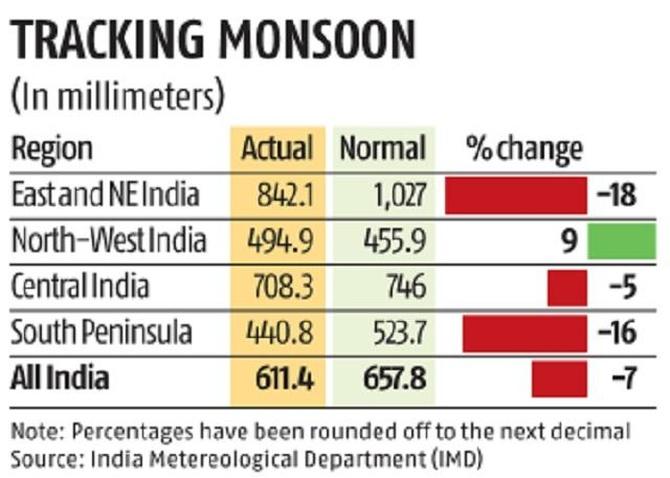 Meteorologists said rainfall across most parts of the country, barring east and North East India and the foothills of the Himalayas, will once again see a break over the next few days till September first week.
September is the month when the southwest monsoon usually starts to retreat from western Rajasthan.
The Met department, in its fortnightly forecast, said that during August 24-30, the overall rainfall activity is likely to be above normal over North East India, near normal over east India and subdued over the remaining parts of the country.
Thereafter, in August 31-September 6, overall rainfall activity is likely to be normal-to-above-normal over Northeast, east and adjoining central India.
It would be near normal over most parts of south Peninsular India (except Maharashtra) and below normal over the rest of the country.
Any long dry spell could cause moisture stress in the standing crop during the crucial maturing stage and also make it prone to pest and disease attacks.
Feature Presentation: Rajesh Alva/Rediff.com
Source: Read Full Article