Covid-19 India Live Updates: India recorded over 13,000 in the 24 hours ending 9 am Friday. The country's total caseload now stands at over 1.09 crore, of which over 1.06 crore patients have recovered from the disease.
Coronavirus India Live Updates: Over a month after India commenced its Covid-19 inoculation drive, 1 crore vaccinations have been administered so far. Union Health Ministry data shows an uneven pattern of distribution, with several states and Union Territories injecting doses to less than 50 per cent of their target frontline workers. Tamil Nadu, Delhi and Punjab are among the larger states yet to reach 50 per cent vaccine coverage.
In other news, after 19 days, India recorded over 13,000 in the 24 hours ending 9 am Friday. The country's total caseload now stands at over 1.09 crore, of which over 1.06 crore patients have recovered from the disease. The toll increased to 1,56,111 with 97 deaths yesterday.
Covid-19 variants detected in South Africa and Brazil were found in five persons who had returned to India on Tuesday.
Meanwhile, strict restrictions have been reimposed in five districts of Maharashtra's Amravati division –Amravati, Akola, Yavatmal, Buldana and Washim —  with a partial lockdown in two of them after Covid-19 cases shot up there.
In another development, Prime Minister Narendra Modi Thursday suggested the creation of a regional platform for collating and studying data on the effectiveness of the Covid-19 vaccines, a special visa scheme for doctors and nurses to travel within the region during health emergencies among other things.
Meanwhile, the UK has vowed to share coronavirus vaccines with the world's poorest countries, though details of how soon and how much they will give remain scarce.
Leaders of the Group of Seven economic powers are holding their first meeting of 2021 on Friday.
Coronavirus India News Live Upates: One crore vaccinated so far; case tally at 1.09 crore, recoveries at 1.06 crore. Follow this space for latest Covid-19 updates
Harsh Vardhan appeals to healthcare, frontline workers to get vaccinated against COVID
Union minister Harsh Vardhan appealed to all healthcare and frontline workers to get vaccinated against COVID-19 as per schedule. He also said the vaccines are safe and fulfil all the criteria of immunogenicity.
'I want to appeal to all healthcare and frontline workers to get inoculated with COVID-19 vaccine doses as per schedule. The vaccines are safe. Don't believe any rumour and misinformation,' he said.
He further said that no severe adverse event post-immunisation have been recorded in the country and those reported are also 0.0004 per cent.
'No death has been recorded due to COVID-19 vaccination. All state governments have been asked to vaccinate every healthcare and frontline worker,' he said.
Every state/union territory have been asked to schedule all healthcare workers for vaccination at least once before February 20 and immediately thereafter organise mop-up rounds for them.
Similarly, all frontline workers must be scheduled for vaccination at least once before March 6 this year and immediately thereafter organise mop-up rounds for them. – PTI
UK vows to share vaccines, but details thin as G-7 meets
Some of the world's wealthiest countries are promising to share coronavirus vaccines with the poorest, but details of when and how many remain scarce as leaders of the Group of Seven economic powers hold their first meeting of 2021 on Friday.
Prime Minister Boris Johnson of Britain, which holds the G-7 presidency this year, is meeting virtually with the leaders of France, Germany, Italy, Canada, Japan and the United States to discuss international challenges — chief among them the pandemic that has killed almost 2.5 million people around the world.
Wealthy nations have snapped up hundreds of millions of doses of vaccines against the virus, while some countries in the developing world have little or none.
Johnson, whose country has had almost 120,000 coronavirus deaths, will promise to give "the majority of any future surplus vaccines" to the UN-backed COVAX effort to vaccinate the world's most vulnerable people, and will encourage other G-7 countries to do the same, the British government said.
But Foreign Office Minister James Cleverly said it was is "difficult to say with any kind of certainty" when or how much Britain could donate.
"We're not really able to give with certainty either a timescale or the numbers involved," he told the BBC.
Anti-poverty group the One Campaign said Britain's promise was not enough.
"The virus won't wait on us to be ready before it mutates, so we need to get these vaccines around the world as quickly as possible," said Romilly Greenhill, the group's UK director.
French President Emmanuel Macron gave a firmer target, saying Europe and the US should allocate up to 5 per cent of their current COVID-19 vaccine supplies to the poorest countries "very fast, so that people on the ground see it happening." In an interview with the Financial Times, Macron suggested Russia and China are engaged in a "war of influence over vaccines" by offering doses of their own products to some African nations.
America's G-7 allies are keen to impress President Joe Biden at his first major multilateral engagement since taking office.
They are hopeful that US re-engagement with the world following the "America first" years under Donald Trump will mean a more coordinated response on issues including COVID-19 and climate change.
Biden has pledged to join the COVAX initiative, and the White House says he will emphasize the need for global coordination on vaccine production, distribution and supplies when he speaks at Friday's G-7 meeting.
For Johnson, the G-7 presidency is a chance to demonstrate Britain is still a key global player following its exit from the EU, which became complete at the end of 2020.
A full G-7 summit is scheduled to take place in June at the Carbis Bay seaside resort in southwest England.
British officials are hopeful it can take place in person, though at a reduced scale because social distancing rules and other restrictions are likely still to be in place. – AP
COVID-19 in Delhi: 158 new cases, one death; positivity rate 0.26 pc
Delhi recorded 158 fresh COVID-19 cases and one fatality on Friday, even as the positivity rate stood at 0.26 per cent, authorities said. With this, the death toll from coronavirus infection in the capital went up to 10,897.

On Thursday, 130 cases and two deaths were registered.

No death due to COVID-19 was recorded in Delhi on Wednesday, the third time single-day fatality count stood nil in February. On February 9 too, no fatality from coronavirus infection was registered in the national capital, first time this month, and after a gap of nearly nine months. No death from COVID-19 was recorded on Saturday as well.

On Friday, Delhi recorded 158 fresh COVID-19 cases, while the positivity rate stood at 0.26 per cent, authorities said, adding the infection tally in the city rose to 6,37,445, according to the latest health bulletin issued by the city government.

One fatality was registered on Friday, taking the death toll in the city to 10,897, it said.

Delhi recorded 94 fresh COVID-19 cases on Tuesday, the lowest in over nine months.

The national capital had recorded 96 coronavirus cases on January 27, that time the lowest in over nine months, and the first time the daily incidence count had stood below the 100-mark in that month.

Also, on February 5 and February 7, the fatality counts were two on both days, same as on February 2.

These new 158 cases came out of the 60,836 tests conducted the previous day, according to the health bulletin.

The active cases tally on Friday stood at 1053, the same figure as the previous day, according to the bulletin.

The total number of tests conducted the previous day, included 39,931 RT-PCR tests and 20,905 rapid antigen tests, the bulletin said. – PTI
Sri Lanka to procure 10 million doses of COVID-19 vaccine from India: Official
Sri Lanka will purchase 10 million doses of Oxford-AstraZeneca vaccine from India, officials here have said.
In January, under India's neighbourhood first policy, Sri Lanka received 500,000 doses of free vaccines. They were administered as a priority to frontline health workers and members of the Armed forces.
The State Pharmaceutical Corporation has signed the order with Serum Institute of India (SII) for 10 million doses, officials said. This agreement has been approved by the Attorney General on Monday.
Oxford-AstraZeneca's Covishield is being manufactured by Pune-based Serum Institute. The SII has collaborated with Oxford University and pharmaceutical company AstraZeneca for making the vaccine.
Earlier this week, the vaccination was extended to the general public and MPs. About 250,000 out of 500,000 Oxford–AstraZeneca Covishield vaccines have been administered so far, General Shavendra Silva, the Army chief who heads the COVID-19 prevention operations said on Friday.
He said, the WHO has assured Sri Lanka that it would provide vaccines for 20 per cent of the local population free of charge. He added that China and Russia had also agreed to donate vaccines to the local population.
The Indian Army and the Russian military have also agreed to provide a quantity of vaccines to the Sri Lankan military.
Sri Lanka has recorded 78,420 cases by last night with 71,000 of them having recovered. At least 430 deaths have been recorded since the outbreak in mid-March last year.
India is one of the world's biggest drug makers and an increasing number of countries have already approached it for procuring the coronavirus vaccines.
India has sent consignments of domestically produced coronavirus vaccines under grant assistance to Bhutan, Maldives, Nepal, Bangladesh, Myanmar, Mauritius and Seychelles.
It is also undertaking commercial supplies of the doses to a number of countries, including Saudi Arabia, South Africa, Brazil and Morocco. – PTI
Sena MP writes to Harsh Vardhan, urges roping in private hospitals for immunisation drive
Shiv Sena MP Priyanka Chaturvedi has written to Union Health minister Dr Harsh Vardhan regarding ensuring the availability and accessibilty of Covid vaccines in the wake of rise in infections and the emergence of various strains of the virus.
In her letter, she noted that Covid-19 vaccine supplies are under-utilised as per the health ministry data and suggested reconsidering the government's policy of regulating the availability of vaccines.
She said the CoWin App has been facing glitches with data, while there are loopholes that exist for those who have access to networks and money to get vaccine shots on priority She added that the weaker sections of the society are suffering the consequences of such government regulations.
Further stating that many many countries have benefitted from the Vaccine Maitri initiative by the Ministry of External Affairs, Chaturvedi asked: 'Isn't it high time that Indians get the same benefits of having a vaccine easily available for them?'
The Shiv Sena leader has further urged the Union minister to consider roping in private hospitals for immunisation drive, open up more mobile vaccination centres and fix the issues coming up in the CoWin App.
She also urged considering de-regularising the sale of vaccines and capping the cost of the same to ensure that there is no heavy cost for the citizens to bear.
The city's Covid graph over the past month has given healthcare workers a much needed breather. However, with the number of cases increasing in several cities and towns in Maharashtra, Delhi government officials have warned against complacency.
Between mid-January and mid-February the city's positivity rate has remained under 0.5%, which experts say indicates that the spread has slowed down by a considerable degree.
The number of samples collected in a day, however, has also dipped from around 75,000 a day in November to 57,000 per day after the last month. (Read more here)
Amid a rising number of daily Covid-19 cases in Mumbai, the Brihanmumbai Municipal Corporation (BMC) on Thursday issued fresh guidelines to make implementation of Covid norms more stringent, including limited gathering during marriages, fines for face mask violations, hand-stamps on home-quarantine patients, and sealing of buildings where five or more cases are found.
The BMC will depute 300 marshals — 100 each at Western, Central and Harbour railway line to enforce the rule of wearing masks while travelling in trains.
For stricter implementation of the face mask rule and to take action against those spitting in public places, BMC has doubled the number of clean-up marshals from 2,400 to 4,800.
Institutional quarantine has been made compulsory for travellers from Brazil along with existing mandate to quarantine travellers from UK, European Countries, and the Middle East.
Residential buildings with five and more Covid-19 positive cases will be sealed.
In case the patients are seen violating the quarantine norms, an FIR will be filed against the patient and the patient will be shifted to an institutional quarantine.
.
Ever since the coronavirus numbers began to dip, scientists and health experts have been warning that there is no room for people to let their guard down against a virus as unpredictable as this one. They have underlined the real possibility of resurgence and of new strains of the virus emerging in other countries reaching India. But for the most part, this advice has been treated with a certain optimistic disbelief by a people impatient for a return to the pre-COVID-19 normal. The steady fall in numbers in this country even as the disease was rising and raging in several other countries has also encouraged the notion that India is somehow immune to the trends being witnessed elsewhere. The trends in Maharashtra in the last few days, however, are an indication of the prescience of scientists and health experts, and of the perils of complacency.
IN THE second phase of the Covid-19 vaccination programme, the Bengal government will start registration of all state government employees to ensure Covid vaccination coverage to maximum state government employees and parastatals on priority basis.
Announcing this at Nabanna on Thursday, Chief Secretary Alapan Bandyopadhyay said that earlier a priority list containing names of seven lakh employees, including health workers, police, municipal workers and other state government employees, who are frontline workers, were prepared.(Read more here)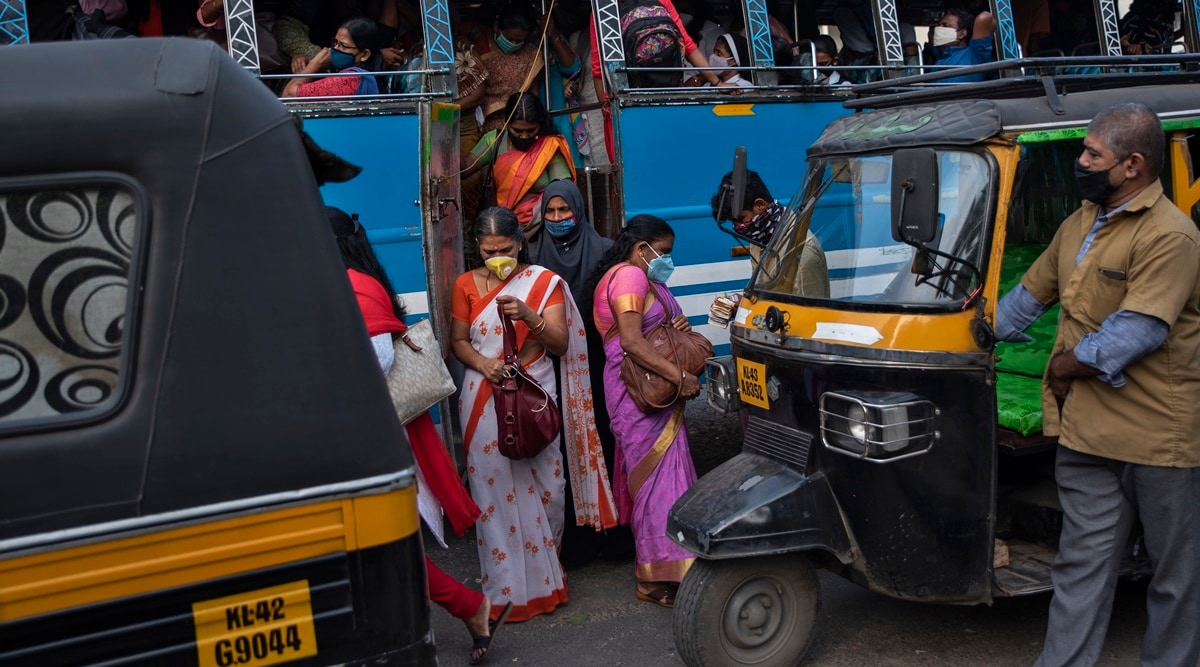 (AP Photo/R S Iyer)
Covid-19 cases up, 'partial lockdown', curbs in 5 Vidarbha districts
With the Covid-19 positivity graph shooting up sharply in Maharashtra's Amravati division, the authorities have reimposed strict restrictions in all its five districts — Amravati, Akola, Yavatmal, Buldana and Washim — with a "partial lockdown" in two of them.
The five districts, of the 11 in the Vidarbha region, saw 1,188 new cases on Thursday, with Amravati leading the chart with 597, followed by Yavatmal (237), Akola (179), Buldana (134) and Washim (41). Yavatmal's tally more than doubled, to 237 new cases, from 109 on Wednesday.
Amravati district's active caseload stood at 3,468 on Wednesday, up from 423 a month ago. Officials said daily deaths due to Covid-19 in the district were up from one-two deaths a month ago to three-four a day now.
Covidiplomacy pitch by PM Modi: Visa for medics, air ambulance
Applauding the "spirit of collaboration" among South Asian and Indian Ocean island countries as "a valuable takeaway from this pandemic", Prime Minister Narendra Modi suggested Thursday the creation of a regional platform for collating and studying data on the effectiveness of the Covid-19 vaccines, a special visa scheme for doctors and nurses to travel within the region during health emergencies, and a regional air ambulance agreement for medical contingencies.
Official sources later said "all countries, including Pakistan, supported the PM's proposals". They sought a structured discussion for regional cooperation on these proposals to take them forward, sources said.
Source: Read Full Article