As political winds stir in these states, it's prudent to assess their economic landscapes.
Five states — Mizoram, Chhattisgarh, Telangana, Rajasthan, and Madhya Pradesh — are gearing up for elections in November.
The battleground is primarily between the Bharatiya Janata Party and the Congress in Chhattisgarh, Rajasthan and Madhya Pradesh, while Mizoram sees a showdown between the Congress and National Democratic Alliance partner, the Mizo National Front.
The Bharat Rashtra Samithi of Telangana continues to remain unaligned with either bloc.
As political winds stir in these states, let's delve into the economic metrics of two smaller states: Chhattisgarh and Mizoram.
Chhattisgarh: Reaching critical mass
Initially constituting one-third of the larger Madhya Pradesh it was carved from, Chhattisgarh's per capita income fell slightly below Madhya Pradesh's in 2022-2023.
The state's contribution to the national economy remained stable at 1.7 per cent from 2018-2019, marking the last year of the Raman Singh government.
In the first four years of Raman Singh's tenure, the state's contribution ranged between 1.6 per cent and 1.8 per cent of the national economy.
Chhattisgarh's per capita income peaked at 84.2 per cent of the national average in 2014-15, declining to below 80 per cent in subsequent years.
Although it rebounded to 81 per cent in 2018-2019, the latest data from 2022-2023 shows a decrease to around 78 per cent.
Inflation, a pivotal factor influencing elections, has largely remained below the national average in Chhattisgarh, except for the pandemic-hit year of 2020-2021.
In the first five months of the current financial year, the state's inflation stood at 2.82 per cent, compared to the national average of 5.63 per cent.
Chhattisgarh's own tax revenue has fluctuated but stands higher at approximately 36 per cent of its revenue receipts for 2023-2024, compared to the 33 per cent left by the previous BJP government.
The state's expenditure, primarily allocated to revenue heads, allows for limited capital generation.
However, with support from the central government, the state's capital outlay has slightly exceeded 15 per cent in 2022-2023 (Revised Estimates).
Remarkably, despite these challenges, Chhattisgarh maintains a revenue surplus, except for a couple of years under the Bhupesh Baghel government, notably during the economic slowdown of 2019-2020 and 2020-2021, and a year in the previous Raman Singh administration (2014-2015).
Chhattisgarh's debt, at approximately 24 per cent of its gross state domestic product (GSDP) under the Bhupesh Baghel government, is manageable, albeit higher than the sub-20 per cent level during the Raman Singh government.
An intriguing aspect to monitor is whether the state can maintain a revenue surplus and a low debt-to-GSDP ratio after pension liabilities are accounted for due to its adoption of the Old Pension Scheme from April 1, 2022.
This will become evident around 2034 when employees who joined in 2004 begin retiring.
Mizoram: Small but stable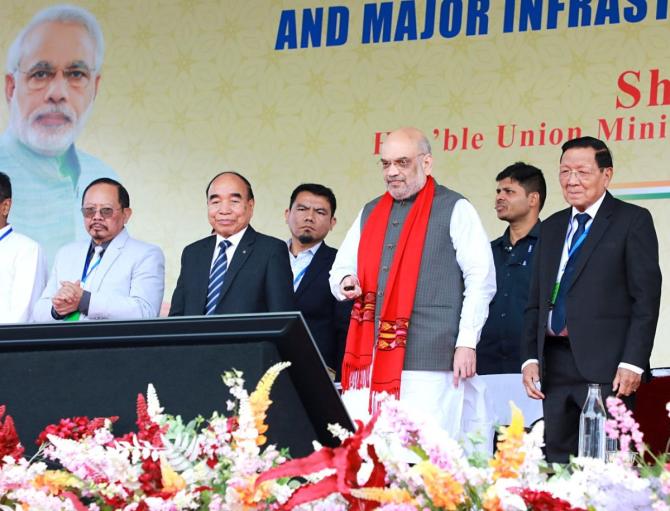 Constituting a mere 0.6 per cent of India's area and 0.1 per cent of its population, Mizoram has an economy representing 0.1 per cent of the country's total.
Although small in size, its per capita income surpasses the national average, a trend that has persisted through both Congress and MNF governments.
Inflation remains a concern for the incumbent Zoramthanga government.
While it has often exceeded the national average during this administration, recent months have seen a decrease.
For example, in July and August, inflation stood at 4.51 per cent and 4.58 per cent, respectively, compared to the national figures of 7.44 per cent and 6.83 per cent.
Mizoram's own tax revenues have remained below 10 per cent of its revenue receipts over the past decade, primarily due to its agriculture-dominated economy.
The bulk of the state's revenue receipts comes from central taxes and grants-in-aid provided by the Union government.
Despite revenue expenditures consistently exceeding 80 per cent of its total expenditure, Mizoram has managed a revenue surplus in most years.
However, its fiscal deficit worsened during the current administration, surpassing the permissible limit in the pandemic-affected year of 2020-2021 and 2022-2023 (Revised Estimates).
Consequently, the state's debt levels have remained high, ranging from 34 per cent to 52 per cent of its GSDP over the past decade, peaking at 51.9 per cent in the initial year of the previous Lal Thanhawla Congress government.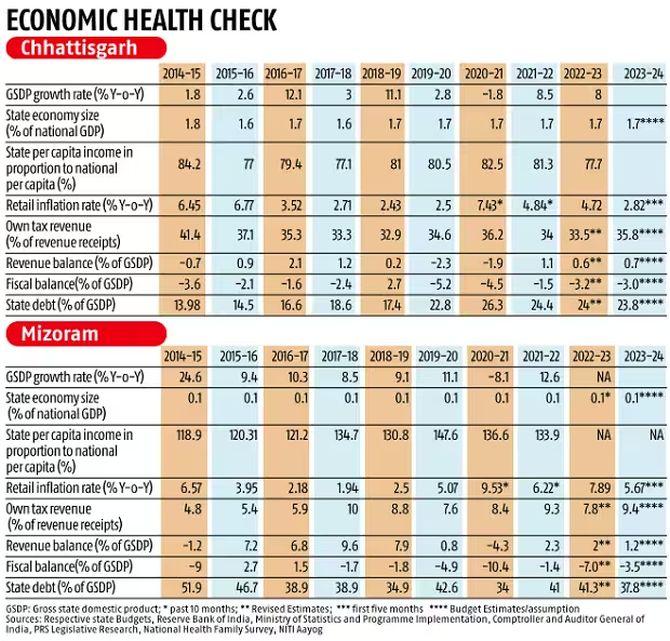 Feature Presentation: Aslam Hunani/Rediff.com
Source: Read Full Article