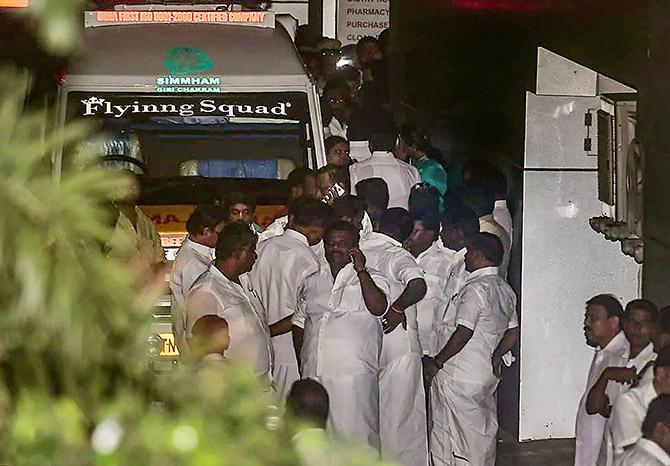 The national flag will fly at half mast in Delhi, all state capitals and across Tamil Nadu on Wednesday as a mark of respect to Dravida Munnetra Kazhagam chief M Karunanidhi, who passed away on Tuesday, the Union home ministry announced.
The veteran Dravidian leader and and former Tamil Nadu chief minister will also be accorded a state funeral, which will take place on Wednesday in Chennai.
The government of India will observe state mourning across the country on Wednesday and there will be no official entertainment during the day, a home ministry spokesperson said.
Meanwhile, DMK working president M K Stalin has appealed to cadres to remain calm and to follow discipline in 'this hour of grief'.
Stalin urged the cadres, who have been thronging the Kauvery Hospital ever since Karunanidhi was admitted there on July 28, to disperse in a peaceful manner as the doctors had treated his father to the best of their ability for nearly two years.
"I appeal to party office bearers to ensure that the cadres disperse in a peaceful manner", he said.
Stalin asked the cadres not to indulge in any activity that would bring a bad name to the deceased leader and not to damage public property.
He alleged that anti-social elements would try to take advantage of the present situation and said party workers should identify such people and hand them over to police.
Hailing DMK's 'military like discipline', Stalin said it was the duty of the cadres to offer full support to the policemen on duty.
Source: Read Full Article