He also alleged that the Centre "threatened to take away his powers" when it wanted to convert Delhi stadiums into jails for farmers.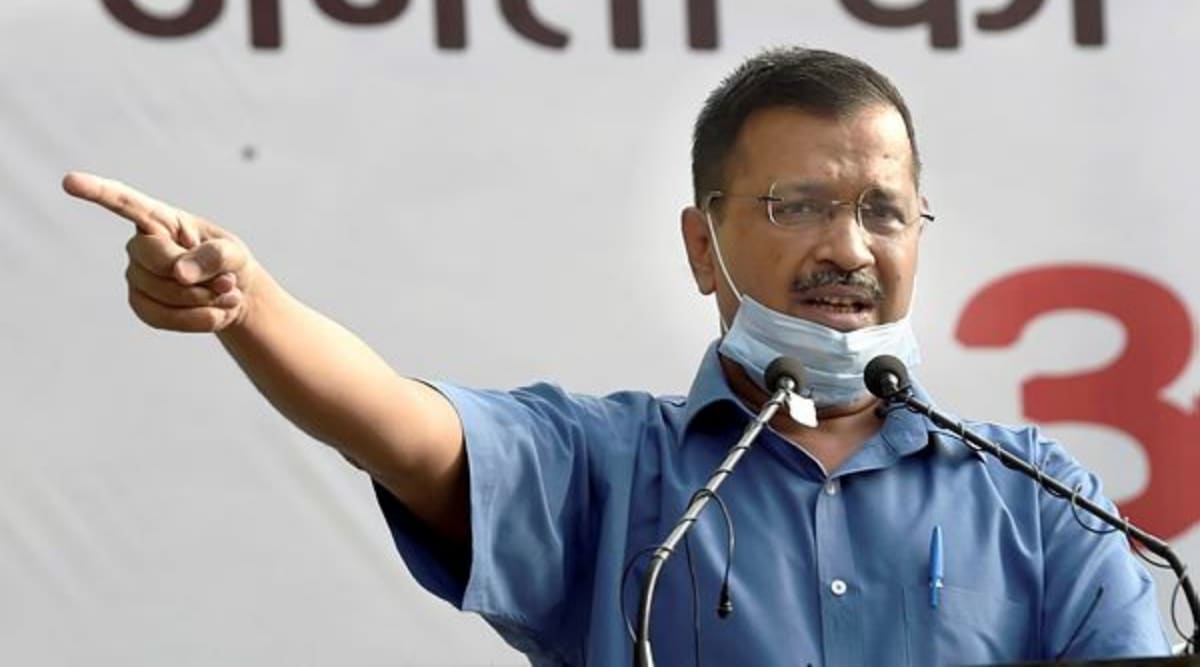 Addressing a 'Kisan Mahapanchayat' in Haryana's Jind town, Delhi Chief Minister Arvind Kejriwal on Sunday said that the Centre had "punished him and his Delhi government for supporting the farmer agitation by handing over the powers of his government to Lieutenant Governor".
He also alleged that the Centre "threatened to take away his powers" when it wanted to convert Delhi stadiums into jails for farmers.
Kejriwal told the gathering he had provided every help including water, electricity and services of toilets to the agitating farmers at Delhi borders. "I am happy that the farmers agitation is alive even after four months. They (BJP government) couldn't do anything. That's why they are upset with me. Now, they have brought a Bill in the parliament to punish Kejriwal. We have faced repercussions, they are punishing us for supporting the farmer agitation. They have brought a law which the Parliament has passed that the elected government and chief minister in Delhi will have no powers but the Lieutenant governor. Did we fight for freedom struggle for this," said Kejriwal.
"What type of this (proposed) law in which a government for which the public gave 62 seats out of 70 seats and 67 out of 70 seats, will have no powers?" he asked.
The Delhi CM claimed that the central government and BJP leaders got angry with him since he had rejected a proposal of the Delhi Police to convert nine stadiums into jails for farmers. "The central government had sent a file to me. Several phone calls were made to me. It put too much pressure (on me) to convert the stadiums into jails. They said jails are necessary otherwise a law-and-order problem will emerge. They even threatened me that my powers will be taken away. But I did not relent. I rejected their file. I wrote on the file that the agitation of farmers and their demands are genuine and their demands should be accepted immediately."
"If Kejriwal has to sacrifice his life for this farmer agitation…I am ready to give every sacrifice," he added. While remembering the "sacrifice of 300 farmers during the farmers agitation", he further said, "Every citizen of the country and every patriot who loves India has a duty to support the farmer agitation. The person who is with the farmer agitation is a patriot and those against it are traitors of their country."
AAP organised its 'Kisan Mahapanchayat' in Jind, which has political importance being centrally located in Haryana and is also witnessing an intense farmer agitation. Earlier, Kejriwal had addressed such mahapanchayats in Punjab's Moga and Uttar Pradesh's Meerut.
Kejriwal took on the Haryana government for alleged lathicharge on protesting farmers in Rohtak where farmers were staging a protest against Chief Minister Manohar Lal Khattar on Saturday. "The step of lathicharge was very wrong. A country where farmers are not respected can't progress ever. Should governments support the farmers or resort to lathicharge on them?"
Kejriwal said that he had to take alternative routes to reach Jind Sunday because of the road blocked by farmers against the incident of lathicharge. He also claimed that many people also could not reach the mahapanchayat because of the chakka jam. He said that the since first day of the struggle, his party and AAP's Delhi government was supporting the farmers.
"Since the central government passed three black (agri) laws, the farmers of the entire country are upset. But the farmers were thinking who will take a lead to struggle on this issue. Then, the farmers of Punjab and Haryana took a lead to raise their voice. Whether the media shows it or doesn't, the entire country is with you. It may be possible that the farmers of Gujarat, Tamil Nadu and Assam may not reach Delhi borders but don't think that they are not with you. Every farmer from the country daily prays for the farmers sitting on Delhi borders for the success of this struggle," he added.
Source: Read Full Article