'Instead of ACs, the government should do something to increase our salary.'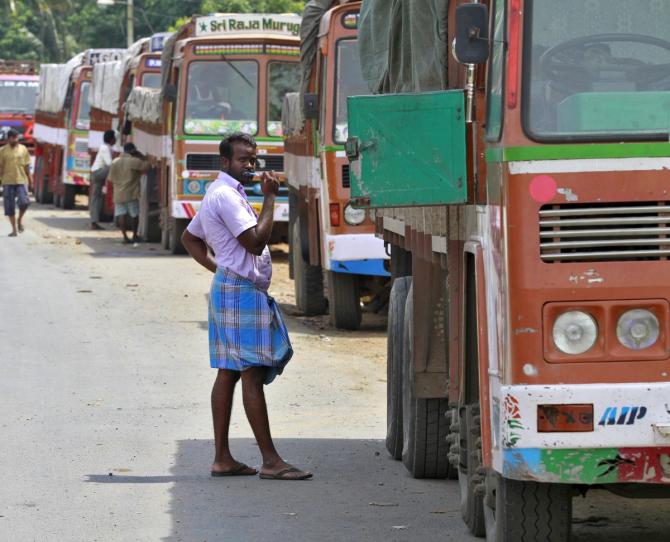 Truck operators are up in arms over the government's plan to make air-conditioned cabins mandatory for truck drivers by 2025.
If implemented, the move will not only increase the cost of trucks by up to Rs 50,000, but also lead to a spike in freight rates, they claim.
The ministry of road transport and highways recently announced its decision to make air-conditioned driver's cabins mandatory for trucks by 2025.
However, operators point out that this will raise fuel costs by as much as 25 per cent and maintenance costs by about 50 per cent.
Moreover, say industry insiders, in some models, original equipment manufacturers (OEMs) may have to make changes to the drive-train of vehicles to accommodate the AC cabin.
This is likely to increase truck prices by Rs 30,000-Rs 50,000.
That's not all. The higher maintenance and fuel costs will likely result in a rise in freight rates.
"If the government wants air conditioning to be mandatory in truck cabins, it should ensure free solar panels in every truck. This decision is going to increase our fuel cost by 25 per cent and maintenance cost by 50 per cent," said K Arul, secretary, Namakkal Taluk Lorry Owners Association.
Namakkal in Tamil Nadu is considered the transportation hub of south India, with more than 50,000 trucks in operation.
Arul says operators feel that these air-conditioned cabins will become a "halt and recreation room" for drivers even when the vehicle is not on the move, further driving up costs.
"Even at current mileage, the business is not viable for us," he said.
Truck drivers, though, have a different take on the government's proposed move.
Durai Swamy, a 27-year-old truck driver from Thiruvarur, said, "I am earning only around Rs 20,000-Rs 25,000 per month. With this money, I have to look after my family and my deteriorating health due to long 11-12 hour drives at a stretch. Instead of ACs, the government should do something to increase our salary."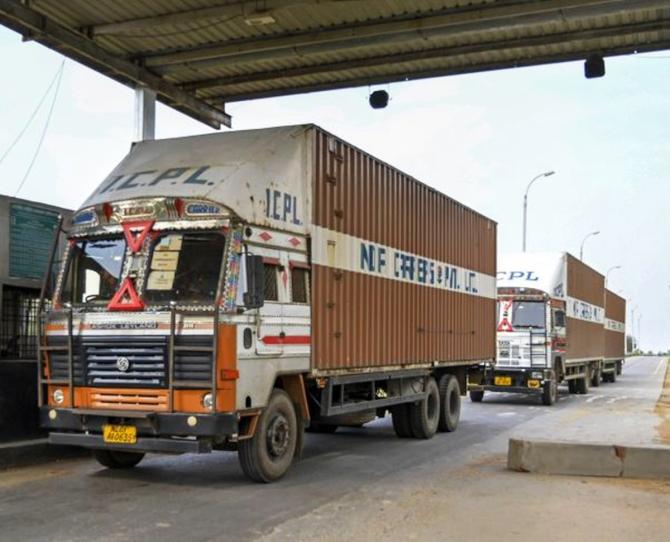 Commercial Vehicle OEMs such as Tata Motors, VECV, and others have welcomed the move and said the demand for AC trucks is already going up.
A senior executive of an OEM says that in models where they have an AC option, the demand is around 50 per cent of the total volumes.
"Many fleet operators take cowls from us, but we don't know what percentage converts the cabin to AC. But for fully built units (FBUs), the demand for AC trucks is picking up when there is an option," he said.
Welcoming the move, Vinod Aggarwal, managing director, and chief executive officer, at Volvo Eicher Commercial Vehicles, said, "Implementing air-conditioned cabins may result in some additional costs, with estimates ranging from Rs 30,000 to Rs 50,000, depending on the size of the vehicle. In some models, particularly light commercial vehicles, OEMs may need to consider drive-train changes and increased engine power to accommodate AC cabins."
Volvo Eicher believes the government's decision reflects a progressive approach that will enhance driver ergonomics and comfort and facilitate improved road safety and efficient logistics.
A Tata Motors spokesperson also welcomed the move: "India's growing trucking industry is facing the challenge of attracting and retaining skilled truck drivers. This decision will benefit the health and safety of drivers and the long hours of driving will become more comfortable,' he said.
Tata Motor offers AC cabins as an option already and the company is confident of meeting the 2025 deadline. It too claims that it is witnessing a 'definite trend' towards AC-equipped vehicles.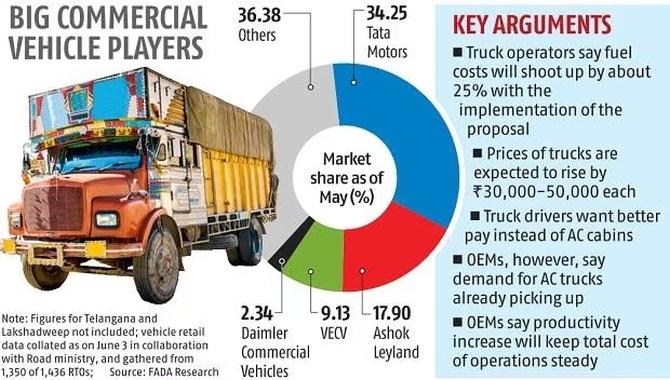 Hemal N Thakkar, senior practice leader and drector, Crisil Market Intelligence and Analytics, is of the view that the move will be beneficial overall.
"The increase in truck prices may be about 1-2 per cent. Once AC is incorporated, mileage may see a drop of anywhere between 5-7 per cent. The operating costs may go up by about 3-3.5 per cent. However, the efficiency of drivers will also increase as fatigue will decrease." said Thakkar.
"This may not have a major impact on freight rates as the truck operator will have a fleet mix of AC and non-AC trucks," he added.
OEMs say while there will be an incremental cost of purchase, the driver productivity will increase manifold.
"Eicher offers one of the most advanced ranges of vehicles in the industry with a strong belief that driver comfort enhances truck productivity and thereby reduces the total cost of operation significantly," Aggarwal said.
Along with improvements in highway infrastructure, vehicle emissions and safety, he said this is another positive step towards transforming the trucking industry by addressing one of the most important stakeholders in the system — truck drivers.
"It will also encourage more people to take up truck driving as a profession."
Feature Presentation: Rajesh Alva/Rediff.com
Source: Read Full Article