With concerns about the economic impact of the Omicron variant growing stronger due to restrictions in various states, the Centre is likely to fall back on one of its major economic recovery planks – the Emergency Credit Line Guarantee Scheme (ECLGS).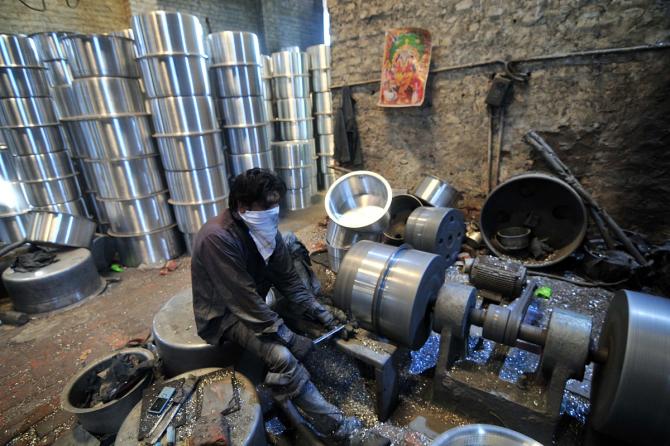 According to highly placed sources, the finance ministry is likely to extend ECLGS and other loan guarantee schemes for micro, small and medium enterprises (MSMEs), hospitality and tourism sector, and the health infrastructure beyond March 31, Business Standard has learnt.
This is likely to be announced by Finance Minister Nirmala Sitharaman as part of her Budget speech on February 1.
To begin with, ECLGS for various sectors could be tweaked and extended till June or September.
Discussions are still ongoing.
The final shape of the extended schemes will depend upon the finance ministry's assessment of how severe the restrictions in various states are and which sectors they impact the most.
"The credit guarantee schemes for various sectors have seen an encouraging response.
"We are monitoring various high-frequency indicators to gauge the impact of curfews and other restrictions in different states.
"We are also aware of the concerns of the MSME industry," said a senior government official.
In September, the government extended the ECLGS for MSMEs till March 31, 2022.
The cumulative loan sanction limit of ECLGS was expanded earlier to Rs 4.5 trillion, from Rs 3 trillion.
As of November 21, 2021, 64.4 per cent of that extended limit had been sanctioned for disbursement.
Experts say the ECLGS should be extended for certain sectors.
Moreover, it should be targeted at sectors that have faced the brunt of the economic impact of the pandemic waves.
"The schemes should be extended with a specific focus. If you look at various sectors, maybe everyone needed support two years back.
"Some needed support one year back, even fewer will need support today.
"If we can sharpen the focus and support those who have been impacted significantly, I think that will be better," said T V Narendran, chief executive officer, Tata Steel, and president of the Confederation of Indian Industry.
"Even in MSMEs, there are many who have struggled, but there are some who have done quite okay.
"Depends upon which sector they are in," Narendran told Business Standard.
A report by State Bank of India's chief economic advisor Soumya Kanti Ghosh, released on Thursday, said the ECLGS scheme for MSMEs saved 1.35 million MSME units from going under, saved around 15 million jobs, and prevented 14 per cent of outstanding MSME loans from turning into non-performing assets.
Starting with the Aatmanirbhar Bharat package in May 2020, Sitharaman had announced ECLGS as part of four different economic relief packages till June 2021.
ECLGS 1 provided loans to the smallest MSMEs, with credit outstanding of not more than Rs 50 crore.
ECLGS 2 was for sectors identified by a Reserve Bank of India panel as particularly susceptible to economic downturn due to Covid-19 and for the health care sector, with total credit outstanding between Rs 50 crore and Rs 500 crore.
ECLGS 3 was for companies in the hospitality, travel and tourism, leisure and sporting, and civil aviation sectors whose past dues are up to 60 days as of February 2020.
ECLGS 4 was for hospitals, nursing homes, and medical facilities engaged in manufacturing of liquid oxygen and oxygen cylinders for setting up on-site oxygen-producing plants.
Under these four phases, the lending bank or financial institution is being provided 100 per cent guarantee on loans they give out.
Additionally, on June 28, 2021, Sitharaman also announced a new loan guarantee scheme with additional credit of Rs 1.1 trillion, including Rs 50,000 crore for the health sector and Rs 60,000 crore for other sectors, including tourism.
The health sector component is aimed at upscaling medical infrastructure targeting underserved areas.
Under the tourism component, working capital or personal loans will be provided to people in the tourism sector to discharge liabilities and restart businesses impacted due to the pandemic.
These two components, valid till March 31, 2022, could also be extended.
Photograph: ANI Photo
Source: Read Full Article