The S&P BSE Smallcap index hit a record high 31,396.64, gaining nearly 1 per cent on the BSE in intra-day trade on June 7 after a strong rally in railway, auto and hospitals stocks.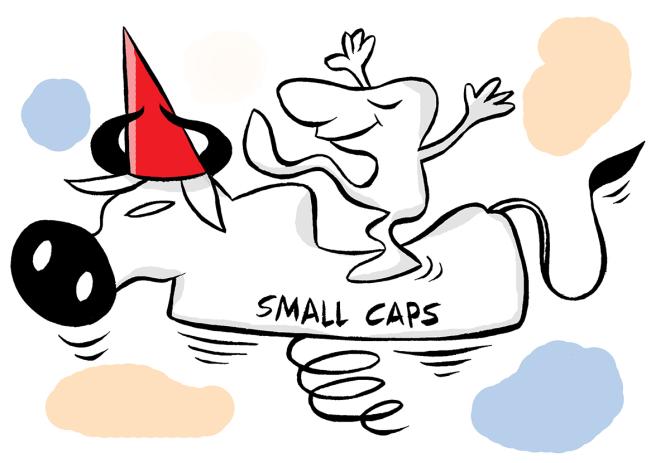 In the process, the index surpassed its previous high of 31,304.44, touched on January 18, 2022.
In the past one month, the S&P BSE Smallcap index has outperformed the market surging by 6.6 per cent, as compared to 5.9 per cent rise in the S&P BSE Midcap index and 1.9 per cent gain in the S&P BSE Sensex.
Despite this run, experts see more legs to the rally in the small-caps amid favourable economic conditions in India, which they believe will see incremental foreign flows coming to India instead of China, which in turn will rekindle the interest of retail investors in the markets, and especially in the mid-and small-caps.
"I see a minimum 15 – 20 per cent upside in the small-caps over the medium-to-long term.
"Markets expect a status quo on rates from major central banks, especially the US Fed and the Reserve Bank of India (RBI).
"This will see more flows come into the emerging markets, including India.
"Investors have started to look at India more positively as compared to China now," said AK Prabhakar, head of research at IDBI Capital.
About 53 stocks from the small-cap index hit a new 52-week high in trade on Wednesday.
Some of the prominent stocks that hit their respective all-time high during the intra-day deals include Aurionpro Solutions, Bharat Dynamics, Centum Electronics, Cigniti Technologies, Data Patterns (India), Dreamfolks Services, Fusion Microfinance, IOX Exchange, KDDL, Mahindra CIE Automotive, Safari Industries and Syngene International.
With the Nifty sustaining over 18,000 levels post the sharp rally, the activity in the broader market has also picked up in the past couple of months, analysts said, which is not surprising at all.
While it might be difficult to call out the bottom and start of a new rally in broader markets at this stage, Gaurav Dua, senior vice-president, head of capital market strategy & investments at Sharekhan by BNP Paribas suggests investors can accumulate or invest gradually in stocks of good quality mid-and small-cap companies now, and the returns could be quite handsome over the next two years.
G Chokkalingam, founder and head of research at Equinomics Research Private Limited, too, expects the smallcap index to jump around 8 – 10 per cent from the current levels in the next few months.
"Forecast of a normal monsoon in India and expected record food grain output in the current crop year has added to the optimism.
"Debt ceiling issue resolution and expectation of peaking out of rate cycle with just another 25 to 50 basis point (bps) rate hike by the US Fed and the RBI and avoiding recession, too, have contributed to the optimism in Indian equities in the last few weeks," he said.
As a strategy, those at Credit Suisse Wealth Management, for instance, suggest investors use any market correction to buy stocks and expect sustained FPI buying to lead to further upside in the markets going ahead.
They, however, remain cautious on the information technology (IT) sector, while recommending booking some profits in the cement sector on rallies.
"We continue to believe India is a buy on dip structural opportunity and may provide a good diversification benefit when growth is faltering in other large economies.
"India tends to trade at a higher valuation when commodity prices ease.
"Currently, the growth worries and the base effect are favoring India's macroeconomic recovery.
"On the other hand, the earnings season reflects our view of better margins supporting earnings momentum," wrote Jitendra Gohil – Director, Global Investment Management at Credit Suisse Wealth Management India in a recent coauthored note with Premal Kamdar.
Source: Read Full Article