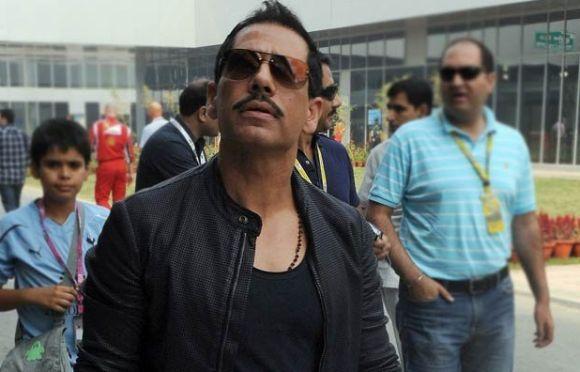 United Progressive Alliance chairperson Sonia Gandhi's son-in-law Robert Vadra on Wednesday broke his silence on the charges of corruption levelled against him by the Bharatiya Janata Party and said the ruling party had been indulging in a 'baseless political witch-hunt' against him for the last four years.
The ruling party rakes up his name every time it is cornered and this time it stands exposed on the Rafale issue, he said, describing the situation as a 'wholesale farce'.
'Having all the agencies under their beck and call….no one knows better than the present government and the BJP that they have indulged in a baseless political witch hunt against me for the last 4 years.
'Instead they should man up with their 56" chests and tell the nation the truth about the RAFALE deal, rather than hiding behind a bunch of lies that the people are fed up of hearing them repeat,' Vadra said in a statement.
He said in a Facebook post that he was amazed in the beginning.
However, it has now become a 'wholesale farce' that the BJP rakes up his name every time it is cornered on the falling rupee, soaring oil prices or the latest on the Rafale issue on which it has been 'totally exposed', he added.
The BJP had dragged the Gandhi family into the intensifying political row over the fighter aircraft deal, with Union minister Gajendra Shekhawat alleging that the UPA government had called off the multi-billion dollar deal after a private company linked to Vadra was not chosen as a broker.
The Rafale controversy took a new turn last week after Francois Hollande, who was French president when the Rs 58,000 crore deal was announced, was quoted as saying by French publication Mediapart that France was given 'no choice' on selection of the Indian partner for Dassault and the Indian government proposed the name of Reliance as offset partner for the French aerospace giant.
Modi had announced the procurement of 36 Rafale fighters after holding talks with Hollande on April 10, 2015, in Paris.
Source: Read Full Article