'The problem is that all this reconstruction work is being monitored by the prime minister himself with inputs being provided directly by the PMO so nobody in the state government dare contradict them even if their suggestions are totally contrary to what the ecology of this region requires.'
In the wake of the Joshimath crisis, it is essential for planners, designers, and policymakers to become more conscious of development in the Himalayan region.
As Uttarakhand continues to urbanise, it is bound to experience an increase in built-up settlements within its fragile ecology.
The emergency button has been pressed with the sinking of Joshimath.
This was followed by news that tourist destinations like Mussorie and Nainital are likely to meet a similar fate.
Garwahal University Geologist Dr S P Sati claims 3,000 towns and villages in Uttarakhand are facing the problem of subsidence.
This development paradigm needs to be reassessed, more so in the case of Prime Minister N D Modi's dream projects, primarily the reconstruction of Kedarnath which was destroyed in the 2013 floods and the redevelopment of Badrinath.
Both Badrinath and Kedarnath are of enormous religious significance for Hindus and presently witness footfalls of several lakh visitors during the summer months.
So far little attention seems to have been paid to either the problem of subsidence or landslides, both of which have hit these at regular intervals.
The plan for the redevelopment of both Badrinath and Kedarnath has been given to the Ahmedabad architectural firm INI Design Studio.
Already, around Rs 1,000 crore (Rs 10 billion) has been allocated for this reconstruction work being taken from different organisations including government PSUs.
In Kedarnath, this reconstruction is being implemented in two stages.
The first phase of this reconstruction work involved building a 70 feet wide and 840 feet long concrete road connecting the temple straight to the Kedarpuri suburbs.
Since the floods of 2013 were caused by the overflowing waters of the Saraswati and the Mandakini rivers that flow along the town, an 850 feet-long three tier retaining wall along the Saraswati river and a 350 feet protection cover along the Mandakini river has been constructed.
Dr Sati is mystified by the construction of these walls.
"My question is that none of these walls, on which crores of rupees have been spent, will be able to withstand landslides or floods as is being presumed by those who have built them," he warns.
Nor is a large section of priests attached to the Kedarnath shrine happy with the gold plaiting of the walls of the sanctum sanctorum of the temple, saying it is against the ascetic traditions that Lord Shiva symbolises.
This gold plating has been done at a cost of over Rs 100 crore (Rs 1 billion); the money for it came from a family from Maharashtra.
The second phase work has involved the construction of a big hospital, a theatre, a sewage treatment plant, a new bridge and a pilgrim's ghat at the confluence.
But town planners warn that this construction continues to follow the unsustainable model of construction that has not worked in the past.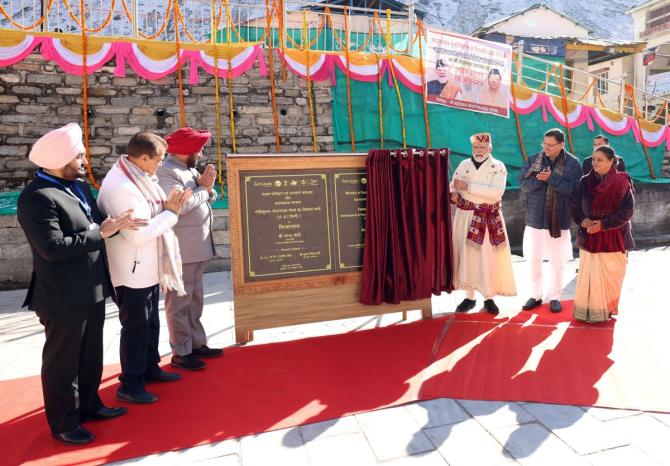 Scientists and geologists from the Wadia Institute of Himalayan Geology and the Geological Survey of India have strongly opposed this 'reconstruction', warning that the flash floods of 2013 had left this area more fragile and therefore no 'construction activity be allowed in the temple vicinity'.
Sadly, just the opposite is taking place with JCVs having been brought to Kedarnath by Chetak helicopters.
The INI Design Studio helped conceptualise the large statue of Adi Shankaracharya put up behind the temple which was inaugurated by the prime minister last year.
Town planner Bipin Rawat points out, "The problem is that all this reconstruction work is being monitored by the prime minister himself with inputs being provided directly by the PMO so nobody in the state government dare contradict them even if their suggestions are totally contrary to what the ecology of this region requires."
Dehra Dun-based environmentalist Reenu Paul believes visiting Badrinath and Kedarnath has become akin to a promotional event with helicopters plying right through the day taking them to these religious places.
This is proving detrimental to the ethos of these places.
"Our Char Dhams were places where pilgrims used to walk up the mountains to pray and meditate. Now these helicopters carrying tourists are seen flying at dangerously low heights with their sorties lasting from morning to evening. The locals compare them to autorickshaws plying through cities," said Paul.
Reconstruction work in Badrinath has been pursued at a furious pace. The prime minister had paid a visit to Badrinath on September 21 2022.
His emphasis was that there should be enough built up accommodation to provide for the increasing numbers of tourists given that over 3.5 million visitors visited the shrine last year.
Not only did the surrounding areas require a facelift, but underground tunnels needed to be built to provide for parking of vehicles.
This development model was shaken at its foundations when the state government realised that Joshimath was sinking and cracks had developed in a large number of its houses and hotels.
ISRO confirmed the worst fears of residents with satellite imagery showing that between 2018 and 2022, Joshimath has sunk around 10 cm a year.
The government retaliated by imposing a gag order on ISRO, but studies conducted by the French National Centre for Scientific Research and the School and Observatory for Earth Sciences with the University of Strasbourg have confirmed these findings and have shown up that the eastern side of Joshimath is sliding at the rate of 10 cm per annum.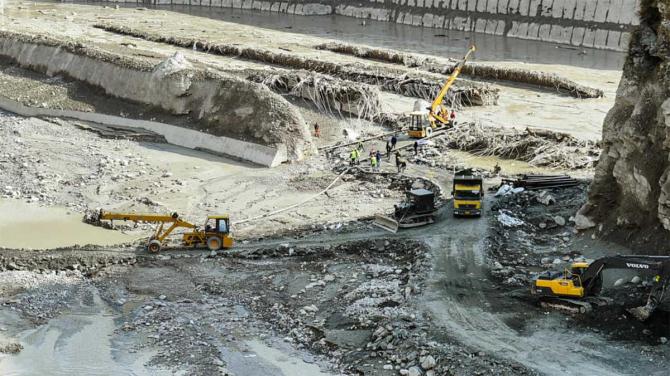 INI Design Studio detailed master plans to de-clutter the town do not address the key issue that these historic settlements are situated over loose glacier sediments, resulting from centuries of erosion and geological action.
The construction of concrete retaining walls, blasting and cutting of rock, and inappropriate geo-engineering measures being undertaken in the name of redevelopment are only going to increase the risk of subsidence.
INI Design Studio Director Nikul Shah told the media that these master plans have been prepared to minimise the human load and to de-densify the areas around both temples.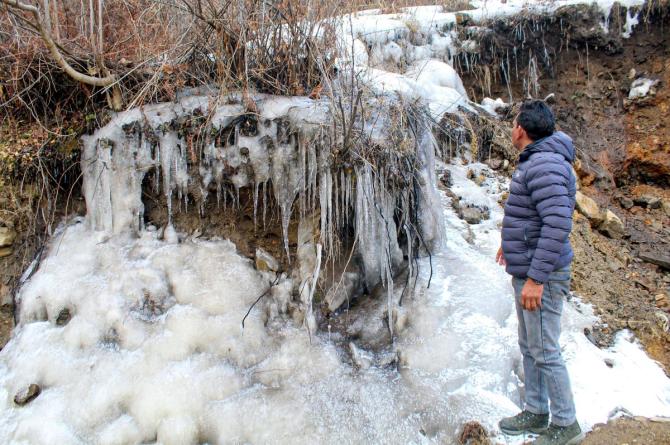 Environment engineer Aayush Joshi, who works in the upper Himalayan regions, believes as a first step, all construction in para-glacial zones must be minimised, including at Badrinath and Kedarnath.
"As planners and policymakers, we must first revisit Garhwal's traditional ecological patterns and traditional wisdom of living in these mountains," says Joshi.
"A future Joshimath crisis can only be averted when local experts, traditional knowledge, interdisciplinary experts, and the community comes forward to devise ways of living that respect the Himalayan environment," Joshi adds.
"Our future plans must combine 'Himalayan modernity', with local developmental aspirations in order to mitigate large-scale climate and geological impacts."
Feature Presentation: Aslam Hunani/Rediff.com
Source: Read Full Article