Don't go by the number, Ranveer Singh says, he is picky when it comes to endorsements. There are some brands he will never endorse.
Fairness creams, for example, but he does not turn away from cola and alcohol brands.
Urvi Malvania reports.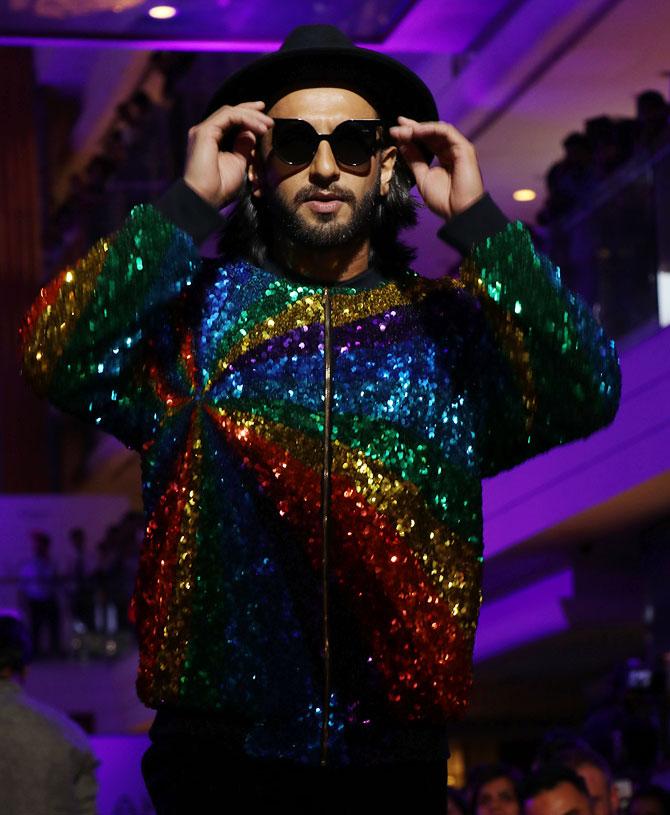 Instead of sitting indoors, Ranveer Singh requests if he can walk and talk instead.
"I need to get out and get some cardio," he says.
The actor never lets his mask slip as Ranveer Singh, who has built his image around a wide range of eccentricities — be it the clothes he wears, the endorsements he chooses or the movies he picks — is careful to ensure that the man and the brand are never at odds with each other.
Singh charges close to Rs 3-5 crore a day depending on the brand and the duration of the engagement which is at par with what other actor-endorsers such as Akshay Kumar charge.
He was valued at $63 million and ranked fourth in the recently released celebrity rankings by Duff and Phelps.
His endorsements usually cast him in the role of an over-the-top character which Singh says is close to his real self.
"When I started out, I was confused. But 2013 was a sort of turnaround year when Lootera gave me critical appreciation and Ram Leela, commercial success. I realised that my work will always speak for itself, and that the best 'image' to project is what I am in real life," the actor says.
Switzerland Tourism
Jack & Jones
Carrera
Nivea Men
Thums Up
Dish TV
Adidas
Kotak Mahindra Bank
Chings
Makemytrip.com
Nerolac Paints
Head & Shoulders
Royal Stag
BigMuscles Nutrition
Clubfactory
Rupa Frontline
Colgate Max Fresh
Marico Set Wet Gel
It has worked for him.
Singh has 18 brands currently and his team informs that eight more are expected.
At 26, he will edge past the other brat in the brand pack, Virat Kohli who has 24 (Duff and Phelps 2019).
The persona helps break through the clutter and draws in the youth believes Harish Bijoor, founder, Harish Bijoor Consults, a brand marketing agency.
"Timing has also played a huge role. He has become active when many older endorsers are being phased out," adds Bijoor.
Singh is a seize-the-moment kind of guy, having learnt his lesson he says from his early days in Bollywood.
Brands were keen, he says, soon after his first film Band Baaja Baarat did well at the box office.
"But my team back then, and to be fair I agreed with them, thought it would be better to wait for the next film, so brands would pay me the price I wanted. Unfortunately, my next film did not do so well, and as a result, that same phone did not ring for the next 18 odd months," he says.
When he finally did sign a brand, it was with the intention of making a splash.
And that showed in the choice of the brand and the nature of the creative used too.
Singh became the face for condom brand Durex and the 'Do the Rex' campaign (2014) quickly became one of the most visible properties.
Next stop: Ching's a brand of noodles, condiments and sauces.
Ever since Singh says, he has taken an active interest in the brands that come calling and also on the creative process involved.
"The Durex association was initiated by me. I realised that contraception is not advertised so aggressively in India and asked my team to reach out and the rest is history," he says.
Don't go by the number, Singh says, he is picky when it comes to endorsements.
"It is not something I do on the side. If it carries my face with it, I am responsible for it. I also know that ads are an intrusion on the viewers' time, and so have to be worth their while. The communication has to be nuanced and most importantly, entertaining," he says.
Also there are some brands he will never endorse.
Fairness creams, for example, but he does not turn away from cola and alcohol brands.
"Even I drink (cola and alcohol) every once in a while. I don't have anything against it, as long as it's done in moderation," he says.
Bijoor sees little to stop the onslaught of Singh, unless he fritters his chances away at the altar of eccentricity and entertainment.
"He has to make sure that he does not do anything to irritate the constituents of his brand portfolio, and the audience at large," Bijoor adds.
Source: Read Full Article