Metal prices from copper to aluminum and tin have shot up by about 7-32 per cent in the past three months.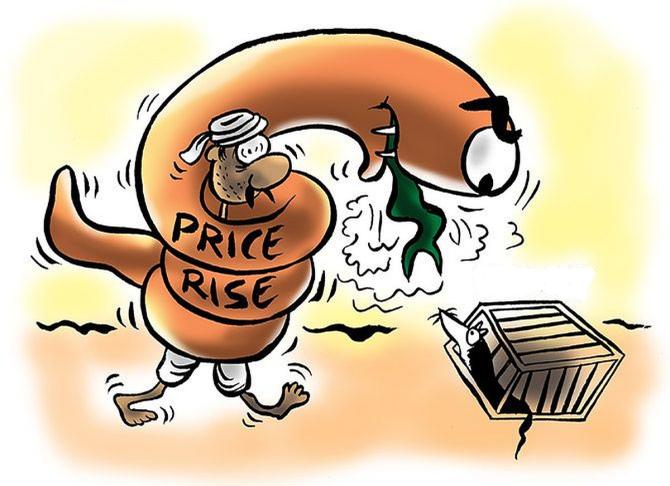 Recently, consumer durables firm Blue Star launched a range of air conditioners (ACs) in the mass-market segment, marking a strategic shift, as it aimed to ensure there was something for everybody.
"Durables such as ACs are getting dearer. We took a 5-8 per cent price hike in January.
"We are contemplating another three per cent price hike in April.
"We felt that instead of restricting ourselves to a smaller base of consumers, we should look at a broader segment.
"We are hedging our risks this way and ensuring that sales continue to tick throughout the summer," said B Thiagarajan, managing director of Blue Star.
Blue Star's changed approach comes as commodity inflation has begun to hurt India Inc.
Metal prices from copper to aluminum and tin have shot up by about 7-32 per cent in the past three months.
Crude oil price has increased by about 33 per cent and soya oil and palm oil are up by about 17-24 per cent.
Similarly, steel prices too rose around 29-30 per cent in the December quarter.
Ranjan Dhar, chief marketing officer, ArcelorMittal Nippon Steel India (AM/NS India), said: "Iron ore prices have moved up by about $8-10 a tonne globally after the Chinese New Year holidays.
"China steel FOB (free on board) prices too surged by more than $70 a tonne.
"In India, steel traders increased prices by as much as much Rs 750-1,000 a tonne recently.
"All these developments indicate that the metals space is in a high-priced commodity cycle."
What's essential is the focus on "value engineering" that we are offering to customers, as it enables optimal utilisation per tonne of steel to deliver an enhanced output with substantial cost saving, Dhar said.
For now, though, there seems little respite as prices of automobiles apart from all other durable items – including refrigerators, air coolers, washing machines and television sets – are set to inch up.
Price hikes are unavoidable says Kamal Nandi, business head and executive vice-president, Godrej Appliances.
"Commodity inflation is a challenge, which is why manufacturers have been judicious with price hikes, targeting phase-wise increases since January across home appliances," he said.
So far, most durables makers have announced two rounds of price increases, totaling 10-12 per cent, experts tracking the market said.
Some have split it into two rounds of 5-6 per cent each.
Others announced a sharper increase in January (5-8 per cent), leaving a smaller price hike for now or April (3-4 per cent).
Many domestic automakers, meanwhile, have indicated that they will raise prices by 1-3 per cent in the coming weeks to offset input cost pressures, especially in steel.
But, again, the hikes will be undertaken carefully, so that sales of entry-level and mass-market models are not affected significantly.
Already, prices of entry-level vehicle have increased by around 15-18 per cent in the last one-two years because of the shift from BS-IV to BS-VI emission norms as well as an increase in insurance, EMI and other costs. Raw material and fuel prices have added to this.
Dealers say two-wheeler customers are now considering postponing purchases.
Around 70 per cent of two-wheeler sales is in the sub-125 cc category, considered to be price sensitive.
February auto retail sales numbers, said experts, showed how rising fuel prices had led to a deferment in purchases.
Overall, auto sales fell by 13.43 per cent in February to around 1.5 million units from around 1.7 million units the previous year.
Two-wheelers reported a 16.08 per cent drop, three-wheeler sales fell 49.65 per cent, while commercial vehicles reported a 29.53 per cent decline.
Tyre makers, too, have announced a 3-8 per cent price hike because of higher input costs.
Executives say the hike could be around 10 per cent, given inflationary pressures.
But this is unviable in the replacement market, which accounts for 60 per cent of sales.
The real estate market has been impacted by higher construction costs as prices of raw materials like metals, steel and cement have increased.
"Commodity inflation is putting considerable pressure on the real estate market.
"While the industry can absorb a certain number of price hikes, a continuous increase in input costs will result in additional burden to the consumer.
"The industry is already operating at optimal efficiency and further cost savings are not feasible.
"The government can reduce the goods and services tax (GST) slab for cement, as it is currently taxed on a par with luxury items.
"This will stabilise the cost of construction," said Rajendra Joshi, chief executive officer, residential, Brigade Enterprises.
Kishan Govindaraju, director, Vaishnavi Group, a Bengaluru-based construction group, said the government would have to step in to prevent cartelisation in inputs such as cement and steel.
"Over the years, the margins in real estate have been shrinking while the cost of construction has been increasing.
"This would result in companies having to pass on these increasing costs to customers," he said.
Murali Malayappan, chairman and managing director, Shriram Properties, said the company was evaluating the possibility of using technological options like 3-D walkthroughs to reduce costs.
Source: Read Full Article