Geeta Kale, who works as a domestic help in Bavdhan area, became an overnight internet sensation after her quest to seek a new job via a crisply-worded visiting card went viral on social media.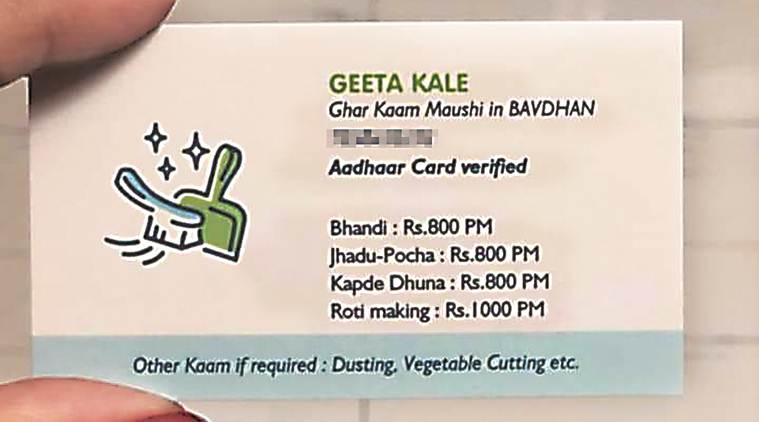 For the last two days, Geeta Kale (28) has been forced to switch off her mobile phone as she has been inundated with calls and text messages. Kale, who works as a domestic help in Bavdhan area, became an overnight internet sensation after her quest to seek a new job via a crisply-worded visiting card went viral on social media.
'Ghar Kaam Maushi in Bavdhan: Aadhaar Card Verified', states the neatly-designed visiting card. It also lists her charges for various chores such as washing utensils, clothes, sweeping and swabbing, and roti-making. There will be extra charges for dusting and chopping vegetables, states Kale's card.
"I had to switch off my phone as it was continuously buzzing with calls and WhatsApp messages from across Pune, Mumbai, Nashik and even Haryana," said Kale.
The story of the card began with Dhanashree Shinde, a marketing and branding professional who lives in Bavdhan and at whose house Kale works.
"Around a week ago, Geeta tai came to my house for work and looked very upset. When I asked her what was wrong, she told me that she had lost one of her jobs through no fault of hers. Trying to comfort her, I said that we would do something about it. A while later, I got the idea that if I could have a visiting card, why couldn't Geeta tai have one too? I went to one of the websites that have a template for card designing and took her help to fill in the details. Two days later, when the stack of printed cards arrived, I kept a couple of them with me and gave the rest to Geeta tai. I asked her to distribute them to security guards and the people she meets. I found the card to be an interesting experiment and clicked a photo of it and shared it with a friend, who then forwarded it some groups… and it went viral."
Shinde added, "Two days ago, when she came for work, her phone would not stop buzzing. Some calls were from Bavdhan. She has not only got back the job she had lost, but got two or three more jobs over the weekend. This incident just makes us realise the power of social media."
Geeta, who has three children, a son and two daughters, said the money she earns by working as a domestic help in six houses was crucial for the education of her children. Her husband works at a private company in Pune.
"… This income is very important for my family, my children and their education. Losing even one of the jobs is a problem from someone like me. Dhanashree tai got me the beautiful card and it has helped me get the job back, and I have also got some new jobs over the weekend. I feel that other domestic helps can also do this…," said Geeta.
She added, "Receiving so many calls did become a headache for a while, but it also helped me."
Medha Thatte of Pune Shahar Molkarin Sanghatana, an organisation that works for the rights of domestic helps, said this was a "positive" step. "Making such a visiting card is certainly a very positive step and it highlights the importance of these hard working women in our lives. The card reflects confidence on the part of domestic helps like her who are firm on what remuneration they deserve for hard work. From 1980 to 2005, our organisation used to publish a rate card which listed wages for domestic helps for the work of washing clothes, utensils and house cleaning."
According to Thatte, there is no official data on the total number of women working as domestic helps in Pune city. Assuming every property tax payer employs a domestic help, who works at five to six houses, the number can be estimated at 80,000 to 1 lakh.
"We have also been fighting to get 'scheduled status' for the work of domestic help, so a minimum wage can be decided. Many other states in India have done this, but not Maharashtra. Our efforts in the past have resulted in guaranteeing an annual bonus… for domestic helps, but a lot needs to be done for the welfare of this unorganised sector. Just imagine the tension in middle-class families if you subtract the domestic help from the equation," said Thatte.
Source: Read Full Article