Pratik Jain regularly interacts with his 12.6K Instagram followers.
When he wrote about dating etiquette, saying, 'In fine dining restaurants, approach (a person) only when invited,' a commenter asked, 'How do you get invited in the first place?'
'That,' Jain replied, 'is the only question one must ask,' adding that he would write a small blog on the topic soon.
Mumbai-based Jain is a dating coach, part of a growing tribe that is helping Indians get an answer to the big puzzle: How to find a date and, hopefully, that special someone?
Mentors such as Jain help people get out of the texting trap (where you keep texting but it doesn't translate into a date) and be more intentional in conversations.
Those in their mid-20s to the 40s form a major chunk of the clientele, with a few even more mature. But the concerns and queries differ (Do see the box at the end of this feature: Indian dater's lifecycle).
"Half the battle is won when people decide they have the intent and the willingness to put in the effort," says Bengaluru-based relationship coach Radhika Mohta.
Mohta runs dating accelerator Elevate, a 10-hour live online workshop spread over two days, priced at Rs 12,000 per participant. One cohort has a maximum of 12 people.
To kick things off, participants solve quizzes and do exercises to understand their attachment style, personality and love language.
Then the cohort pores over their online profiles — the pictures and content that's put out and, if they are on (the dating app) Hinge, then the audio prompt too.
They also work on creating a social calendar to plan real-world outings, which Mohta says helps participants follow through.
Finally, they learn how to get from texting with someone or matching on an app to getting to an actual date. "Remember," says Mohta, "texting is not dating."
But going on your "last, first date" isn't an easy job.
Mohta says one participant told her that on his last two dates, the women insisted on going to a bar for a drink. It didn't translate into a second date because they could hardly converse amid the noise.
"That's why I talk about activity dates — say going for a walk or some other activity — so you don't have to awkwardly stare into each other's eyes," she says.
Another participant said he had a date on the weekend but was worried whether all topics of discussion would get exhausted as they were texting every day.
"Now in my next cohort, I will have a template on how you don't have to engage in texting throughout the week and instead meet directly for the date," says the former journalist. "The course is constantly evolving."
Bringing out your true self
Jain, who primarily coaches men, says his core philosophy is to remove what prevents men from "being themselves" and staying in the moment. These blocks usually develop through their conditioning or their past experiences with women, he adds.
A six-month consultancy programme with him costs Rs 42,000. A four-hour, in-person session, for which he travels every month to Bengaluru, Pune and Delhi, carries a price tag of Rs 14,000.
He also offers online courses that range from Rs 16,000 to Rs 28,000.
One reason why men seek his help is "the lack of a social ecosystem in their life" to meet the opposite sex and his client base has jumped over 100 per cent since Covid struck.
But how does one measure progress in the dating world?
Experts say it can mean different things to different people. For some, it can be setting clear boundaries in their next relationship, identifying one's self-sabotaging beliefs or even deciding to work on their physique "to look their age".
Sociologist Devika Mittal says the rise of dating coaches reflects a reality "where people want to 'invest' in love, but carefully".
While earlier people turned to their friends for advice in such matters, the rise of dating coaches doesn't mean that's not happening.
"The informal friendship network does exist as well, but the turn to a professional speaks of a larger social process that puts a high value on specialisation and professionalisation," says Mittal, who is an assistant professor at Delhi University's Jesus and Mary College.
Keeping this in mind, premium packages of bespoke dating services like Sirf Coffee include a relationship guru.
Sunil Hiranandani, founder, Sirf Coffee, says the expert's job includes "discussing feedback from previous dates, deconstructing their dating journey, and setting achievable relationship goals".
Self-introspection and guiding them on how to navigate new relationships while being their authentic self is another part of it.
Dating can come with challenges that are unique to every individual. If you need help navigating this word, reach out to rediffGURUS for advice.

Dating Coach Mohit Arora
Mohit Arora is the founder of Real Dating School.
He has been conducting customised communication workshops since 2014.
You can ask Mohit Arora your questions HERE.

Dating Coach Shalini Singh
Shalini Singh is the founder of andwemet, an online matchmaking service for urban Indians living in India and overseas.
She has seen the problems people face while dating and can advise them on how to deal with it.
You can ask Shalini Singh your questions HERE.

Dating Coach Ravi Mittal
Ravi Mittal is an expert on dating and relationships.
He founded QuackQuack, the online dating platform, in 2010 with just two people. Today, it has over 20 million users in India.
You can ask Ravi Mittal your questions HERE.

Relationships Expert Kanchan Rai
Kanchan Rai has 10 years of experience in therapy and nurturing soft skills.
She is the founder of the Let Us Talk Foundation, which offers mindfulness workshops to help people stay emotionally and mentally healthy.
You can ask Kanchan Rai your questions HERE.

Love Guru
Love Guru has been answering relationship and romance related questions on rediff.com for over 13 years. She won't mince words when telling you what the problem is and what you can do about it.
You can ask Love Guru your questions HERE.

Relationships Expert Anu Krishna
Anu Krishna is a relationship expert and the co-founder of Unfear Changemakers LLP.
Her suggestions are both thoughtful and sympathetic.
You can ask Anu Krishna your questions HERE.

Relationships Expert Dr Ashish Sehgal
Ashish Sehgal has over 20 years of experience as a counsellor.
He is an expert in the challenges one can face in a relationship and has sensible suggestions to offer.
You can ask Dr Ashish Sehgal your questions HERE.

Trust is the currency
The online world is filled with love gurus promising to teach "how to woo someone in minutes," unlike those who talk about the need to do the self-work.
Many people realise that their childhood trauma resurfaces as they look for relationships. The fear of abandonment and rejection can also lead to anxiety and so many prefer talking to a professional.
Trauma and relationship counsellor Karina Calver, who is based out of Hong Kong, says people reach out to her when they feel, "I can't fix this" or "This is too much."
She deploys cognitive behavioural therapy, solution-focused therapy, positive psychology or mindfulness-based cognitive therapy depending on the issue at hand.
Her approach is tailor-made to the situation and an hour-long online session with her costs around Rs 10,000. She also provides bite-sized counselling, in which emailed questions get a detailed video or audio response.
There are, however, those who feel that tips from a relationship coach can make the experience seem rehearsed.
To them, Mohta says, "It is you who has to put in the effort because working from home, binge-watching Netflix, ordering your food on Swiggy and not knowing who your neighbours are does not allow you to maximise serendipity and find somebody organically."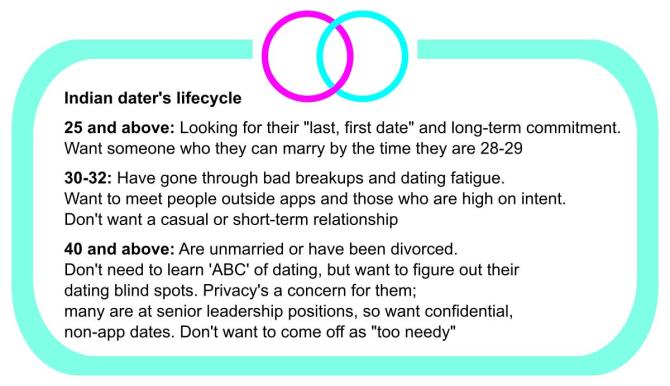 Source: Read Full Article