The world celebrated Sridebvi's birth anniversary, yesterday. The actress passed away in February this year, but she has left behind a legacy of 300 films. Information and Broadcasting Ministry held a special screening of Mom, Lamhe and Mr India in Delhi, yesterday, in the honour of the late actress. The event was attended by  Boney Kapoor, Janhvi Kapoor and Khushi Kapoor.
Pictures and videos from the event have surfaced online and you are about to get very emotional. At one point, while addressing the audience there, Boney and Khushi, could not control their tears. The Kapoors only attended the special screening of Mr India at 7 PM.
Chin up, girl and keep making you mom proud ❤ We all love you @janhvikapoor ? . . #janhvi #janhvikapoor #khushi #khushikapoor #sridevi #sridevikapoor #boneykapoor #bollywood #divas #kapoorgirls #kapoorsisters #teamjanhvi #teamkhushi #familylove #janhvians #ishaankhatter #dhadak #dhadakgirl
A post shared by Janhvi Kapoor & Khushi Kapoor (@janhvikapoor_fans) on
Mr India was produced by Boney Kapoor. It was the very movie, during which, the two developed affection towards each other. This must have been a very emotional moment for him.
Remembering #SriDevi ?? #BoneyKapoor #JanhviKapoor #KhushiKapoor #HappyBirthAnniversary #MemorisingSridevi #SriDeviLivesForever
A post shared by Janhvi Kapoor ✨ (@jhanhvikapoor) on
#janhvikapoor #bonykapoor the @sridevi.kapoor the happy birthday to you emotional theyare
A post shared by beautiful Bollywood (@deluxe_bollywood__beautiful) on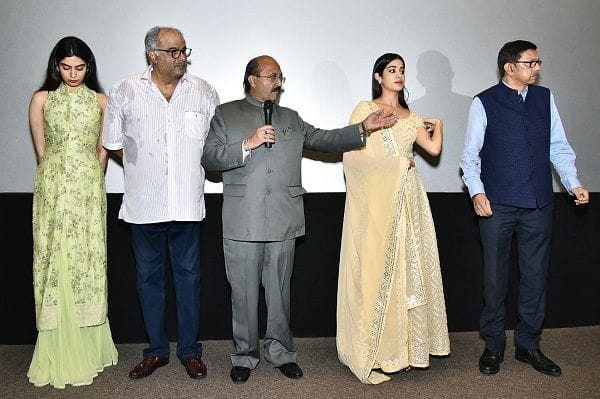 The entire internet was bittersweet to place to eb yesterday. While we are reminiscing about the actress, fans could not help but get emotional looking at throwback pictures. Sharing an old picture, Sridevi's brother in law, Anil Kapoor, wrote, "We see your reflection in Janhvi Kapoor and Khushi Kapoor every day. You live on in our hearts and minds," Janhvi also shared a throwback picture, where she is a toddler and Sridevi is holding her.
Source: Read Full Article