Food Network star Tyler Florence's Blueberry Scones are bursting with flavor and, of course, blueberries.
A fan favorite on the culinary channel's site with over 500 five-star ratings, the chef promises we'll all be thanking him for the recipe.
Florence says we can thank him later for his game-changing scone recipe
In his cookbook Tyler Florence's Real Kitchen, the chef says his scone recipe is a departure from the rock-hard version of the baked good that many are most familiar with.
"These are scones not stones, the hard, crumbly things you may be used to," he wrote, adding, "… This is a side note to all the guys out there. If you bring your woman warm blueberry scones for breakfast in bed, you'll thank me later."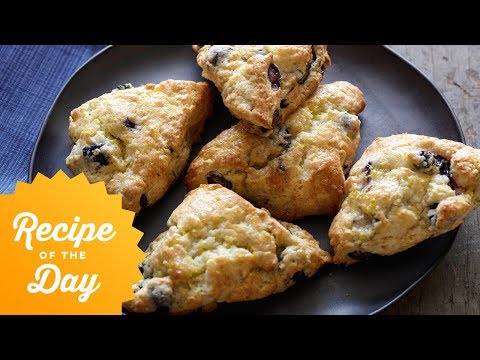 The chef says to avoid using one ingredient
While many baked blueberry goods can be made with either frozen or fresh fruit, for his scones Florence says to "avoid using frozen blueberries because the color bleeds too much into the dough and spoils the look of the scone."
Other ingredients home cooks will need for the scones include all-purpose flour, baking powder, sugar, unsalted butter, and heavy cream. For the glaze, be sure to have on hand freshly squeezed lemon juice, confectioners' sugar, lemon zest, and unsalted butter. A pastry cutter is helpful for working the butter into the flour.
The dry ingredients are combined in a mixing bowl and the cold butter is worked into it ("It should look like coarse cornmeal," Florence says in the Food Network video for this recipe). Fold the blueberries into the mixture: "You really want to be gentle [with the blueberries] because if you're really rough with blueberries, you're going to bleed."
Florence adds the heavy cream to the batter, working the flour into the cream to form a ball of dough. It's rolled gently into a log, flattened out, and cut into "the classic triangle shapes" scones are known for. They're baked in a 400-degree F oven for about 20 minutes, "until beautiful and brown." Once they've cooled, they're brushed with the glaze mixture.
Find the complete recipe, video, and reviews on Food Network's site.
Over 500 five-star ratings made Florence's recipe a fan favorite
Home cooks gobbled up Florence's delicious scone recipe.
One reviewer, just as Florence predicted, thanked the chef for the recipe: "This was my first attempt at making scones. The recipe was simple to follow and everything worked perfectly! We loved them! Thank you, Tyler!"
Another happy fan of the treat added, "We've been making scones for years and these were one of the best we ever made. Can't wait to make them again!"
Another home cook made some modifications with great results: "Made these tonight so we can have them for breakfast; the blueberries with the lemon glaze were delicious. I halved the recipe before I put the blueberries into the flour/butter mixture…and made half a batch of blueberry and other half with chocolate chips….Both recipes came out great – the prep and cooking times were accurate. Thanks Tyler! You're the man!"
Source: Read Full Article