The 'Beverly Hills, 90210' alum leaks text messages from a realtor who calls her family's housing crisis 'amusing' after she's allegedly forced to move out of their house due to 'ongoing mold problem.'
AceShowbiz –Tori Spelling has called out a realtor who appeared to make fun of her family's housing crisis. The actress and her children were recently forced to stay at a $100 a night motel due to "ongoing mold problem" at their house, but the realtor seemingly took light of the situation and called it "amusing."
On Friday, July 21, the "Beverly Hills, 90210" alum ousted a man named Robert Vinson for sending her some rude text messages mocking her situation. He apparently sent the text messages not knowing that it's actually the actress herself who made an inquiry about a house rental.
In a screenshot of the text messages, Robert started out by writing, "The latest bizarre inquiry." Tori, seemingly perplexed by the message, then wrote back, "I'm sorry? I'm assuming that wasn't meant for me."
"It is more for Karen," Robert replied. The realtor then added, "Tori Spelling has been asking for a 1 month rental. If you follow her situation on TMZ it is all amusing."
"This is Tori Spelling. Wow! Human empathy and kindness prevails. Kids in crisis is amusing," Tori wrote back. In the caption over the screenshot, she penned, "And, this human is a father! I guess I hold out too much hope that people lead by kindness."
The mother of five continued, "Shame on you Robert Vinson @vinsongroup real estate! My 5 kids are going through Mold poisoning and we need a home and this is how you treat people? Mocking their situation?"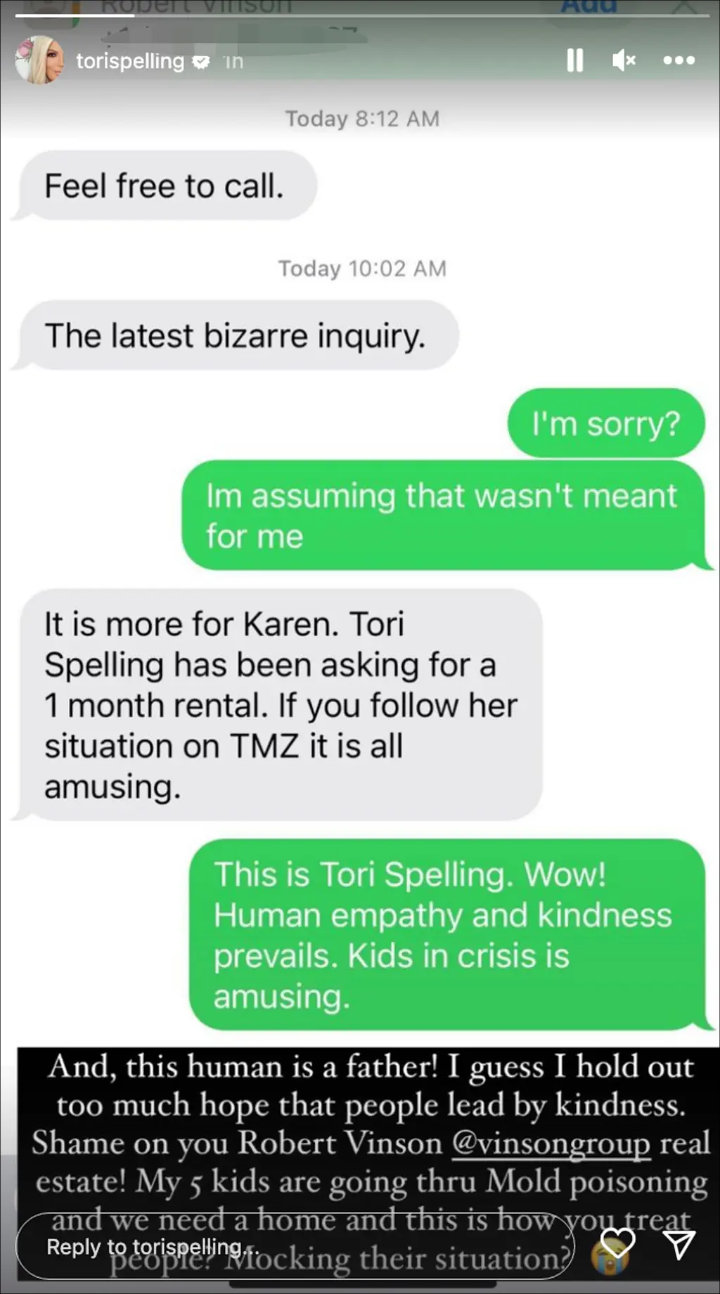 Tori Spelling leaked text messages from a realtor mocking her housing 'crisis.'
In his defense, Robert told Page Six that when Tori first reached out to him about a one-month rental, he asked for a confirmation. "Celebrity impersonation is rabid in Hollywood. As a real estate broker, I have a fiduciary responsibility to be certain of the identity of the person we are dealing with," he said.
He claimed that he texted her, "How can I confirm it is you" as he believed it was a "scam," but said, "I never received a call back from the text. I am now being publicly shamed for my due diligence."
After Tori leaked the text messages, he has been slammed by social media users. "I sent Ms. Spelling the following text after being bombarded with vulgar messages from her followers, 'I am sorry about the message. I was raised by a single mother and understand the challenges you are dealing with. When you did not call me I thought I was being spoofed by someone who was pretending to be you,' " so he said.
Indeed, many people have called out Robert for his insensitive comments. "Make sure before you mock someone for their misfortune – that you send it to the correct text box, and not to the said person you are mocking – just sayin'," one person advised him.
"Let's hope your family does NOT go through the same situation, because being sick by mold is no joke. I feel second hand embarrasment [sic] for you," another weighed in. A third person added, "Wow, using any humans misfortune as your amusement says more about you than anything. Not a good look."
You can share this post!
Source: Read Full Article