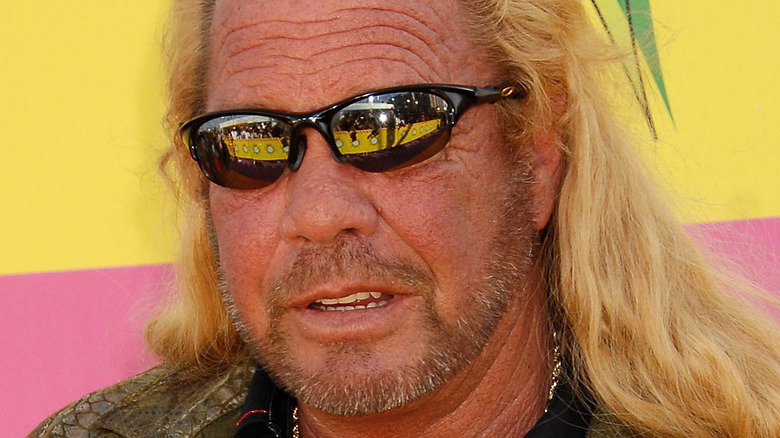 Ga Fullner/Shutterstock
By Shana Aborn/Aug. 23, 2021 10:34 pm EDT
Dog the Bounty Hunter became a household name through his self-titled show, which ran for eight seasons on A&E (via IMDb). The soft-hearted tough guy (né Duane Chapman) had a knack not only for tracking down fugitives from bail, but also for trying to help them with the personal issues that led to their crimes in the first place. But his life turned upside down when his wife, Beth — who had been part of his bounty-hunting team — developed advanced throat cancer. Her battle was chronicled in the spin-off show "Dog's Most Wanted," and Beth died in June 2019. "We all love you, Beth. See you on the other side," Chapman tweeted at the time (via CNN). 
But love will have its way when it's least expected. Just six months later, Chapman met Francie Frane, herself a recent widow. They went to a church service together, and quickly bonded over their shared grief. Though the grieving Dog had vowed never to marry again, he proposed to Frane in May 2020 (via Today) After the year-long engagement, the couple is ready to exchange vows in the last week of August — but two important people won't be there to witness it.
Dog's daughter Bonnie and stepdaughter Cecily have told TMZ that they weren't invited to the wedding. They're not sure exactly why; Cecily said she and Bonnie like Frane and have no problem with the marriage. The snub, she feels, is coming from their father.
Dog the Bounty Hunter may be getting back at Bonnie and Cecily for their recent actions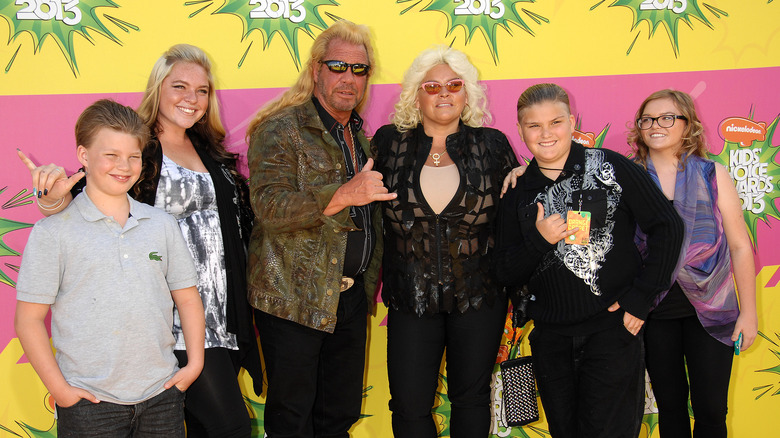 Cecily Chapman, who is Beth's biological daughter (seen here in 2013, second from left), told TMZ she suspects her stepdad is still dealing with his grief over Beth, and seeing her and Bonnie may evoke too many emotions. "Yes, he can move on, yes, he can get married again … but I think he's just scared that we remind him too much of our mother," she said.
She added that their dad may also be snubbing them because of the "different paths" they've taken as adults. Bonnie Chapman has become an outspoken advocate for social justice issues such as criminal justice reform, Black Lives Matter, and LGBTQ+ rights, and is no fans of former president Donald Trump (via The Daily Beast). This hasn't sat well with Dog, but Cecily says their mother would have been proud. "Bonnie [is] being an activist, and my mom actually thrilled off that stuff," Cecily said, saying that she herself is working on a docuseries about Beth. "And if my dad has a problem with that, then that's on him."
"I believe that my mom would have wanted us there," Bonnie Chapman added. "You know, we are his family. We are flesh and blood."
Dog Chapman released a statement to E! News through a spokesperson, saying only, "We love Bonnie and Cecily very much, as we do all our family. We pray for their health and happiness every day. Beyond that statement, we wish to keep any family issues private."
Source: Read Full Article