If you're looking for a hearty steak recipe, The Pioneer Woman has some ideas. Ree Drummond shared her recipe for skirt steak and sweet potato fries. Here's her secret to a delicious steak dinner.
Ree Drummond's Skirt Steak and Sweet Potato Fries
Drummond starts by making a seasoning mix for the sweet potato fries. She places salt, pepper, cumin, oregano, a pinch of cayenne pepper, and coriander in a bowl. Drummond also adds a pinch of sugar to give the mixture "a sweet caramelization." She says the fries won't be sweet, but the sugar adds a little punch to the taste.
Drummond chooses to take a shortcut for this recipe by using frozen sweet potato fries. She says she has been going easy on herself lately, so she decided not to make the fries from scratch. "It's amazing the fries you can buy now," says Drummond on The Pioneer Woman.
Next, Drummond sprinkles one tablespoon of the seasoning on top of the fries. She bakes the fries at 425 degrees for about 25 minutes. Drummond mentions that she shakes the fries around halfway through the cooking process.
"It's amazing what you can do when you sort of make a homemade seasoning mix to sprinkle on frozen fries," says Drummond. "It just kind of elevates the whole situation in a big way."
How Ree Drummond makes skirt steaks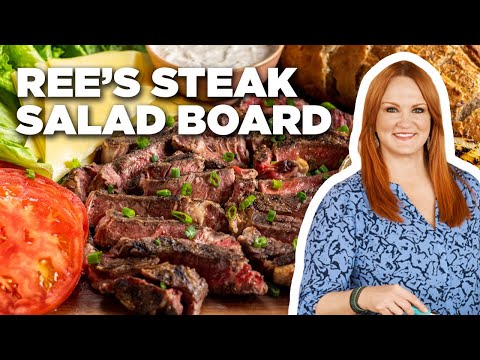 Drummond starts by brushing each side of the steaks with olive oil. She had two skirt steaks and cut each one in half. She sprinkles half of the remaining seasoning mix on top of the steaks. "Skirt steak is just one of my favorites says Drummond." It's so marbley and just tender. "It lends itself really well to being grilled." She grills the meat on high heat for 30 minutes.
Next, Drummond makes an herb drizzle that she says is like a chimichurri. She adds chopped cilantro, chopped parsley, and chopped oregano, along with crushed red pepper flakes, grated garlic, a splash of red wine vinegar. While she stirs the mixture, she adds ½ cup of olive oil.
Drummond says she loves dinners like this. For her, the best part is that she can serve the whole dinner right from the sheet pan. Drummond prefers this method because she doesn't have to wash a platter. She doesn't like having to wash a lot of dishes at the end of dinner. "We don't need no stinkin' platters!" she jokes.
The next step is to slice the steaks. After the steaks are sliced, Drummond adds them to the platter of sweet potato fries. She then places the herb mixture on top of the meat. Drummond says ketchup or ranch dressing can be used for the fries, but it isn't necessary.
Ree Drummond doesn't order steak when she dines out
During an interview with Delish, Drummond was asked what she likes to order when she eats out. She says she enjoys sushi but avoids ordering steak.
"I love sushi, and I usually order it because it's the farthest thing from what I make at home," says Drummond. "The last thing I'd order is steak; it's one of my favorite dinners, but we cook it all the time."
RELATED: 'The Pioneer Woman': Funniest Things Ree Drummond Said About Food
Follow Sheiresa Ngo on Twitter.
Source: Read Full Article