Niji Palak is a flavourful recipe, often slow cooked for the Sindhi festival of Thadri on September 6, that proves why garlic and palak (spinach) is a shaadi made in heaven
The aroma of its abundant garlic wafts off this dish, and the garlic enhances the natural flavours of spinach. Vishaka Damwani's version of the Sindhi fave can be had with rotis or steamed rice.
Vishaka is a home chef who loves Sindhi cooking and promotes her Sindhi language, among today's generation, via her videos on Sindhi Ji Rasoi on YouTube, which features recipes in Sindhi.
She plans to write a book on recipes from her community and its festivals, that Sindhi mothers and fathers can pass on to their sons and daughters on their wedding day, as a gift they will use, treasure and pass on to their next generation.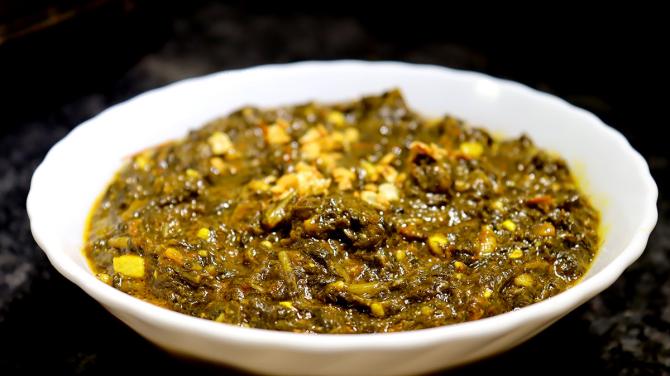 Niji Palak
Serves: 3-4
Ingredients
2 bunches spinach, about 400 gm, washed and chopped
Few strands sua or fresh dill
Few strands khatta palak or sorrel leaves
6-8 large tomatoes, cut into small cubes
20-25 garlic pods, finely chopped
2-3 green chillies, finely chopped
½ teaspoon haldi or turmeric powder
½ tsp red chilly powder
2 tsp dhania or coriander powder
Salt to taste, about 1½ tsp
4-5 tbsp oil
Method
In a kadhai or large saucepan, heat the oil over medium heat and add the finely chopped garlic and sauté until pinkish-golden and aromatic.
Add the chopped spinach, dill and the khatta palak.
Cook the greens over medium-high heat and let the water evaporate gradually.
Keep stirring so the spinach cooks evenly and does not stick to the pan.
Let the spinach cook for 15-20 minutes and gradually get dry.
Add the tomatoes, green chillies.
Now add the red chilly powder, dhania powder, haldi powder and mix well.
Don't add extra water.
Cover and cook for approximately 5 more minutes on high heat and 10 minutes on low heat.
Mash the spinach mixture a bit so it has a chunky, paste-like texture.
Cover again and let it cook for 5 more minutes, but don't let the spinach get too dry.
Serve hot with rotis, Mitho Lolos, jawar/bajra/makkai rotis rice, pulau.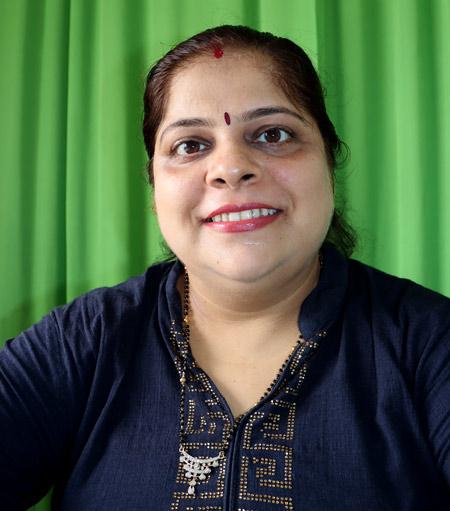 Vishaka Damwani lives in Ulhasnagar, with her husband Suresh and two daughters, Radhika and Navya. For more of her Sindhi recipes view Sindhi Ji Rasoi.
WATCH: How to make Niji Palak
Source: Read Full Article