Are Prince William and Kate Middleton sending a secret message to Prince Harry and Meghan Markle? Recent events may suggest such, as one royal biographer suggests. While the couples are believed to be at odds with one another, mainly due to the long-standing rift between the two brothers, there may be some more going on that no one is realizing. 
The theory is linked to one of William's recent tweets. During the Euro finals, athletes on team England knelt before their matches "in a display of unity in the fight against racism and inequality," according to CNN International. While some spectators would boo them, others took things a bit too far. After suffering a 3-2 loss to Italy on July 11, teammates Marcus Rashford, Jadon Sancho, and Bukayo Saka received some extreme hate on social media, with some people sending "vile racist" messages, according to Closer. At the time, the London's Metropolitan Police said they were looking into the social media abuse, according to CNN International. 
The racist messages were condemned by UK Prime Minister Boris Johnson — and also by William, who took to Twitter on July 12 to share his feelings on the matter. Keep reading to find out what William had to say — and how Harry and Meghan have been linked.
Prince William's tweet about racism was 'really powerful'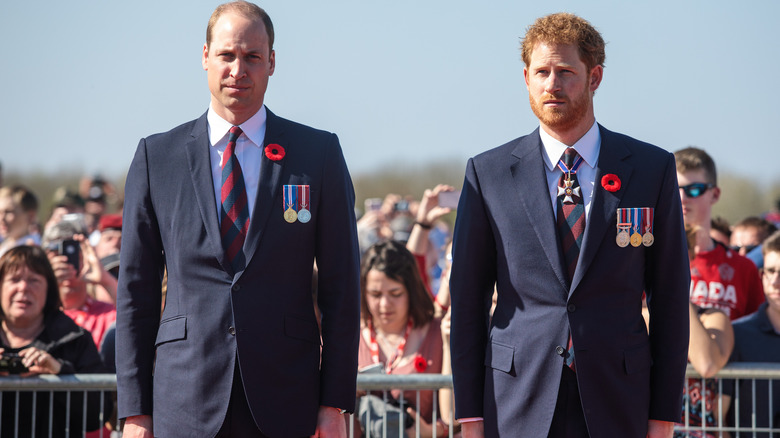 On July 12, Prince William took to Twitter to condemn the racist abuse that some of the athletes on Team England endured on social media. "I am sickened by the racist abuse aimed at England players after last night's match. It is totally unacceptable that players have to endure this abhorrent [behavior]. It must stop now and all those involved should be held accountable," the Duke of Cambridge wrote, signing his tweet with his initial "W." The tweet was very well-received, with more than 100,000 likes at the time of this writing. 
Royal biographer Duncan Larcombe suggested to Closer that this was the right move for William to make as it was not only "really powerful," but it's also "especially relevant after Harry and Meghan's accusation about the royal family." Here, Larcombe is referring to Harry and Meghan Markle's interview with Oprah Winfrey in which they suggested that at least one member of The Firm is racist. The claim came when the couple told Oprah that there was concern within the royal family about Archie's skin tone, according to CNN.
This is where the secret message comes in. "William and Kate have kept a dignified silence but now they're letting their actions do the talking. It's almost as if they're sending a secret message to Harry and Meghan saying, 'We're going to keep going, we're still here, we're not backing down, we're carrying on.' It's a message to Harry that life continues – with or without him," Larcombe told Closer.
Source: Read Full Article