Zhanzanit Vangi Bhat is a delicious combination of rice and green eggplant cooked with a spice blend.
This recipe has its roots in Karnataka and some parts of Maharashtra, but there is a slight variation in ingredients used in these two distinct regions.
In this preparation, I have used tomatoes instead of tamarind to add a hint of sourness, which is balanced out with the sweetness from the jaggery.
The ingredients of Vangi Bhat powder is quite similar to Metkut, except this mixture is spicier and has a coarser texture. The graininess of the powder adds a nice crunch to the rice.
For someone who mostly prefers ghar ka khanna, I find these spice blends really helpful to flavour my leftover rice especially when I am running short on time.
This quick and hassle-free, one-pot meal takes not more than 15 minutes to put together, if you already have pre-cooked or leftover rice in your kitchen.
Prepare the Vangi Bhat powder beforehand and store it in an air-tight container for weeks and it will be fine. The powder can also be used to flavour dry sabzi preparations like Jeera Alu, Alu Gobhi, Khatte Kadu and Masala Bhindi.
Zhanzanit Vangi Bhat
Serves: 3-4
Ingredients
For the spice powder
2 tbsp chana dal or split Bengal gram
2 tbsp urad dal or split white gram
3 tbsp dhania or coriander seeds
2 tbsp grated desiccated coconut
2-3 Kashmiri red chillies
2 tbsp jeera or cumin seeds
1-inch piece dalcheeni or cinnamon stick
4-5 black peppercorns
2-3 green elaichi or cardamom
3-4 laung or cloves
½ tsp methi or fenugreek seeds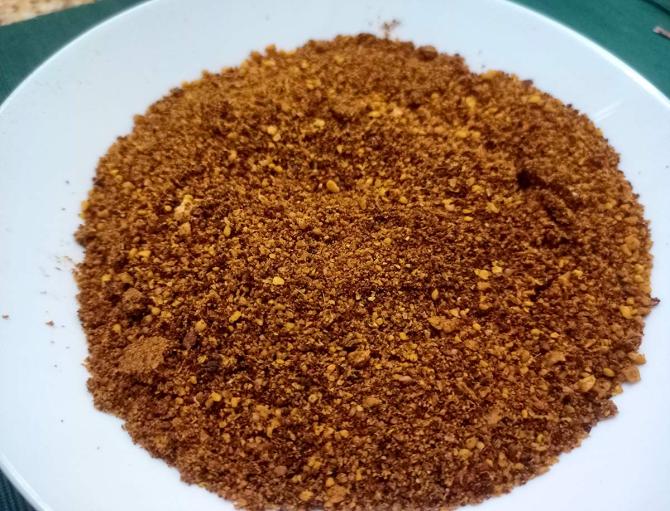 For the Vangi Bhat
2 cups cooked Basmati rice
1 cup green vangi or brinjal or baigan or eggplant, cut into 1-inch pieces
1 tbsp peanuts or cashews
1 medium-sized onion, sliced
1 medium-sized tomato, sliced
1 green chilly, slit
2 tbsp groundnut oil
1 tbsp ghee
1 tsp gur or jaggery
½ tsp haldi or turmeric powder
1 tsp rai or mustard seeds
1 tsp chana dal or split Bengal gram
1 tsp urad dal or split white gram
1 tej patta or bay leaf
6-7 curry leaves
Pinch hing or asafoetida
Salt to taste, about 2 tsp
1 tbsp chopped dhania or coriander leaves or cilantro, to garnish
Sweetened yoghurt, to serve
Method
For the masala
Dry roast all the ingredients in a frying pan or tawa over low heat until fragrant.
Let the mixture cool grind into a coarse powder.
Keep aside till use or store in an airtight container.
For the Vangi Bhat
Heat the oil in a kadhai.
Add the mustard seeds, chana dal and urad dal.
Add the peanuts, bay leaf, hing.
Fry for a minute.
Add the sliced onion, slit green chilly, curry leaves and saute till the onions are translucent.
Add in the chopped tomatoes and the eggplant and stir.
Cook covered for 5 minutes till the eggplant has softened.
Add the turmeric powder, Vangi Bath powder, salt, jaggery.
Mix well and cook this further for 2 minutes uncovered.
Add in the pre-cooked rice and mix.
Make sure the rice is coated with the masala.
Cover the rice and let it absorb the flavours for 5 minutes over low heat.
Take off heat add the ghee.
Garnish it with fresh coriander leaves.
Serve hot with sweetened curd.
Mayur's Note: I usually prefer basmati rice for this recipe, but any short grain rice is a good alternative.
For a healthier spin to the recipe, opt for brown rice. Follow the instructions on the pack for perfectly cooked rice. Remember, soggy rice will ruin the recipe.
If you can't lay your hand on green eggplant, the regular purple variety works just fine.
For spicier version of the recipe, use different variety of dry red chillies instead of Kashmiri chillies.
The readymade Vangi Bhat powder is available in stores, but the one made from scratch at home is definitely more flavoursome.
You can opt to use mushroom, boiled potatoes or even prawns instead of eggplant. The cooking time may differ a bit.
Source: Read Full Article