There are a million types of pulaus one can conjure up. But when guests are suddenly expected, or show up at your doorstep unannounced, I quickly put together my Cauliflower and Peas Pulau.
It's quick to make and is the something extra to add to a simple meal. I choose to add cauliflower as an additional vegetable in the pulau. You could also consider adding a handful of sauteed methi (fenugreek) leaves or tiny fried pieces, about 100 gm, of paneer.
Ghee provides a richer taste, but oil will do just fine too.
Zelda's Cauliflower and Peas Pulau
Serves: 3-4
Ingredients
3 tbsp ghee or oil
½ tsp hing or asafetida
3 lavang or cloves
½ tsp haldi or turmeric
7 black peppercorns
1 tej patta or bay leaf
1-inch stick dalcheeni or cinnamon
2 elaichi or green cardamom
10 curry pattas or leaves
2 large onions, peeled, sliced lengthwise
¼ kg cauliflower, cut into small florets
1-inch piece ginger, grated
1 tsp salt
2 cups basmati rice, washed, drained
2 green chillies, cut lengthwise
1 cup peas, frozen will do fine
Method
In a large non-stick saucepan or heavy-bottomed kadhai, over low heat, fry the onions till reddish, with the turmeric, ghee, hing, curry pattas and the dry spices.
Add the raw washed rice, salt, green chillies and fry 5 minutes more over low heat.
Then add the peas and cook 5 minutes further.
Add 4½ cups water and cook over low heat, for about 15 minutes or more, till all the water is absorbed and the rice grains have grown in length.
Fluff up with a fork and serve hot with plain yoghurt, or a raita or a main course.
Zelda's Note: For a Jain version of this pulau, skip the onions and ginger. It will still be plenty flavourful.
Brown rice can be used instead of basmati and will need a little more water and time to cook.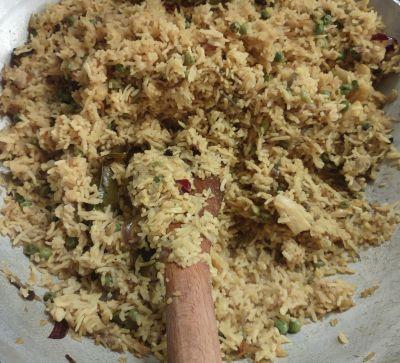 Source: Read Full Article