Chef Sohail Karimi's speedy milk-based dessert will lend a special touch to your Independence Day festivites.
The Tiranga Barfi can be made in under 30 minutes and requires a few simple ingredients.
Resembling the Tricolour, this mithai will look good on your table and will appeal to kids and adults alike.
A Mumbaikar, Chef Sohail spent many years in the Middle East honing his skills.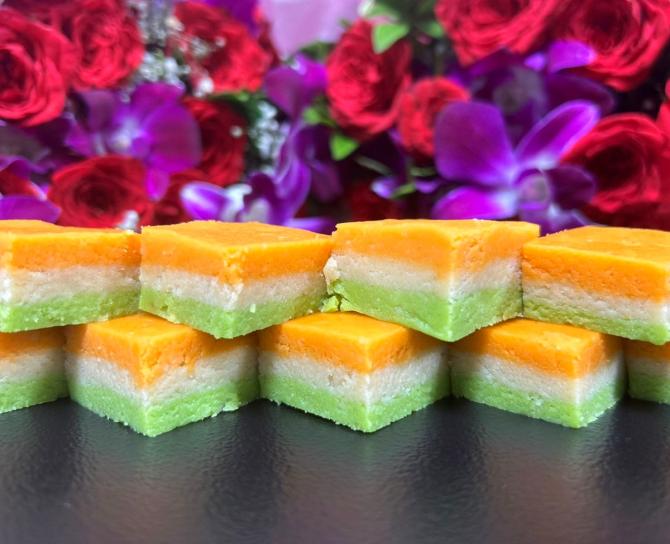 Tiranga Barfi
Servings: 8-10
Ingredients
100 gm sugar
2 litres milk
5 gm green elaichi or cardamom powder
50 gm ghee + extra for greasing the tray in which the barfi sets
Few strands kesar or saffron mixed with few tbsp milk
2-3 tbsp pureed spinach
Method
Heat the milk in a heavy-bottomed saucepan over medium-high heat.
Once it boils, reduce the heat and let it simmer for a while until it reduces to half.
Add in the sugar, cardamom powder, ghee and stir.
Keep stirring until it is a thick batter-like mixture.
Ensure the mixture doesn't burn or stick to the bottom of the saucepan.
Take off heat.
Once the mixture cools, divide between three bowls.
In one portion add the saffron infused milk along with the kesar strands.
In the second portion add the pureed spinach.
Let the third portion remain white.
Grease a tray with ghee.
On the bottom spread, out the green mixture evenly, followed by the white mixture and then the orange mixture, so it resembles the Tricolour.
Let it set in the refrigerator for 2 hours.
Cut into small squares.
It can be served chilled or at room temperature.
Chef Sohail Karimi is the executive chef at the Radisson Blu Resort and Convention Centre, Karjat.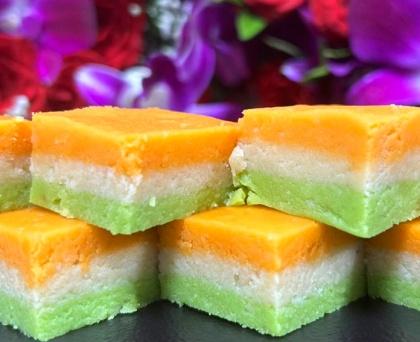 Source: Read Full Article