As we await the arrival of the monsoon to cool us down, make a batch of Sunita Harisinghani's crispy Dal Vadas that can be served with tea or as side dish to a larger meal.
Serve with green coriander chutney or coconut chutney.
Sunita cooks a wide variety of dishes from her native Mangalore and also has an enormous repertoire of Sindhi specialties.
Dal Vada
Servings: 13-15 pieces
Ingredients
250 gm chana dal or Bengal gram
1 cup finely chopped onions
3-4 green chillies
10-12 curry leaves
Handful green dhania or coriander or cilantro leaves, chopped
½ tsp jeera or cumin seeds
½ tsp ajwain or carom seeds
4-5 black peppercorns
1-inch piece ginger, grated
Salt to taste, about 1 tsp
Pinch hing or asafoetida
Oil for deep frying
Method
Soak the chana dal for 4-5 hours.
Drain the water.
Take a handful of the dal and keep aside.
Transfer the rest of the dal into a mixer and grind the chana dal along with jeera, peppercorns, ajwain, ginger, green chillies into a coarse mixture without water.
Transfer into bowl.
Add the chopped onions, coriander, curry leaves, hing, salt and the chana dal which was kept aside.
Mix.
Heat the oil in a deep frying pan or kadhai over high heat.
Divide the mixture into 1½-inch diameter balls and roll them into flat vadas (please see the pic above).
Once the oil is hot, deep fry until golden brown, reducing to medium heat after adding the vadas into the oil.
Serve hot with green chutney or coconut chutney and chai.
Editor's Note: For Jain Dal Wadas, skip the onions and replace the ginger with 1 tsp of saunth or ginger powder.
Instead of carom seeds you might like to experiment with using an equivalent amount of sonf or fennel seeds instead.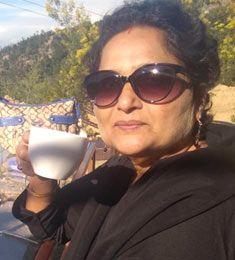 Sunita Harisinghani lives in Navi Mumbai.
Source: Read Full Article