If you travel along the busy Grand Trunk highway out of Delhi into Haryana, past Sonipat, behind the stream of overburdened, grunting Horn OK Please and Buri Nazarwale Tera Mooh Kaala lorries, you are in Basmati Rice Territory. Some of the country's top basmati brands have their factories here.
It is also one of the best spots on the Indian map to have stuffed parathas. Most of the highway's colourful, quaintly named and decorated truck stops along the way will have super places for parathas.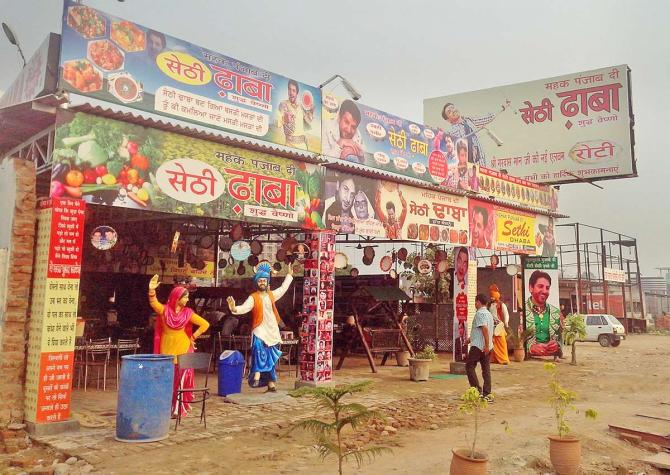 Large fat choolah ka tandoori parathas, glistening with generous dollops of white butter, will arrive steaming to your table, with katoris of malai-walli dahi.
Stuffings are of umpteen, mind-boggling varieties — paneer, phool gobhi (cauliflower), alu (potato), onion, mulee (white radish or daikin), mixed sabzi, alu methi (potato and fresh fenugreek), alu pyaaz (potato onion).
Stuffed parathas are far easier to make at home than rotis or even plain parathas. Not much art to rolling them. And if the stuffing starts oozing or the parathas get holey while rolling it all gets fixed on the tawa/frying pan while frying.
Since it's the season for mulee — markets are stuffed with snowy white mulee — I have offered a recipe for Mulee Parathas. For those of you for whom mulee is a bit of a meh sabzi, you'd be surprised how good it tastes in parathas.
With a little tweaking of spices the same recipe can used for a variety of stuffings.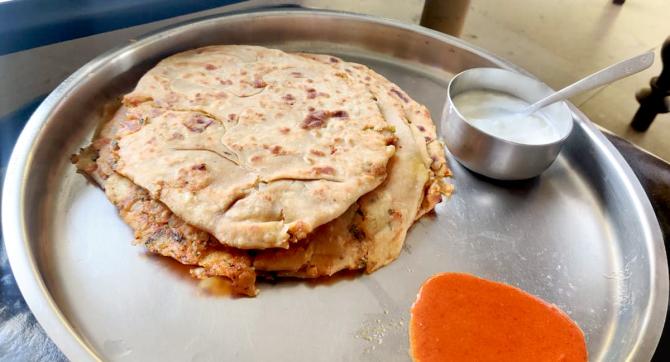 Mulee Parathas
Serves 2-3, about 12 parathas
Ingredients
2 large pieces mulee, peeled grated; about 300 gm grated mulee
3 dark green chillies chopped
½ cup chopped green dhania or coriander or cilantro
1 tsp saunth or dried ginger powder
1 tsp aamchoor or dried mango powder
½ tsp hing or asafoetida
½ tsp lal mirchi or red chilly powder
1½ tsp salt + little more if required
6 tbsp ghee + 6 tbsp oil for frying the parathas
White butter for serving
For the aata or wheat covering
3½ cups aata or whole wheat flour
2-3 pinches salt
2¼ cups water
Dash of oil
Wheat flour for rolling
Method
In a bowl, mix salt into the grated mulee and let it stand 20-30 minutes.
The salt will cause the mulee to sweat water — taking handfuls of grated mulee at a time, squeeze out the water over the sink and add squeezed portions to another bowl.
To the squeezed mulee, add red chilly powder, hing, saunth, aamchoor, green chillies, chopped dhania.
Add additional salt only if required.
Keep aside.
How to make the outer wheat dough stuffing
In a bowl mix the wheat flour with the salt, oil.
Add the water slowly to make sure the dough doesn't become sticky because depending on the wheat flour it will either take less or more water.
Knead into a soft dough and rest the dough, covered.
Assembly
Then liberally dust the counter/ledge or board or rolling board you are going to roll the parathas on with wheat flour.
Keep a rolling pin handy.
The fatter and bigger/heavier the rolling pin is, the quicker it will roll.
Before you start rolling keep your tawas or frying pans and spatula ready and also a katori/small bowl with oil and ghee mixed, with a tsp in it on hand for frying.
Take a large wad of dough about the size of a billiard ball (little smaller than a tennis ball) and liberally pat with wheat flour and roll into a ball.
Roll this out into a thick 4-inch circle.
Place the mulee stuffing or you whatever stuffing you plan to use in the middle.
The ball of stuffing should be the same size or even larger than the quanity of dough you took — so larger than a billiard ball.
Bring the edges of the paratha together around the stuffing like a potli to close the dough around the stuffing and squeeze the ends together to shut.
Press the ends down and pat into a thick disc.
Turn it over and roll lightly on the smooth side till you have a stuffed paratha of about 7 or 8 inches in diameter.
While you are gently rolling out the stuffed paratha, keep patting more flour on it.
The stuffing will ooze a bit.
Patch with flour.
Lightly roll on the other side too.
Doesn't matter if it keeps getting sticky and oozes stuffing.
That will get sorted with the application of flour and on the tawa.
Your aim is to get the paratha rolled out so it is not too thick.
Ultimately will be about 1 mm thick.
First dry roast over medium heat the stuffed paratha on the tawa/non stick frying pan over medium heat, on both sides so it gets a few pinkish dots all over.
Then spoon on the oil or oil plus ghee and fry both sides.
For quick production of parathas, since rolling is faster than frying, keep two tawas or frying pans going and station someone ie a 'supervised' helper to fry while you roll.
The pink spots will get darker like dark red or brown and more numerous and the paratha will get crisp.
Not too many black dots or large dark dots because then it is burning 🙂
Remember to dry fry first both sides or the raw dough will soak up too much oil.
The aim is to fry such that both the stuffing and the dough cook simultaneously the right amount, so modulate heat accordingly, especially if the stuffing you have chosen is a raw one.
Store the parathas that are fried covered so they remain hot.
Serve hot with yoghurt, pickle and slices of onion and white butter on top.
If you are planning to serve with white butter, reduce the oil and ghee used during frying.
Zelda's Note: For the stuffing here are some choices: Grated cauliflower, alu, onions, paneer and peas.
Please note: 6 parathas is usally enough for two people.
To make 6 alu parathas you would need to:
Boil three large alus — they should be soft but not boiled till overly wet.
Peel and mash with a masher.
Mix salt, 4 finely chopped green chillies, a pinch or 2-3 of hing, handful chopped green dhania, 2 flat tbsp dhania powder, dash garam masala.
If don't have garam masala use a little chaat masala. If using chaat masala remember it has salt so reduce the salt you are going to add.
Mix the alu mixture with hand and keep on hand to stuff. Some prefer adding finely chopped onions.
For 6 cauliflower parathas: Use ½ kg cauliflower grated, can grate some of the stem too.
In a frying pan baghar or season the grated cauliflower with ¾ tsp jeera, salt, extra hing about a tsp, 1½ inches ginger grated, 2 chopped dark green chillies (could be 3).
Fried for 5 or 8 minutes and it will give off a bit of water. Take off heat. Cool and keep ready for stuffing.
Onion stuffing for onion parathas is pretty easy: Chop 3-4 large red onions and add 1 tsp lemon juice.
Saute briefly in a very tiny bit of oil and season with little red chilly powder, salt, 1 tsp chaat masala, salt (less because chaat masala has salt) pinch hing, chopped cilantro.
But you can also just season and not fry.
For onion paratha substitute some of the wheat flour with a little white flour in the dough.
For 6 paneer parathas: Brought 200 gm store-bought paneer from fridge to room temperature and allowed it to sweat and pat off moisture with a kitchen towel. Mashed with a fork.
Added 3 chopped green chillies, one medium onion finely chopped, 1 inch ginger grated, 1 tsp chaat masala (to taste), salt, 1 tbsp chopped fresh mint, a pinch of hing, 2 tbsp chopped green dhania.
Paneer is kind of a bit more oozy while rolling. Don't worry keep patting wheat flour in places where it oozes or holes form.
For 6-8 peas parathas: Approximately 200 gm frozen peas brought to room temperature, washed and patted dry.
Roughly grind in the blender (not to a paste) with 1 or 2 green chillies, ½ piece ginger, generous pinches hing, salt.
Heat the pea stuffing for a few minutes in a frying pan so it loses its moisture and season with ½ to 1 tsp (depending on preference) sonf or fennel/anise powder.
For this paratha too, you can replace the wheat flour with a little white flour.
Source: Read Full Article