If you thought our Indian red kidney beans or lobia were used only to make Rajma-Chawal, think again!
Chef Neha Deepak Shah's melt-in-your-mouth Rajma Kebabs combine the earthy taste of rajma with spices. They are an excellent lunchtime tiffin treat and a healthy after-school snack for the your children.
Rich in iron, minerals, these kebabs are packed with protein, and go well with green chutney, imli chutney or ketchup.
Chef Shah calls herself a food scientist and restaurateur and declares pani puri to be her elixir!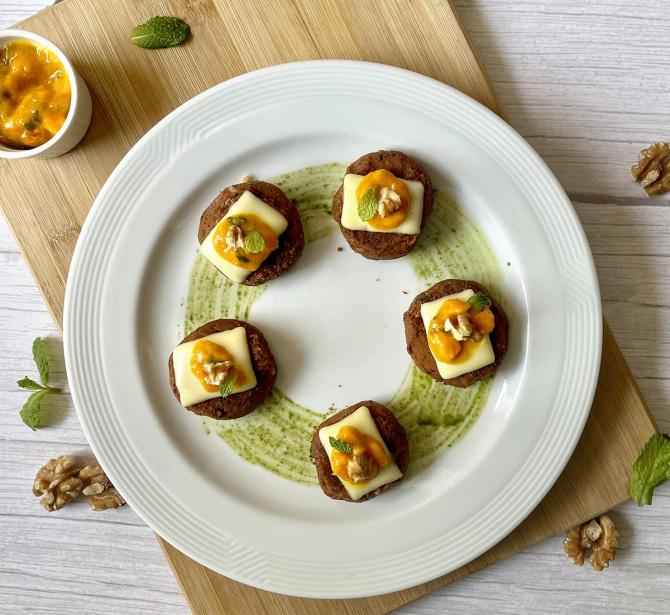 Rajma Kebabs
Serves: 2-3
Ingredients
½ cup whole walnut kernels
½ cup cooked rajma or lobia or red kidney beans
2 tsp oil
1 onion, finely chopped
3-4 garlic pods, finely chopped
1 green chilly, chopped
2 tbsp tomato sauceor ketchup
1 tbsp red chilly sauce
1 tsp Kashmiri red chilly powder
½ tsp red chilly flakes
½ tsp oregano
1 tbsp chopped green dhania or coriander or cilantro
Salt to taste, around 1 tsp
Dash black pepper powder
Peri peri seasoning, optional
3-4 tbsp ghee or oil for frying the kebabs
For the topping
Cheese slices
Sweet mango puree
Chopped walnuts
Mint leaves
To serve
Green chutney
Imli or tamarind chutney
Ketchup
Method
Heat the 2 tsp oil in a non-stick kadhai or saucepan over medium heat.
Add the chopped onions, garlic, green chilly.
Saute well for 2-3 minutes over medium heat.
Add the ketchup, red chilly flakes, chilly sauce, Kashmiri red chilly powder, oregano, salt, pepper.
Mix well and cook for half a minute.
Mix in the cooked rajma, walnut kernels and cook for a few minutes.
Add the peri peri seasoning, at this step, to enhance the flavour.
Add the chopped coriander, mix well and take off heat.
Cool the mixture and then blend it in a mixer to a smooth paste.
If required, cook the blended mixture in a saucepan, over low heat, for a few minutes to dry it.
Take a portion of the mixture and roll into 1-inch balls and flatten into a round kebab and repeat for the rest of the mixture.
Heat the ghee/oil in a tawa and fry over medium heat till golden brown on both sides.
Drain onto paper towel or tissue-lined plate and top the kebabs with cut cheese slices, mango puree, chopped walnuts and mint leaves (please see the pic above).
Serve hot with green chutney, imli chutney and ketchup.
Editor's Note: For low-fat or vegan kebabs, skip the sliced cheese garnish and fry in minimal oil. For Jain kebabs, skip the onions and garlic.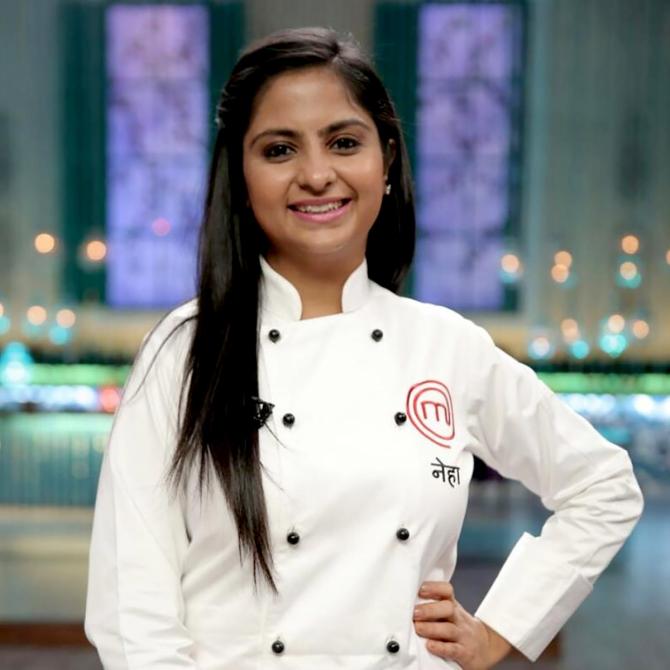 One of the top three contestants on MasterChef India Season 4, Chef Neha Deepak Shah is the co-founder of Meraaki Kitchen and Cafe White Sage in Jaipur.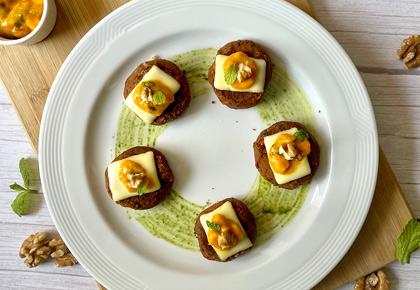 Source: Read Full Article