There are days, despite long hours work, when dal, roti and sabzi will not suffice.
Here's a delicious diversion from the rich Maharashtrian cuisine, which is a hearty, gourmet meal, that is not so difficult to bang together. It's a one-pot recipe called Shengole.
It's traditional and typically relished during monsoon season when most veggies may not be so safe to consume.
Shengole is essentially a mix of dumplings that are simmered in a mildly spiced gravy that is tempered with garlic, green chillies, and goda masala.
At my home, Shengole is revered to as comfort food and we like to have it all year-round.
My mom tells me that her mother-in-law, my aaji, taught her this recipe and she herself was very fond of this humble dish.
Shengole
Serves: 2-3
Ingredients
½ cup jowar flour
½ cup aata or whole wheat flour
2 tbsp besan or chickpea or gram flour
4-5 garlic pods, minced
2 green chillies, chopped
¼ tsp haldi or turmeric powder
1 tbsp red chilly powder
¼ tsp rai or mustard seeds
¼ tsp jeera or cumin seeds
¼ tsp ajwain or carom seeds
1 tbsp goda masala or garam masala (I prefer Bedekar's goda masala for its subtle sweet flavour)
Pinch hing or asafoetida
2 tbsp finely chopped green dhania or coriander or cilantro leaves
1 tbsp oil, peanut oil preferred + extra for greasing your palms
250 ml water
1 tsp lemon juice or aamchur (dried mango powder)
Salt to taste, about 2 tsp
1 tbsp ghee, optional
Ghee, to serve
Slice of lemon, to serve
Papad, to serve
Method
For the shengole
Combine all three flours in a flat-bottomed thali.
Add the ajwain and little salt.
Mix well.
Add a little water and knead the dough.
Cover with a moist kitchen towel and let it rest for about 15-20 minutes.
Grease your palms with oil.
Take small ball of dough 1½ inches in diameter and roll it into a thin tube.
Seal both the ends together to form an elongated ring.
Repeat the same process with the remaining dough.
Keep aside.
For the gravy
Heat oil in a kadhai or saucepan.
Add the rai, jeera, hing.
Add the garlic, green chillies, goda masala, haldi, garam masala, red chilly powder.
Let it sizzle for about a minute.
Add some water and bring it to boil.
Drop the shengole into the boiling gravy.
Add the salt and give it a gentle stir.
Cover and cook for about 15 minutes or until the shengoles are firm.
Once done, add the chopped dhania and some lemon juice or aamchur powder.
Serve hot with a dollop of ghee, a slice of lemon and papad.
Mayur's Note: The gravy is usually watery in consistency. You may add 1 tbsp of roasted gram flour or besan for a slightly thicker gravy.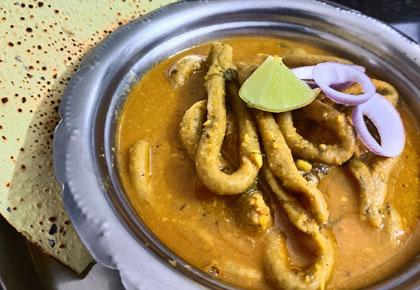 Source: Read Full Article