Valentine's Day is approaching fast and it's time you surprised your better half with a home-cooked treat.
It doesn't need to be grand gesture of love. Something simple, yet delicious will be surely enjoyed too.
Moumita Panday's Chilly Garlic Paneer Nuggets are perfect, especially if you're looking for an easy yet impressive snack that's great for entertaining as well.
Panday creates recipes and says she has 'worked in collaboration with brands like Swiggy, Del Monte, Urban Platter, Karma Kettle, Daawat'.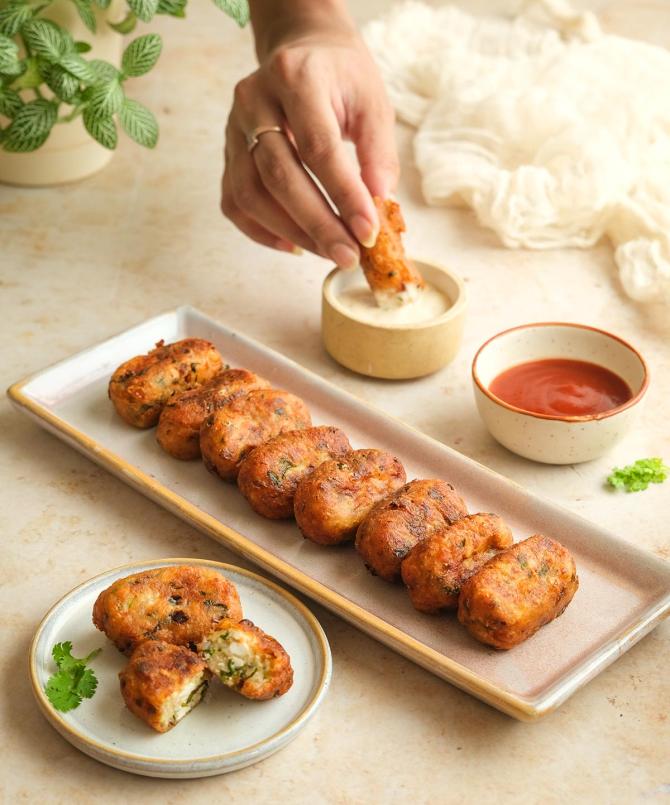 Chilly Garlic Paneer Nuggets
Serves: 2
Ingredients
100 gm paneer, crumbled
1 large potato, boiled, peeled and mashed
1 medium-sized onion, chopped
1-2 tsp garlic mayonnaise or mayonnaise mixed with garlic paste
1-2 tsp green chilly sauce
2 tbsp corn flour + extra for coating
1 tsp chilly flakes
2 tbsp chopped green dhania or coriander or cilantro
Salt to taste, about 1 tsp
Dash black pepper powder
Oil for deep frying
Mayonnaise to serve
Tomato ketchup to serve
Method
In a medium-sized bowl, mix the crumbled paneer, mashed potato, chopped onion, corn flour, garlic mayonnaise, green chilly sauce, chilly flakes, chopped coriander leaves, salt, pepper.
Mash and mix until all the ingredients are well combined.
Divide the mixture into equal portions and roll them out into small nuggets or mini rolls (chops or cutlets), 2 inch in length.
Spread the corn flour on a plate.
Heat oil in a kadhai or saucepan over medium heat.
Roll the nuggets in the corn flour.
Fry the nuggets, in batches of 3-4 till golden.
Flip so that both sides are fried evenly.
Drain nuggets onto a tissue or paper towel-lined plate.
Serve hot with mayonnaise and ketchup.
Editor's Note: For vegan treats, use 100 gm grated vegan cheese instead of paneer.
For Jain treats, skip the onion and garlic and spice the dough up with saunth or dried ginger powder and hing or asafetida. Replace the potato with a boiled, peeled and mashed green banana.
For healthier nuggets use an air fryer. First preheat fryer to 200 °C. Cook them in the fryer for 5-7 minutes and flip and cook another 4-5 minutes more, till well browned.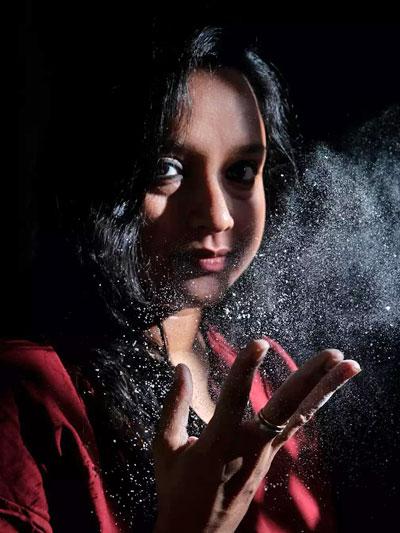 An avid cook on a personal and impulsive culinary journey, Moumita Panday is a food photographer and food stylist.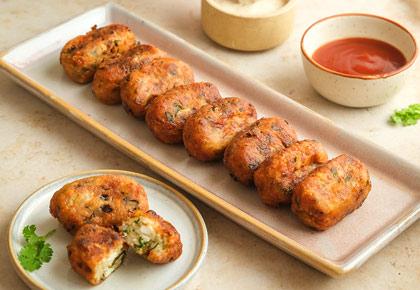 Source: Read Full Article