For starters, for whatever sumptuous meal you are planning this weekend, have a go at Kumar Nachiket's super simple recipe for Mushroom Tikka and enjoy it with green chutney.
Don't forget to squeeze in some lime and garnish it with freshly chopped coriander leaves.
It's the perfect dish for a Netflix Raat and goes well with Bethica Das' Cauliflower Rice, Nadiya's Mushroom Peas Risotto.
A huge advocate for #gharkakhana and the millions of ways we make the same dish in households across India, home chef Kumar feels Indian food is one of the most 'under-appreciated' cuisines in the world.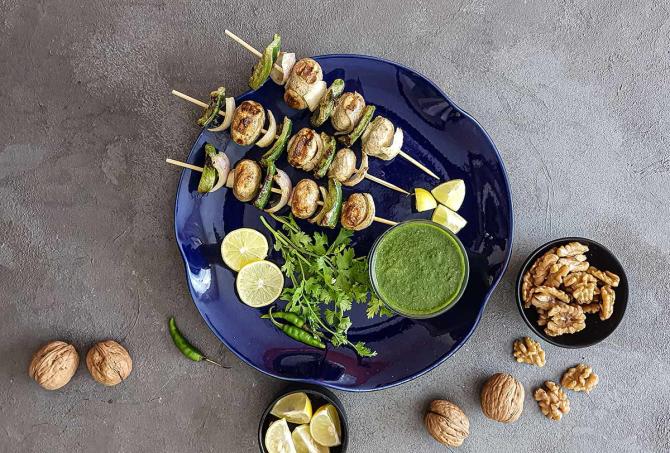 Mushroom Tikka
Serves: 3
Ingredients
3 tbsp fresh cream
4 green chillies, roughly chopped
½ tsp white pepper
1 tsp dhania or coriander powder
½ tsp jeera or cumin powder
½ tsp crushed kasuri methi or dried fenugreek leaves
¼ cup water
200 gm mushrooms, washed, cleaned and stems removed
Handful walnuts, broken
1 capsicum, diced
1 onion, diced
1 tbsp oil
1 tbsp butter
1½ tsp salt
2-3 skewers
Lemon slices/wedges, to serve
Small green chillies, to serve
Green chutney, to serve
Fresh green dhania or coriander or cilantro, to serve
Method
In a blender, add the fresh cream, the green chillies, walnuts, salt, white pepper, coriander powder, cumin powder, kasuri methi, water and blend to a fine paste.
In a bowl, add the mushrooms, diced capsicum, diced onion with the ground paste.
Mix until the mushrooms are well-coated and let them marinate for 30 minutes.
Place the mushrooms on 2-3 skewers along with the diced onions and capsicum.
Heat a grill pan and add oil and butter to it.
Place the skewers in the pan and cook for one minute on each side till well charred.
Take off heat and serve hot with green chutney, fresh coriander leaves, green chillies and lemon wedges/slices.
Editor's Note: For vegan Mushroom Tikka, use vegan yoghurt instead of cream.
For Jain Mushroom Tikka, skip the onion.
For a recipe for green chutney use Lahu Kapudskar's Green Mint Chutney.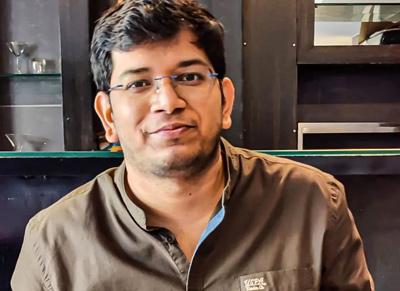 Kumar Nachiket is a food stylist, digital creator and runs the Instagram page That Indian Curry.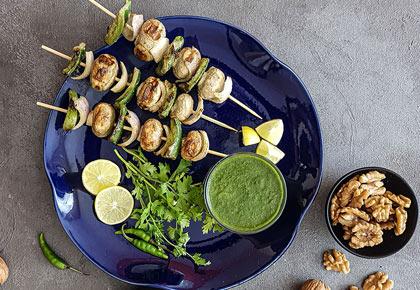 Source: Read Full Article