Homecooked dinners for two don't have to be cumbersome.
'Chef Gaurav Konwar's Spicy Saoji Chicken is simple to serve up and is plated with blanched French beans, pickled onions, zucchini and a dollop of chilly yoghurt.
Fiercely spicy, this dish is inspired from the popular Saoji cuisine of Nagpur.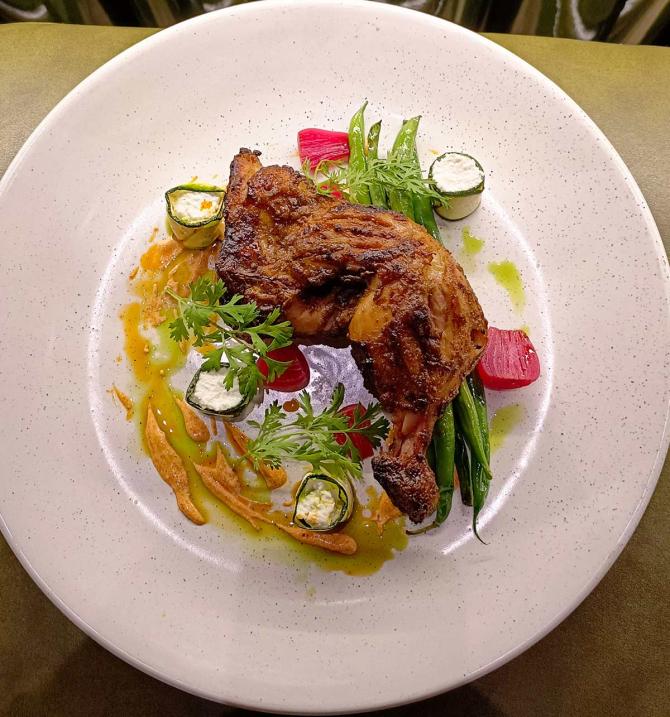 Saoji Chicken Curry
Serves: 2
Ingredients
400 gm chicken legs, on the bone, ideally 2 pieces
120 gm French beans
80 gm pickled onion (please see the note below)
80 gm green zucchini
140 gm yoghurt mousse (please see the recipe below)
80 gm chilly yoghurt dip (please see the recipe below)
Small bunch green dhania or coriander or cilantro, chopped
10 gm butter
50 gm oil
Salt to taste, around 2 tsp + pinch for the zucchini
6 gm black pepper powder
For the marinade
2-3 tsp ginger-garlic paste
1 tsp haldi or turmeric
Juice of 1 neebu or lemon
50 gm Saoji masala, available online or at masala stockists
80 gm yoghurt
Salt to taste, around 1 tsp
For the chilly yoghurt dip
80 gm yoghurt
20 gm cream
4 ml lemon juice
2 gm red chilly powder
4 ml chilly oil
For the yoghurt mousse
100 gm feta cheese, a type of Greek cheese, available in any gourmet grocery store
60 gm yoghurt
10 gm garlic pods, crushed
30 ml extra virgin olive oil
Salt to taste, around 1 tsp
Method
In a bowl, marinate the chicken with the ginger-garlic paste, haldi powder, lemon juice, Saoji masala, salt, yoghurt for 30 minutes.
In a bowl, mix all the ingredients for the chilly yoghurt dip.
Keep aside.
Slice the zucchini and sprinkle the pinch of salt and the black pepper over it.
Keep aside.
In another bowl, combine all the ingredients for the yoghurt mousse.
Mix well and spread it out over the zucchini slices.
Bring a small saucepan filled with water to boil.
Blanch the beans.
Take off heat, drain the water and in a small kadhai or frying pan, saute the beans in butter.
Keep aside.
Bake the chicken in a foil-lined tray in the tandoor or oven and baste the oil all over its surface.
Cook at 180°C till tender and juicy.
Take out of the oven and let it cool over a rack.
For the plating
Smear 1 tbsp of the chilly yoghurt dip at the bottom of a flat plate.
Place the blanched beans on top.
Place the cooked Saoji Chicken on the bed of beans and yoghurt dip.
Line the zucchini slices around the chicken.
Garnish with coriander sprigs and pickled onions.
Pour some herb butter over the chicken and serve.
Editor's Note: For the pickled onions, use 15 sambar onions. Cut each into half and place them in a bottle.
In a small saucepan, combine 2-3 tbsp of vinegar, 2-3 tsp of maple syrup and add ½ cup water.
Simmer over medium heat and pour it into the bottle with the onions.
Cover and refrigerate until ready to use.
Chef Gaurav Konwar is the Junior Sous Chef at Independence Brewing Co, that has outlets in Mumbai and Pune.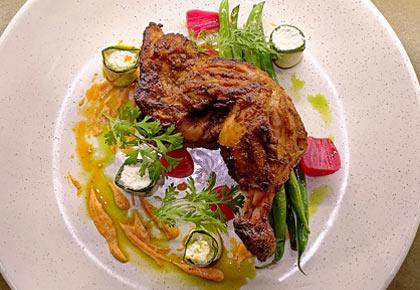 Source: Read Full Article