The 'Pitch Perfect' actress responds to critics who blast her for offering hoodies and sweatpants in sizes XS to XL in her latest loungewear range, R&R Club.
AceShowbiz –Rebel Wilson is clearing things up. The "Pitch Perfect" actress has broken her silence after she was accused of "fat phobia" for allegedly forgetting plus sizes in her new clothing line.
On Tuesday, November 29, the "Senior Year" star turned to her Instagram Story to address the issue. "In success we are planning on doing more colours and sizes for R&R CLUB," Rebel said of her new brand, R&R Club, which she launched with her partner Ramona Agruma.
"We are experimenting with this limited capsule collection of only two pieces in limited sizes," Rebel wrote as she modeled some of the options which are currently available. The 42-year-old actress also asked followers to weigh in with the "colours or sizes" they would be "interested in for sweats." In another snap, she said the collection is "Almost SOLD OUT," signifying larger sizes could be offered soon.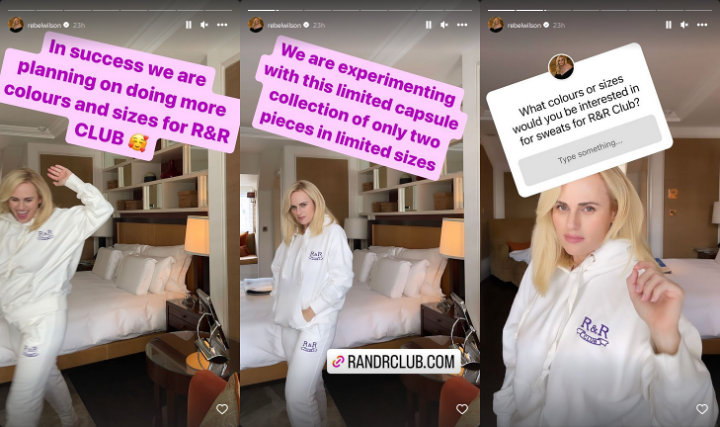 Rebel Wilson responded to backlash over the lack of plus sizes in her new clothing line R&R Club.
Rebel's response came after she released her new loungewear range. Rebel was quickly called out on social media for her brand's lack of size inclusivity. Critics noticed that the collection, which boasts $179 hoodies and $149 sweatpants, was only offered in sizes XS through XL.
Writer Lauren Ingram tweeted, "I'm not a fan of Rebel Wilson, for many reasons, including her racism and fatphobia, which is disgusting. The media outing anyone and the treating of her by the SMH is heinous. I can have both these views at the same time."
On TikTok, creator Destiny Ann said, "I don't understand how someone who is plus size for the majority of her career and the majority of her life…someone who knows hard it is to be fat, to shop for clothing and actually find it in your size. I don't understand how someone with that background, that knowledge, can release a brand that only goes up to an XL." Destiny went on to point out the "irony" and called the limited sizing "so disheartening."
Another TikTok creator, Lacey-Jade Christie, also created a video and asked why Rebel had "forgotten" about her plus size fans. "I know she's not fat anymore, but the fat community supported Rebel Wilson for her whole career. She profited off of being a fat person, a fat character," Lacey-Jade opined.
Rebel famously embarked on a "year of health" in 2020 where she lost 80 lbs. Earlier this year, Rebel declared that her weight doesn't define her. "If you're like me just know YOU are more than just your weight, your weight doesn't define you, just try your best to be healthy and don't be so hard on yourself. Be the best version of you," she wrote via Instagram after gaining 3 kg following holiday with her girlfriend.
In July, it's reported that Rebel doesn't want to lose any more weight. "Rebel's not working with a trainer day-to-day anymore to lose more weight as she's reached her goal, rather she's focused on maintaining the weight she's lost and feeling comfortable in her skin," a source spilled to Us Weekly. "She's a really positive person and feels really good about how far she's come."
You can share this post!
Source: Read Full Article