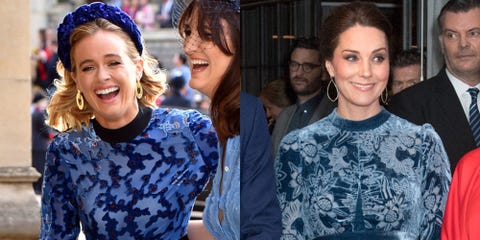 A long-sleeved blue devoré velvet dress is a great choice for a fall wedding. So great that it's exactly what Cressida Bonas wore for Princess Eugenie's marriage to Jack Brooksbank in Windsor today.
The Tory Burch design worn by the ex-girlfriend of Prince Harry has drawn comparisons with a remarkably similar dress worn by the Duchess of Cambridge during her Scandinavian tour in January.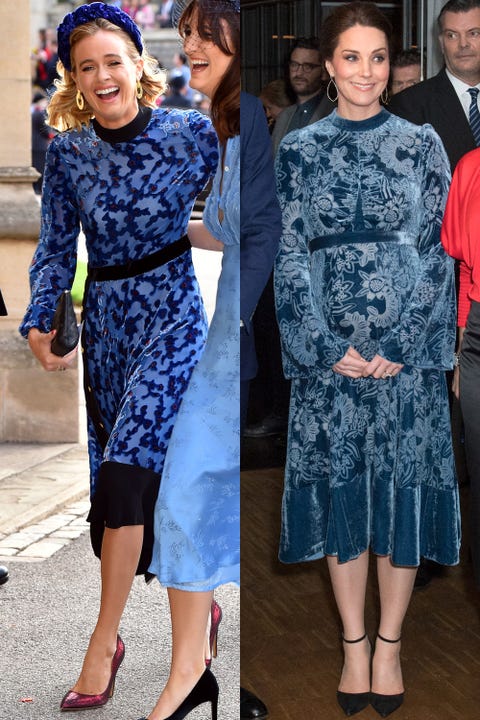 Kate's Erdem dress is the Christina blue silk-and-velvet bell-sleeve dress, which appeared on the Fall/Winter 2017 runway. She was pictured wearing it at an engagement in Stockholm while pregnant with Prince Louis. The dress is Victorian-inspired and made in the UK from a mid-weight cotton-blend velvet-devoré fabric in the kind of floral we have come to expect from the London-based Turkish-Canadian designer. It features a high neck, long sleeves with flared cuffs, a fluted waistline with fitted bodice and a fluted godet hemline.
Cressida's dress today was Tory Burch—the Leah floral-print devoré chiffon midi dress was from the Fall/Winter 2018 collection and is still available to buy online. The dress has a high neckline trimmed in black and is draped to create volume in the asymmetrical ruffled hem. The skirt also features decorative snaps.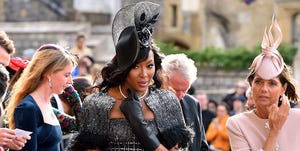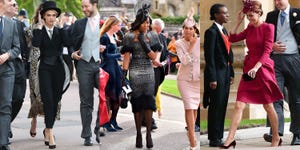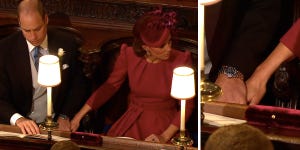 It's not surprising that the two women were drawn to the similar dresses; the dress codes for royal events can be limited. Women will likely be expected to wear dresses that do not reveal too much skin—hence the high neck and long sleeves—and a modest hemline.
Plus the cooler weather in the UK (and Sweden in January) makes devoré velvet a seasonally appropriate choice.
Luckily Kate didn't repeat her Erdem dress today. She arrived at the royal wedding in a deep pink Alexander McQueen dress with puffed sleeves and a full skirt. She teamed it with a matching fascinator by Philip Treacy.
Source: Read Full Article