The 'Don't Worry Darling' director sparks controversy after saying the rapper's sweet action to his pregnant girlfriend at Super Bowl halftime show 'put' her 'over the edge.'
AceShowbiz –Olivia Wilde is not letting anyone misinterpret her controversial social media post about Rihanna's baby daddy A$AP Rocky. The "Don't Worry Darling" filmmaker has defended herself amid backlash over her Instagram post calling him "hot."
On Monday night, February 13, the 38-year-old actress/film director set the record straight via Instagram Story. Along with a video of A$AP Rocky proudly filming RiRi's performance at the 2023 Super Bowl halftime show, she wrote, "For anyone who got it twisted [rolling eyes emoji] it's HOT to respect your partner. Especially when your partner just did thaaaaaat."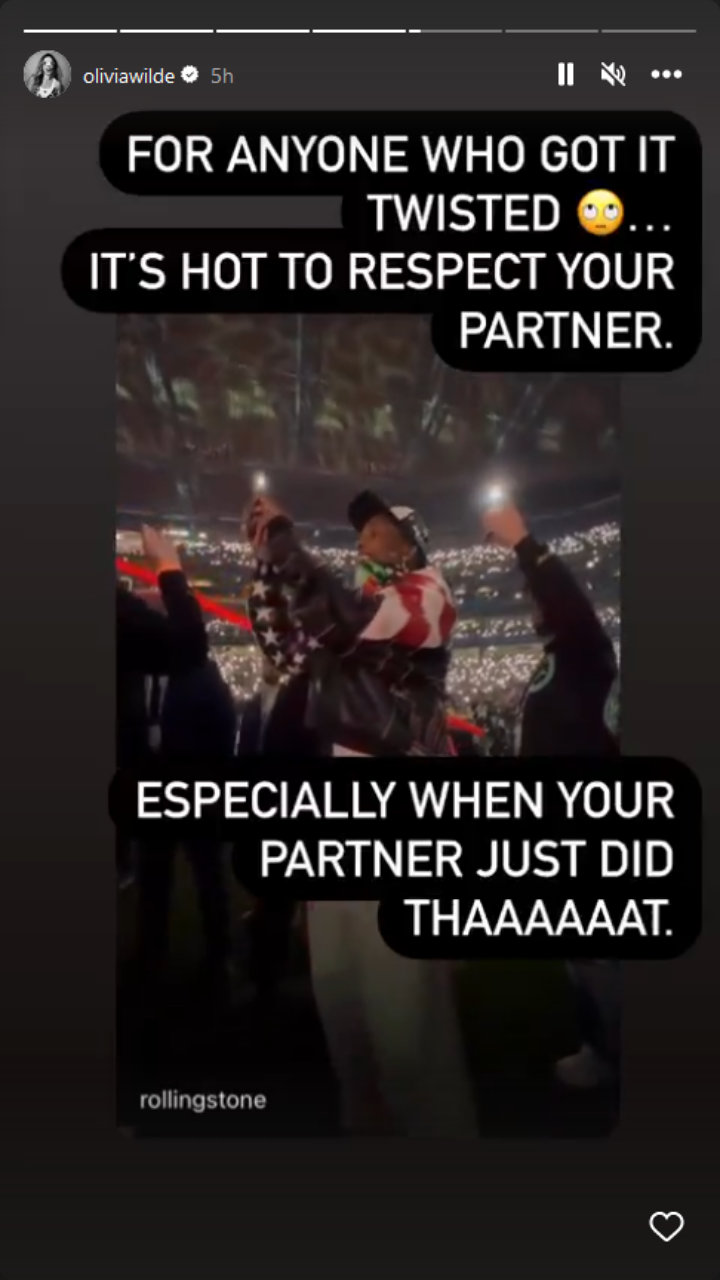 Olivia Wilde defended herself amid backlash over her post calling A$AP Rocky 'hot.'
Olivia landed in hot water after she gushed over A$AP Rocky's sweet gesture at the State Farm Arena on Sunday. The "Booksmart" director reposted the video of the emcee supporting his pregnant girlfriend during her performance.
Along with the footage, Olivia, who recently broke up with Harry Styles, wrote, "If I thought he was hot before, this really put me over the edge." She even tagged the couple's Instagram accounts.
Some fans, however, found Olivia's caption to be "cringey" and they wondered why she would brazenly tag the couple, who have been dating since 2020. "She's really living up to that last name [of] hers," one Twitter user wrote. Another slammed her post, stressing that it's "so inappropriate."
"She needs to chill asap," someone else tweeted. "the way she's saying this with her whole chest and tagging both of them… it's embarrassing," one more agreed. Amid the backlash, Olivia decided to take down her Story.
Olivia is currently single following her highly-publicized split from the former One Direction singer in November last year. They broke up after nearly two years of dating. Of the split, a source confirmed that it was a "very amicable decision." The insider added that the now-exes "are still very close friends."
You can share this post!
Source: Read Full Article