Is Apple going the Android way?
Some of the features and enhancements in iOS 14 might make you think the smartphone giant is trying to introduce some android experiences into its ecosystem, says Ashish Narsale/Rediff.com.
CEO Tim Cook unveiled newer versions of Apple's operating system (iOS) to further augment its ecosystem devices at the Worldwide Developers Conference (WWDC) 2020 held in an empty Steve Jobs Theatre in Cupertino, California, on June 22, 2020.
The event was streamed to millions of users and fans around the world.
To say the least, the latest iOS version brings a plethora of features and visual enhancements. Let's run through some of the more exciting features that will soon find their way to your Apple devices.
iOS 14 for the iPhone
Any mobile device is incomplete without its operating system, but the most important aspect is its usability and features.
Apple iOS is known for its simplicity and robustness when it comes to user experience and that is clearly evident in iOS 14.
So, what's new?
Widgets
Bored with the icons? Now customisable widgets will come to your phone's home screen.
The widget provides data and information at a glance about any app you choose.
Each widget offers the flexibility to size it to your liking and to place it on the home screen.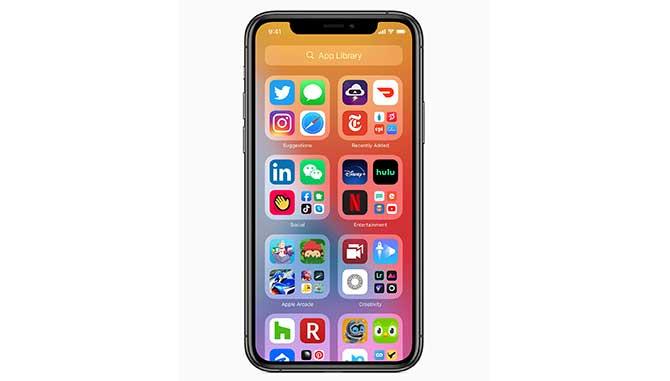 App library
Now no more worries about icons cluttering your home screen over multiple pages; the app library arranges the icons automatically in a neat folder-like structure.
Compact calls
With iOS 14 all incoming calls whether from from the phone, native or third party apps, will display themselves in a compact notification instead of occupying the entire screen.
Picture in picture
This feature allows you to keep using an app while simultaneously allowing you to watch videos or make video calls using a miniature window.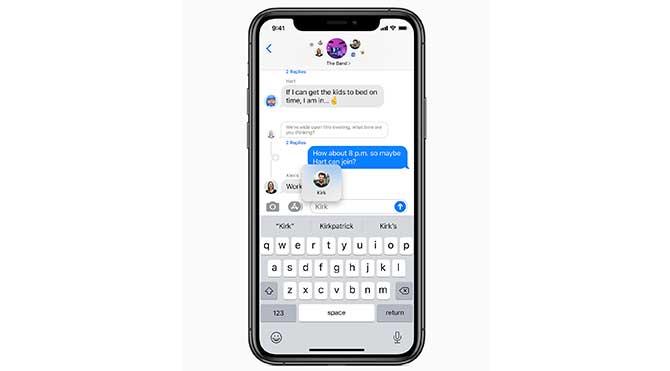 Messages
Messages become more interactive with iOS 14. Now you can pin your favourite conversation so that it doesn't get lost among the heap of other conversations. You can add a photo or memoji or an emoji to a group to identify it better.
Other features like mention, inline reply and new memojis have also been added.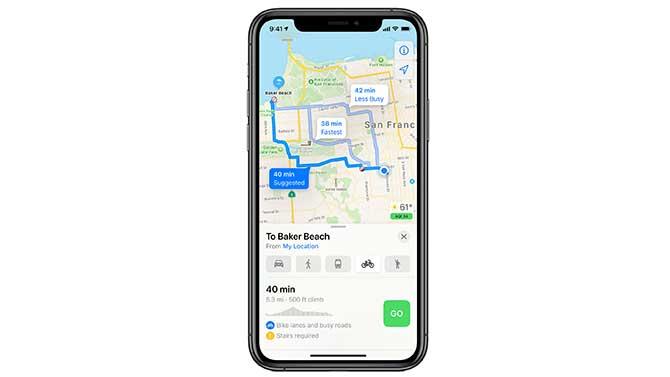 Maps
Apples now adds cycling direction using bike lanes, paths and roads on its Maps app. It also shows busy streets, stairs and steep passages.
Translate
With the help of the Translate app one can now translate up to 11 spoken languages. The app can work offline and online without compromising your privacy.
Siri
Siri becomes smarter and compact to allow you to keep using other apps while interacting with it.
Safari
Apple's native browser Safari is upgraded to translate a website in seven different languages.
Wallet
Other than storing your credit /debit card details to your wallet, it allows you to add your car key to the app as well.
You can unlock and start your car without having to take your car keys physically with you.
In addition, you can even share your keys with friends and family members with the app-controlled profile of restricted/unrestricted usage.
Currently, the car key feature is supported in the BMW M5 2021 but will soon be available in other cars.
Spatial audio support for AirPod Pro
Spatial audio gives a theatre-like surround-sound experience.
It will use dynamic head tracking to put the surround sound channel in exactly the same direction even when you move your head or the device.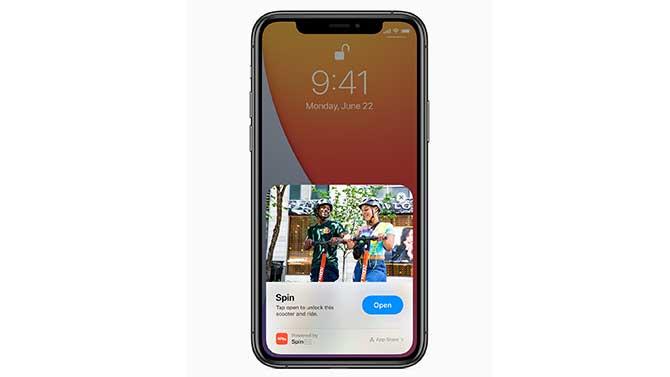 App clips
App clips are a small part of apps which can be downloaded quickly on demand without having to download the entire app.
The app clips do not clutter the home screen and reside in the app library as long as you need them.
What's more, to use this feature one doesn't need to log in to the app as it takes advantage of the Apple sign-in and uses Apple Pay for payment.
Privacy
This feature gives you more control while sharing your location; instead of sharing your exact location, one can share approximate location.
It also gives an indication while using the device's microphone or camera.
Compatible devices
The iOS 14 will run on iPhone 11, iPhone 11 Pro, iPhone 11 Pro Max, iPhone XS, iPhone XS Max, iPhone XR, iPhone X, iPhone 8, iPhone 8 Plus, iPhone 7, iPhone 7 Plus, iPhone 6s, iPhone 6s Plus, iPhone SE (1st generation), iPhone SE (2nd generation) and iPod touch (7th generation).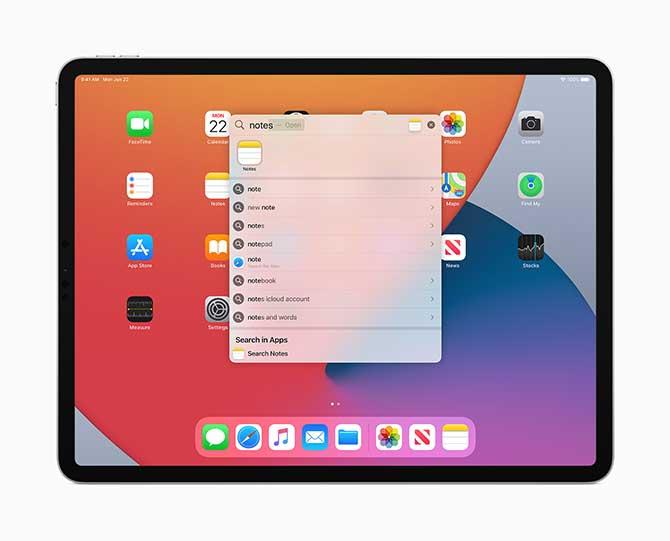 iPad OS 14 for iPad
Apple's sleek tablet gets its own avatar and is called the iPad OS 14. It is built on the iPhone's iOS 14 footprint, but rendered on the bigger canvas of the tablet screen.
As there is room for more, Apple has added side bars and menus to interact with apps. It uses the same widget and icons like in iOS 14.
It also adds a universal floating search bar to toggle one's search between apps and the internet.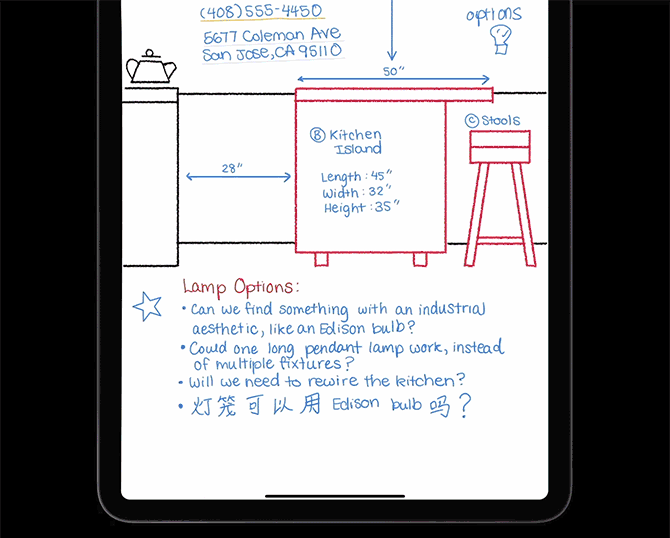 There has been an interesting update for Pencil.
Apple uses Scribble in iPad to convert your written text to type-written text.
Scribble even lets you select the written text and paste it to other apps where it is automatically converted to typed text.
You can even change the colour of the written text.
The iPad also detects shapes drawn by Pencil and convert them to perfect shapes.
Compatible devices
The OS 14 will run on iPad Pro 12.9-inch (4th generation), iPad Pro 11-inch (2nd generation), iPad Pro 12.9-inch (3rd generation), iPad Pro 11-inch (1st generation), iPad Pro 12.9-inch (2nd generation), iPad Pro 12.9-inch (1st generation), iPad Pro 10.5-inch, iPad Pro 9.7-inch, iPad (7th generation), iPad (6th generation), iPad (5th generation), iPad mini (5th generation), iPad mini 4, iPad Air (3rd generation) and iPad Air 2.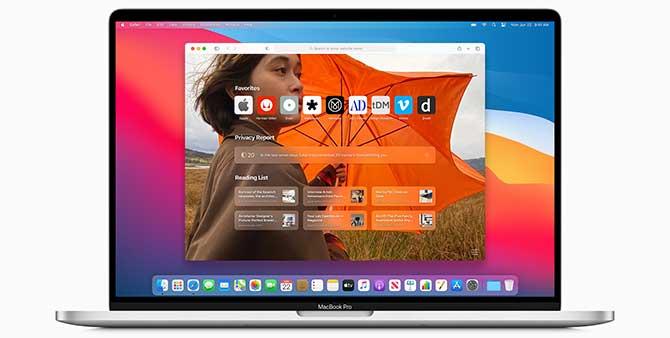 macOS Big Sur for Mac
Now for some fun features for the Big Boy in Apple's stable.
The macOs get a big visual overhaul but it looks like it has been brushed by the iPadOS and iOS 14.
It includes a new menu design and the widgets as seen in iPadOS and iOS 14.
It also adds a Control Centre to adjust sound, brightness and other things.
The biggest transition of all is moving from Intel based silicon to Apple's home-brewed chip. But this will take about two years, according to Apple, which means after two years Apple will not use Intel-based chips to power its Macbooks.
Compatible devices
MacBook 2015 onwards, MacBook Air 2013 onwards, MacBook Pro Late 2013 onwards, Mac mini 2014 onwards, iMac 2014 onwards, iMac Pro 2017 onwards (all models) and Mac Pro 2013 onwards.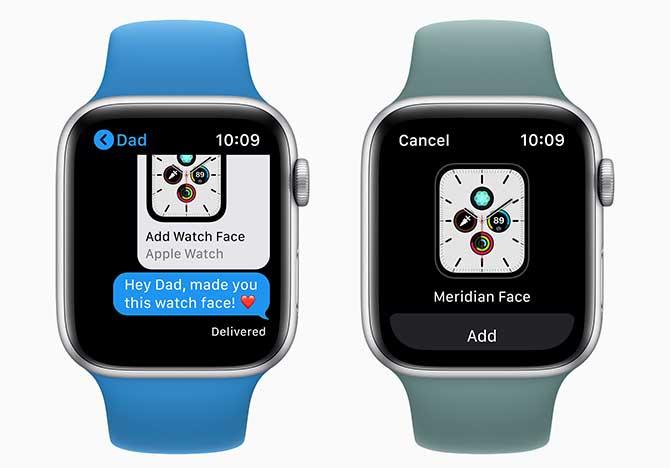 watchOS 7 for Watch
Apple has added more watch faces which can also be easily shared with your friends and family members using Apple Watch.
The watch also connects to Apple Maps to give you cycling directions.
The watchOS 7 adds new a Dance workout goal; it lets you know the calories you burnt while dancing to your favourite music number.
It also enhances the sleep mode using the wind-down mode to help you get some sleep.
When activated, it follows your personalised routine; it dims the phone and the watch screen; plays bedtime relaxing music on your phone and turns the watch to sleep mode.
Keeping up with the dangerous Covid-19 times that we live in and to inculcate good hygiene, Apple Watch will now greet you with 'Job Well Done' every time you wash your hands for about 20 seconds. But, the timer pauses if you wash your hands for less than 20 seconds and prompts you to keep washing your hands.
The Siri on the Watch can translate up to 10 languages now.
Compatible devices: Apple Watch Series 3, Apple Watch Series 4 and Apple Watch Series 5
Note: The watchOS 7 requires iPhone 6s onwards with iOS 14 installed.
Overall, going by the features and enhancements in the Apple OS, one might think the smartphone giant has tried to bring a few of the android experiences into its ecosystem!
Production: Ashish Narsale/Rediff.com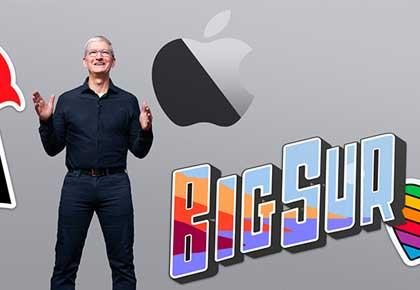 Source: Read Full Article